Highlights
What people said about our books
'The English Civil War is a joy to behold, a thing of beauty… this will be the civil war atlas against which all others will judged and the battle maps in particular will quickly become the benchmark for all future civil war maps.' Professor Martyn Bennett, Department of History, Languages and Global Studies, Nottingham Trent University
'A vivid account of a forgotten chapter of British naval history.' Dan Snow, Historian, TV Presenter and Broadcaster
'The Reckoning is vivid history, the tragic Eastern Front brought to life through the widest range of Russian and German sources I've ever read. Bravo.'  Peter Caddick-Adams, author and broadcaster
'With a soldier's eye for telling operational details, Ben Barry offers an authoritative, compelling and inevitably bleak account of the American and British campaigns in Iraq and Afghanistan'. Sir Lawrence Freedman, Emeritus Professor of War Studies, King's College London
---
Awe-inspiring Artwork
It's so hard every month to pick out just three pieces of artwork from all of those publishing, so picking out the best of them was a real challenge - but we've had a go nonetheless. Which is your favourite?

This illustration depicts an RF-4 reconnaissance during Operation Barrel Roll over the Ho Chi Minh Trail 20 miles southeast of Ban Ban in northern Laos on 21 December 1969. Typically, they flew "straight-and-level" at around 3,500ft altitude at more than 500kt over jungle territory in early morning light. AAA gunners received warning of approaching aircraft from observers on the route. During this mission, the aircraft was hit by 37mm AAA and the crew ejected.

The first image depicts a Night attack at Goślub-Osada. With 8. Armee having advanced along the River Bzura's southern bank to approach the south-western edge of Warsaw within the first week of fighting, the surviving combat elements of Army Poznań and Army Pomorze mounted a counter-attack into the Germans' thinly defended northern flank. During the afternoon of 9 September 1939, thousands of Polish soldiers poured across the waterway and into the largely unsuspecting 30. Infanterie-Division. That night, elements of 1/57 PP (14 DP) struck 1./IR 6 at Goślub-Osada, one of several rather isolated German defensive positions south of the Bzura.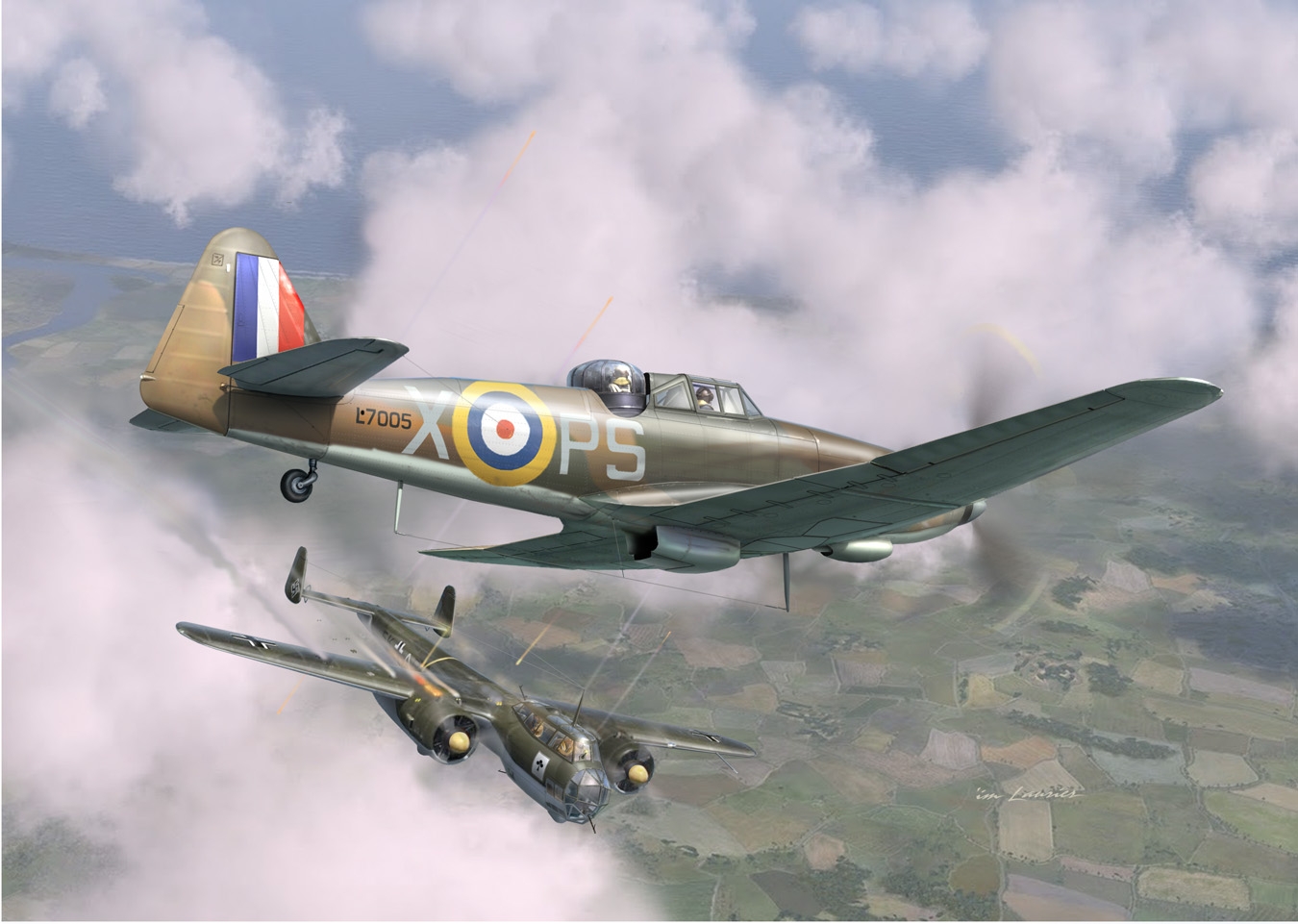 This image depicts the events at 1140 hrs on 26 August 1940 when No. 264 Sqn was ordered to patrol Dover to intercept approaching enemy bombers. It duly encountered a formation of 12 Do 17s from III./KG 3 at 12,000ft between Herne Bay and Deal, off the east Kent coast, the bombers being escorted by a large formation of Bf 109s. Sgt E. R. Thorn and his gunner, Sgt F. J. Barker, in L7005/PS-X attacked the Do 17s, hitting one and setting its starboard engine on fire before repeating the performance with another. However, they were then engaged by Bf 109s and their aircraft hit in the radiator and set on fire, although Barker in turn claimed to have downed one of their attackers. Thorn managed to crash-land the badly damaged L7005 at Chislet, Kent, with the Bf 109 they claimed to have destroyed coming down just a few fields away. Both Thorn and Barker were slightly injured. In total, No. 264 Sqn was credited with having destroyed one Bf 109 and six Do 17s, with a seventh Dornier damaged.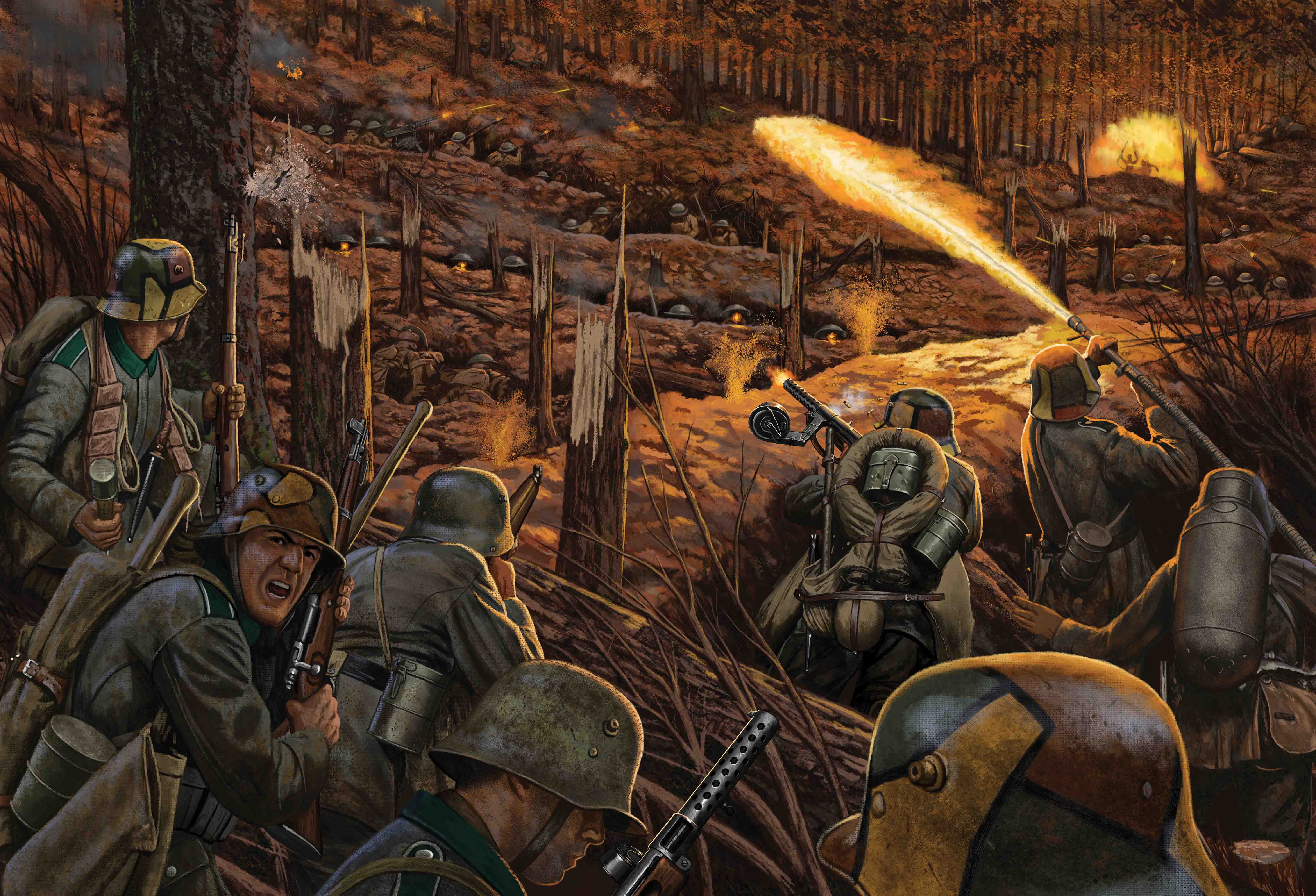 This last illustration shows the final German attack on the lost battalion just after 1700hrs on 7 October 1918. Just two of the Americans' original nine Hotchkiss machine guns were still functional. After days without food and medicine, and with little water and sleep, surviving Americans were weak and in poor health. Nevertheless, according to multiple accounts, once the final German assault began, wounded men rose from their foxholes with their rifles, while those too injured to move loaded rifles for the rest. From behind the American pocket, and uphill, the Germans attacked with potato masher grenades. The 16 Strosstruppen attached that afternoon attacked the Americans' left flank with a handful of flamethrowers. On the right flank, Captain Nelson Holderman and a sergeant repulsed a German attack almost single-handedly. The attack lasted at least an hour and a half and virtually exhausted the Americans' last ammunition. Throughout the nearly week-long siege, both sides had engaged in shouted psychological warfare, as many of the besieging Germans spoke English, while many of the encircled Americans spoke German. As the attack failed, the surviving Americans began screaming taunts at the Germans. Minutes later, an American patrol broke through to Whittlesey's pocket, ending the siege.
---

Best of the Blog
As usual, our authors have produced some fantastic content throughout the last few months. Here are a few of our top picks:
A Dramatis Personae for Rome – City in Terror by Victor Failmezger
US Navy Ships vs Imperial Japanese Navy Attack Aircraft 1941-42 by Mark Stille
Spanish Galleon vs English Galleon by Mark Lardas
---
Book Vote Winners
September: Raid
September's Raid book saw Operation Jericho 1944: Mosquitos lead a jailbreak taking 31% of the votes, beating Jagdpanzer 38 'Hetzer' vs Su-76: 1944–45, which had 22%.

October: Duel
Another clear winner came out in our October book vote with US PT Boat vs Tokyo Express: The Pacific, 1942–43 taking 25% over Aces of Jasta 21's 20%.
November: Men at Arms
November's Elite vote was incredibly tight. The Goths, 3rd–7th Centuries AD won with 34%, just beating The Army of Tutankhamun:Egyptian Warfare in the late 18th Dynasty by only 5%.
December: VOTE NOW
Do you want to have your say on Osprey's new titles? Head over to the December vote and let us know your thoughts on which New Vanguard titles we should publish!
Missed out on the rest of our round up? Don't worry, you can find them here: