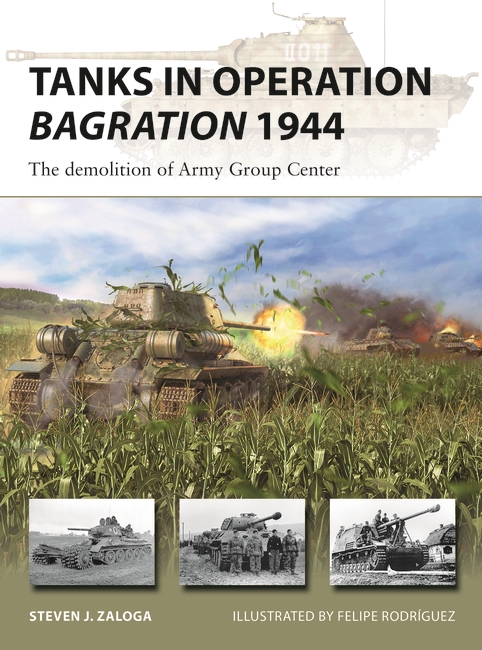 The first book I wrote in 1996 for Osprey's popular Campaign series, more than 25 years ago, was also on the subject of Operation Bagration. Operation Bagration was the Red Army's central campaign against the Wehrmacht in the summer of 1944, which corresponded with the Normandy campaign in the west. This new NVG book looks at a broader range of battles than Bagration alone, and deals with all the tanks and armored vehicles fighting on both sides on the Russian Front from June to September. I chose to call it Operation Bagration to keep the title clear and simple.
In spite of its importance, the number of books published in English about Operation Bagration is surprisingly small. They are certainly outnumbered by books on other campaigns, especially Barbarossa in 1941 and Kursk in 1943. Fortunately, there is good coverage of the campaign in the archives and in German and Russian accounts.
As part of Osprey's New Vanguard series, the book provides surveys of the tanks used in battle and technical descriptions which Osprey readers will be familiar with, however, the tanks are described within the context of battles to give them a proper framework. Battle histories often have very little specific detail on the use of tanks within a battleground so I have sort to remedy this by focusing on how tanks were used and what their armored formations were.
Most of the book's material will not be familiar to readers as it has never been published in English before. The German material I have used within the book comes from captured Wehrmacht records, currently stored in the National Archives and Records Administration in College Park, Maryland. An example is a report issued by the Quartermaster General of the Panzerwaffe late in 1944 about tank strength and tank losses during the summer fighting containing considerable detail. There are also reports by the Fremde Heer Ost (Foreign Armies East), the German Army's intelligence branch, about the number of Soviet tanks German units claimed to have destroyed during these summer battles. I have also discovered some tantalizing titbits such as the Fremde Heere Ost believing that the Luftwaffe exaggerated their kill claims against Soviet tanks far more than the army units.
Most of the Soviet data comes from Russian language books I have collected over the years while writing books on Soviet tank development. Some of these books are rare, one example containing a comprehensive Soviet General Staff study done after the war listing every major formation in the Red Army, and the theater in which it had been deployed month-to-month from 1941 to 1945.
The book is brilliantly illustrated by the very talented artist, Felipe Rodna. He has provided some exceptionally fine drawings of the tanks in combat during the summer of 1944.
Find out more in Tanks in Operation Bagration 1944.