As everyone gets stuck into Undaunted: Reinforcements, we've heard from many of you about how much you love the new solo campaign which expands both Undaunted: Normandy and Undaunted: North Africa. We wanted to catch up with David Digby, one of the designers of the solo mode (along with David Turczi), to find out what challenges they faced adding a solitaire mode to such a well-loved competitive game.

Over to you David Digby!...



I had just finished work with Osprey on the solo mode for Merv and some other work with Dávid Turczi when they asked if I would be interested in helping out in the upcoming solo mode for Undaunted. As soon as I played the game I leapt at the chance, not only because the design itself was so good, but also because the prospect of a comprehensive solo mode for it was really exciting!
Work started in July 2020 and we got off to an absolute flyer. Dávid had designed a system for solo play using Scenario 12 of Normandy, which is one of the most open ones with all the units in. I ran tests to smooth out any rough edges and then set to work on applying the same rules to other scenarios. Playing through the scenarios in Normandy soon highlighted that we needed subtle differences in how the AI controlled its units to get the scenarios working well. At this time, the solo mode was a few pages of rules for each scenario. The most critical units – riflemen and scouts – took the most time, as getting these right was what made each scenario play the way I wanted it to. My goal was to get the solo player to play strategically against a strong, but slightly stupid, bot. That way, fiddly rules are kept to a minimum, and the player is rewarded with great moments of outsmarting their opponent.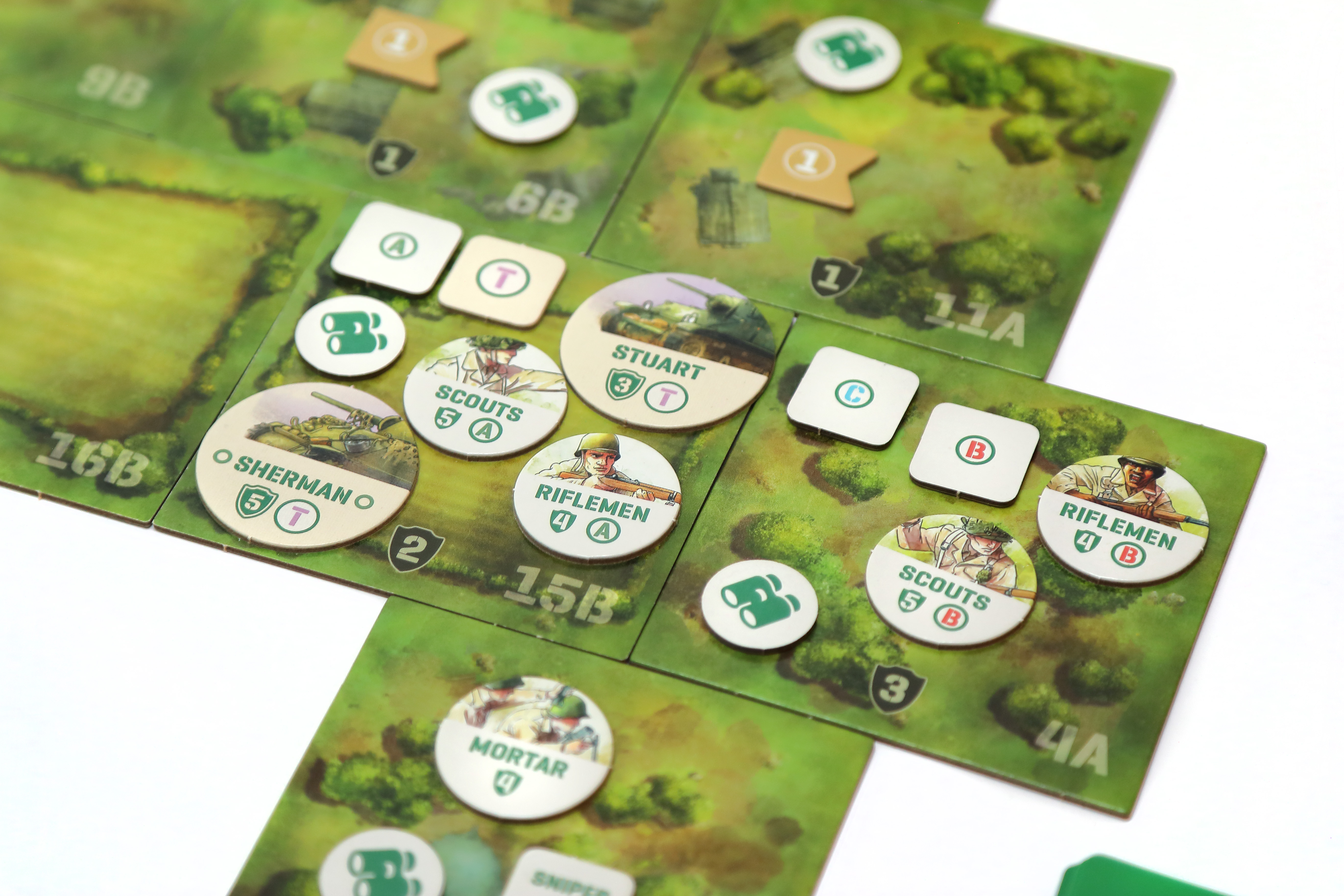 I started by playing each scenario two-handed a couple of times, to see how the scenario worked with human players, and used this to set out what I thought the bot rules should be for each side. I would then play against both the bots to check its difficulty and that it was running smoothly. Then I would run a few games of the two bots playing themselves as a final check. Once we had a few scenarios done, we handed things over to our playtesters, and it was their feedback that set the overall difficulty, such as how many cards the bot should play in a turn.
By August it was time to tackle North Africa, a much more difficult prospect. As you can tell from the amount of cards that ended up being needed, this was a lot more challenging! Throughout the process, I kept being told that if I couldn't get certain North Africa scenarios working, they could be omitted, but that only spurred me on! I created a few key concepts – such as the sharing of seats, set paths, different bolster decks, and so on – that allowed me to restrict the vast possibilities of the scenarios, while still maintaining the right feeling and play experience. The subtle changes in every unit in every scenario was quite time consuming to try to model, but armed with these key concepts, I was able to capture them pretty well.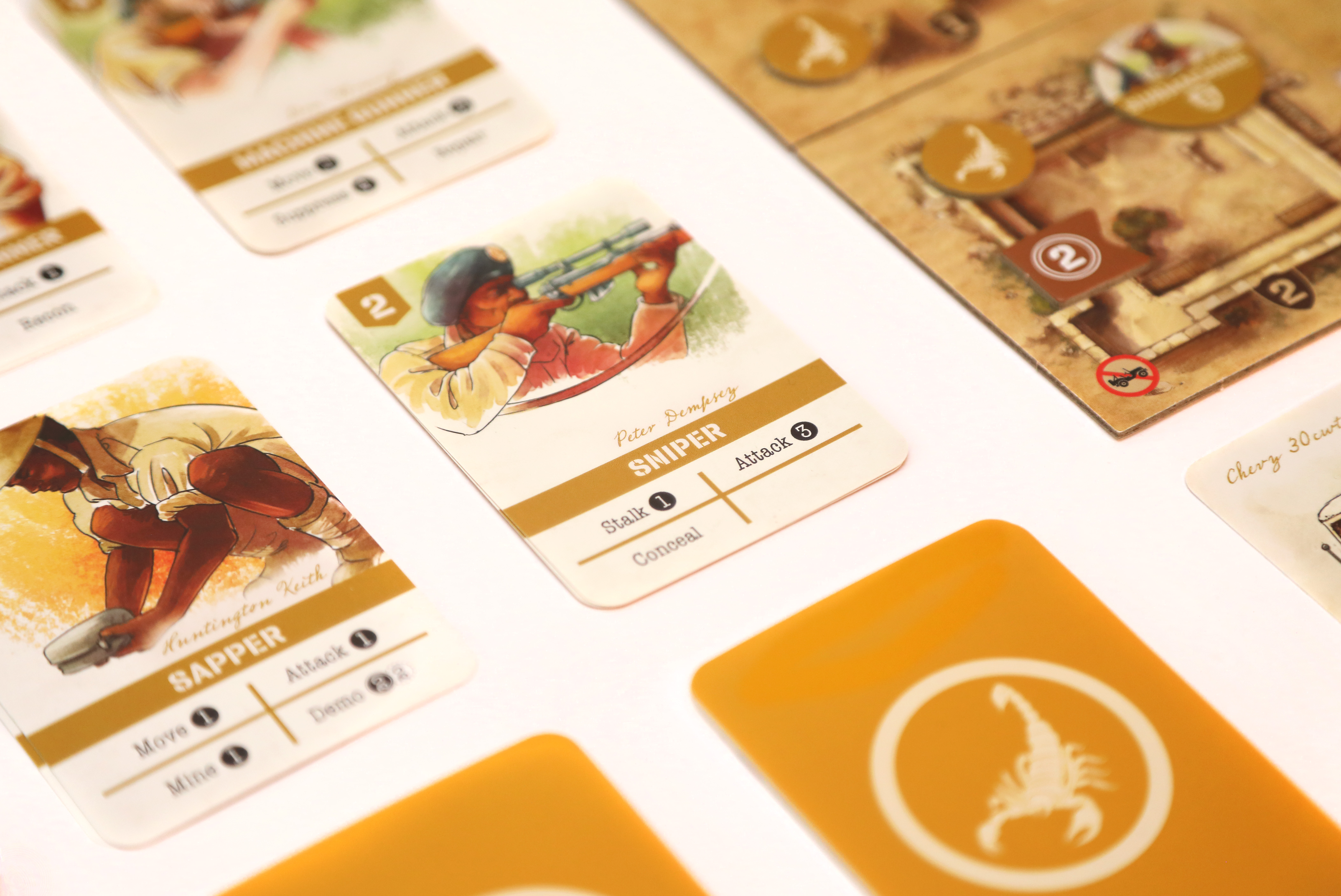 To everyone's surprise, I got all the North Africa scenarios running, so while playtesters had their hands full, I moved on to the new scenarios added in Reinforcements itself. I was pretty well-practiced at the game by now, so progress was pretty swift. Despite having to play each scenario multiple times, the whole lot only (!) took around 150 hours. Huge kudos to Osprey for investing so much time and effort into the solo design – I was always pleasantly surprised whenever I reported in to get the go-ahead to keep going.
Once we were happy with the designs and scenarios, the baton passed back to the team at Osprey, who somehow managed to convert my many pages of bot rules into a card-based system. I made a few changes to make the system more manageable in this format, but their miraculous work in presenting such a detailed system in such a simple and smooth way should be applauded.
I truly hope that all that hard work has paid off and we have presented you, the solo gamer, with 62 fun, replayable, and competitive solo scenarios. I look forward to seeing the final thing, and even more so look forward to hearing how everyone gets on with it!


- David Digby