Tickets please! We're proud to announce that in August 2022, Osprey Games will publish Village Rails from the award-winning design duo Brett J. Gilbert and Matthew Dunstan. With a clever mix of tableau-building and accessable route-planning, Village Rails is the perfect game for your summer staycation.


"We are both thrilled to be releasing Village Rails with Osprey Games – a deceptively small game that delivers both on an engaging puzzly experience and a wonderfully charming atmosphere through the lovely illustrations by Joanna Rosa. In the game, you'll try to best piece together your network of railway lines and then give the locals the most memorable trips along them. It's a joy to watch your tableau growing, and a game you can come back to again and again." - Brett J. Gilbert and Matthew Dunstan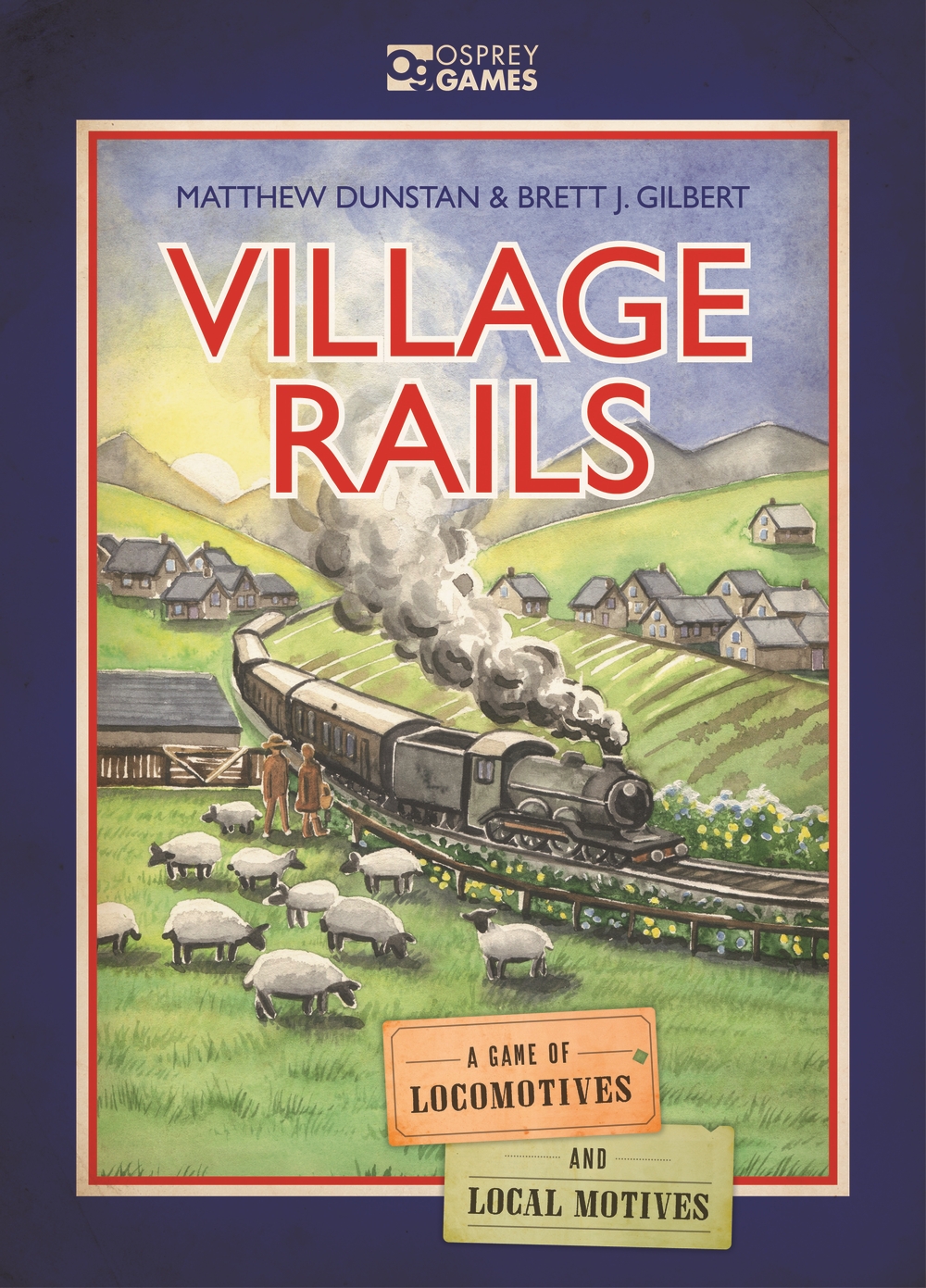 A 2-4 player card game of trains, tracks, and tricky decisions designed by the award-winning design duo Brett J. Gilbert and Matthew Dunstan.
In the sleepy English countryside, life continues undisturbed as it has for centuries. It is up to you to travel to every corner of this land, bearing the promise of modernisation, accommodating the oddly specific demands of the locals, and ushering in the age of steam.
In Village Rails, you will be criss-crossing the fields of England with railway lines, connecting villages together, and navigating the complex and ever-changing demands of rural communities. Connect stations and farmsteads to your local network while placing your railway signals and sidings ever so carefully. Meet the exacting standards of cantankerous locals planning strangely specific trips, and weigh their demands against your limited funding. There is much to balance in this tricky tableau-building card game of locomotives and local motives.

Players: 2-4
Playing Time: 45 mins
Age: 14+
Contents: 122 mini cards, 50+ tokens, 4 scoring dials
 "Village Rails is, simply put, a delight of a game. The core puzzle is satisfying and absorbing, offering players plenty of tricky choices in its quick playtime, while the bucolic England that Joanna Rosa has brought to life is exceedingly charming. I think players will be surprised by just how much game we've fit into this small box."  - Filip Hartelius 

 
Find out more on BoardGameGeek.


***
Brett J. Gilbert studied Materials Science and Metallurgy at Cambridge University, and has worked in design management roles within both educational publishing and the online retail industry. After discovering modern board games and the vibrant UK design community, Brett became a professional board game designer, and now has a large catalogue of published games, including Divinare and Elysium, both recognised by the Spiel des Jahres jury.

Matthew Dunstan is an Australian materials chemist and board game designer, currently living in Prague, Czech Republic. Matthew completed a PhD at the University of Cambridge in 2015, where he still works as a researcher in renewable energy technologies, including lithium ion batteries and carbon capture. To date he has more than 25 published games, including Elysium (co-designed with Brett Gilbert and nominated for the Kennerspiel des Jahres in 2015), Relic Runners (Australian Game of the Year 2014) and the Adventure Games series (co-designed with Phil Walker-Harding) which have sold more than 250,000 copies worldwide.

About Osprey Games
Osprey Games is the dedicated games division of Osprey Publishing (part of Bloomsbury Publishing plc) and publishes a wide range of wargames, card games, and board games and roleplaying games.