In April 2022 Osprey Games will publish the next instalment in the Cryptid series: Cryptid: Urban Legends. Drawing on the magic of its critically acclaimed predecessor, Urban Legends is a tense, asymmetric abstract deduction game for two players, that brings the mystery of the Cryptid from the unchartered wilderness to the concrete streets of your very own neighbourhood.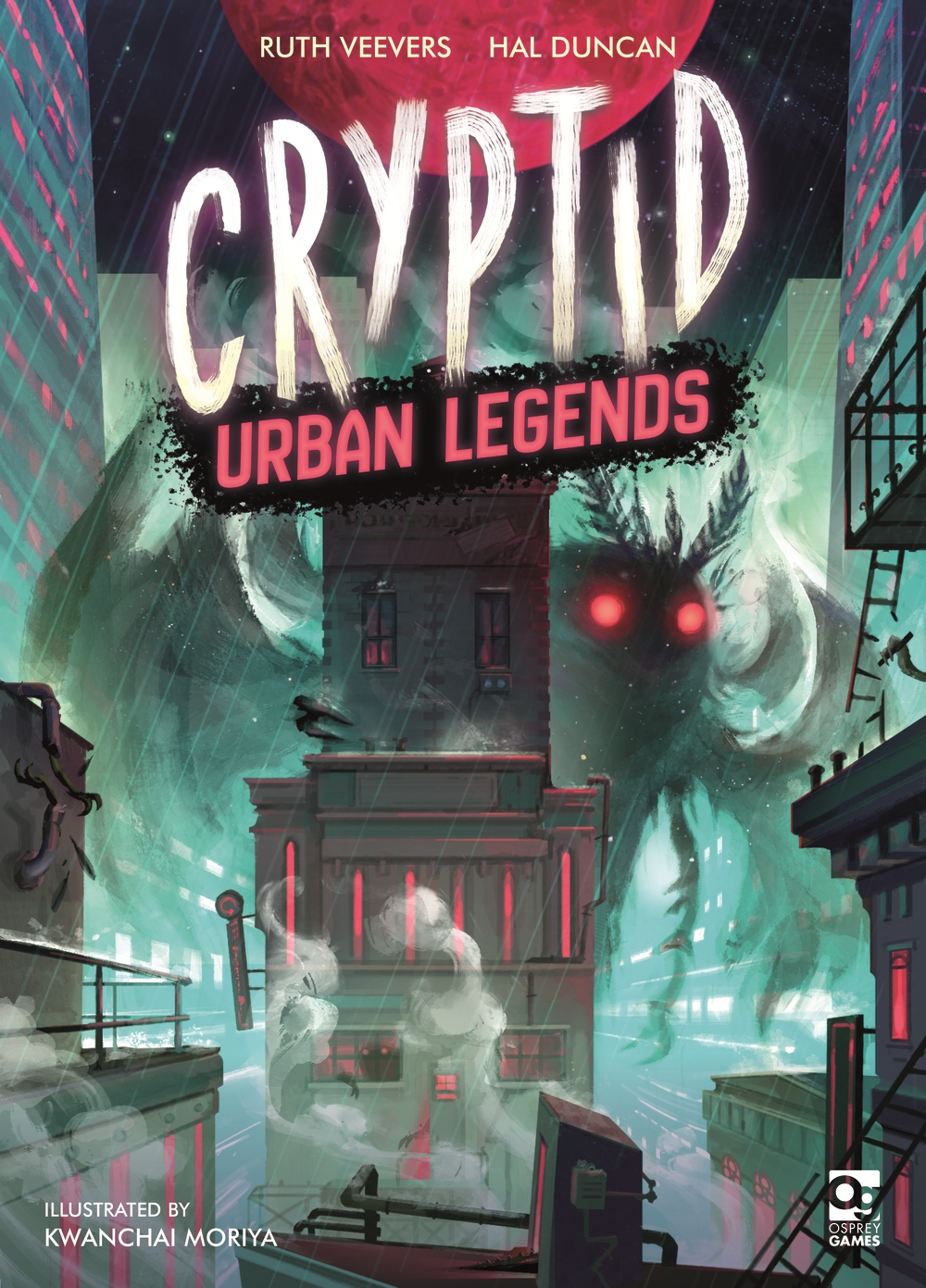 ***

There's something hiding among us, a creature hitherto undiscovered prowling our very streets. If you track it down, well, that'd be the discovery of the century!

Play as a determined scientist manipulating heat, movement, and sonic sensors to scan the city, identify your quarry's true location, and capture them. Or take the role of a cryptid, snaking your way through shadows and back alleys of the metropolis that surrounds you, eliminating all evidence of your existence as you go, desperately avoiding capture. Emerging victorious in this high stakes cat-and-mouse chase, played out across a sprawling urban landscape, will require all your ingenuity and foresight.

Cryptid: Urban Legends is a tense asymmetric game of abstract deducative reasoning for two players from the creators of Cryptid.

Ages: 14+
Number of players: 2
Play time: 20 - 40 minutes
Components: 41 cards, 10 plastic cubes, 9 plastic discs
Game designers Ruth Veevers and Hal Duncan commented that "We've often described the game as a hidden movement game, but where the movement isn't actually hidden! While that might sound a like a joke, we actually arrived at the design by attempting to physically represent the possibility space of where the secret player could be in a hidden movement game. As the players engage in the game's core puzzle, they get to experience the highs and lows of seeing the cryptid's possible hiding locations grow and shrink. With both players manipulating a shared set of sensors, which can each only move once each round, they will have to balance choosing the right ones to move against managing their limited hand of cards. We hope that each round will give players an interesting new puzzle."
"Once again, Ruth and Hal have devised an ingenious little game to test players' powers of deduction," adds Senior Games Developer Filip Hartelius. "Gorgeously brought to life by the inimitable Kwanchai Moriya, Cryptid: Urban Legends is a small box game that packs a punch. Each turn, you will grapple with the tension of not knowing what moves your opponent has available, while being painfully aware of your own limited options. As you play cards, your options dwindle even further, but pausing to draw more of them to hand might just leave the opening your opponent uses to finally corner you! There's a lot to love in this slick package."
***
About Designer Ruth Veevers
Ruth Veevers is a computer scientist and board game enthusiast living in Norwich, UK. Hal Duncan has been playing board games in Norwich for a decade, with a particular love of tricky deduction games. More recently, the two have started designing games together, with Cryptid: Urban Legends their second published game from this design duo after their hugely popular debut title, Cryptid.

About Illustrator Kwanchai Moriya
Kwanchai Moriya is a prolific illustrator and graphic designer based in Los Angeles, primarily working with board games and children's books. Beloved for his versatility, playful style, and striking colours, he's known for titles such as Dinosaur Island, Under Falling Skies, Cryptid, and many more.

About Osprey Games
Osprey Games is the dedicated games division of Osprey Publishing (part of Bloomsbury Publishing plc) and publishes a wide range of wargames, card games, and board games and roleplaying games.