Using for the first time the full unpublished letters of Pilot Officer Geoffrey Myers, Secret Letters offers a fresh and distinctive insight into World War II. On the blog today, John Willis looks at the importance of these letters and shares short extracts from a few of them.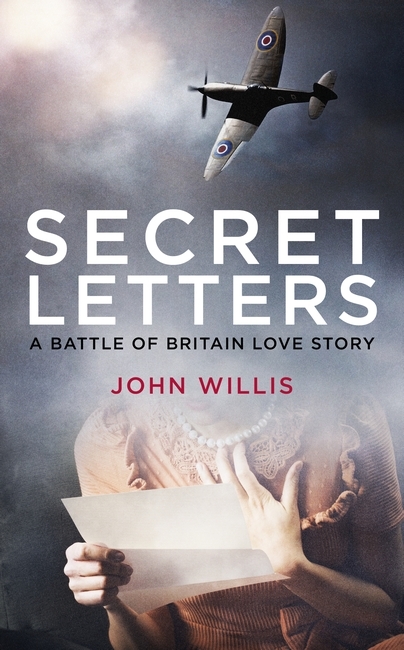 The wartime letters of Geoffrey Page, the Intelligence Officer with 257 Squadron are unique. Handwritten in four small notebooks they are headed. SECRET.PRIVATE. The letters were to his French wife, trapped in Nazi-occupied France with their two tiny children. As a Jew, Geoffrey knew his family were in mortal danger. The risk of betrayal was too high to post the letters, so they were to be read after the war, if the family survived.
The letters depict an emotional love story between a couple caught in the crossfire of war. But they are also a remarkable account of the horrors faced by a squadron of young pilots. The letters are eloquent, and raw. In my earlier book Churchill's Few I was able to use some of the letters to reflect the extreme pressures of the Battle of Britain on a group of young pilots.
Now, for the first time the letters can be published in full. They span not just the Battle of Britain but the Battle for France and Dunkirk too. Most memoirs of these events were written long after the war. Contemporary eyewitness accounts like this are almost non-existent. On the 80th anniversary of the Battle of Britain, Secret Letters is an important contribution to the human history of that critical turning point.
As the Germans ripped through France in 1940 Geoffrey worked in RAF Photographic Intelligence in Arras, Northern France. Geoff was ordered by the major in charge to destroy vital documents, before trying to escape. As he told his wife in Secret Letters, he was not sure he would survive.
'If I get caught,' I said to the major, 'should I shoot myself?' I can't really advise you about that Geoff,' he said. I replied, 'You see, I am a Jew and I don't know how things are'. The major said, 'Oh, that makes things different,' and he gave me a look of such kindness that I thanked him inwardly. I wrote down your name on a slip of paper and handed to him in case he got out, and something happened to me. I did not expect to get out of Arras, and nor did he.'
Geoff Myers did escape to Dunkirk and vividly described the scene. Dunkirk appeared on the horizon like an ugly bit of black lace but the black cloud above it across the sky did not seem natural…the cloud gradually changed into a huge serpent of smoke above the factory chimneys. I felt like a rat in a trap.
Geoff was ten years older than the young pilots and he saw close-up that the RAF did not always make the right decisions. For a start, 257 Squadron was trained on Spitfires and then, on June 11th, they were suddenly taken away and replaced by Hurricanes.
Then, just as suddenly, their much-respected Squadron Leader, David Bayne, was moved too. He was replaced by a new man in his thirties with no combat experience. Squadron Leader Hill Harkness quickly lost the confidence of his young squadron. One pilot said, as recorded in Secret Letters, 'Harkness makes me tired ,' he said. 'I just can't stand the way he frigs about in the air every time there's a blitz on. We all shout at him that he's not following the vectors given by the controller, but it just makes no difference. He just goes the wrong way then circles round and round in the air until the section leaders peel off and leave him.'
As Myers records, lack of leadership made disaster was inevitable. 257 lost so many young pilots they counted as one of the worst failures of summer 1940. Harkness was eventually sacked after their two most senior pilots were killed in one day. Lancelot Mitchell was the room mate of Geoff Myers.
Mitchell has gone. I can't believe he is missing. There were his pyjamas on the bed. His violin is on the table. He had been expecting a promotion last week but our Squadron Leader failed to do the necessary paperwork.
The tragic loss of these two pilots was both the nadir of the fortunes of 257 Squadron but also the turning point. Harkness was replaced by Robert Stanford Tuck, Squadron Leader at just 24. The charismatic Tuck was a tremendous pilot, as Myers soon observed.
He was marvellous at acrobatics. As I watched him climb and roll in the sunlight, I thought I was looking at a swimmer revelling in the warm water of a clear lake. A slow toll to the right, and the ripples flowed down from the body of the plane, the billowing air caressed him and stroked the tips of his wings.
It is this direct experience that makes Secret Letters special. As a journalist his writing is eloquent, but also questioning. Stanford Tuck, robustly assisted by Pete Brothers and then Peter Blatchford, swiftly turned round the dismal fortunes of 257 Squadron, but Myers was also sceptical about Tuck's endless claims of success.
The letters continue after the Battle of Britain for almost another year. 257 are moved from RAF Martlesham Heath to RAF Coltishall near Norwich. Successes continue, as do deaths and injuries. But Myers has more time to reflect on the perilous situation of his family as the Nazis tighten their stranglehold on Occupied France. Increasingly, Jews are rounded up and sent to the local dungeon prison, before many were shipped off to concentration camps. The letters become more desperate and more emotional until, after a dramatic escape, he is finally reunited with his family.
All this is charted in Secret Letters. His thoughts are with his squadron by day, and his family by night. These little brown notebooks, the Secret Letters of Geoff Myers, represent a penetrating insight into both military and personal survival. He is a vital witness to so much wartime history. These private letters give us the rarest of contemporary insights into what the big moments in the early years of the war were really like. As such they should be read, remembered, and cherished.