Gaslands: Refuelled comes out in September, but here at Osprey Games HQ we couldn't wait. And so, without further ado, please let us introduce the Gaslands: Refuelled Chop Shop Challenge. Over the next few weeks we are going to be showing off our Gaslands creations, and we invite you all to do the same! If you want to show off your cars simply email us at [email protected] and include 'Chop Shop Challenge' in the subject, and we'll include it in our upcoming gallery of Gaslands awesomness! You can also share your creations on Twitter - just make sure you include #chopshopchallenge in your tweet!
My second vehicle for the Gaslands: Refuelled Chop Shop Challenge completes my 50 can Mishkin team, joining the Misery Machine (thank you to William Wallace on Facebook for the name). This one is a little more streamlined than my previous creation, although both can get up to Gear 6 thanks to the Experimental Nuclear Engine I crammed into the back of the van (there's no way I'm going to come to regret that…right?)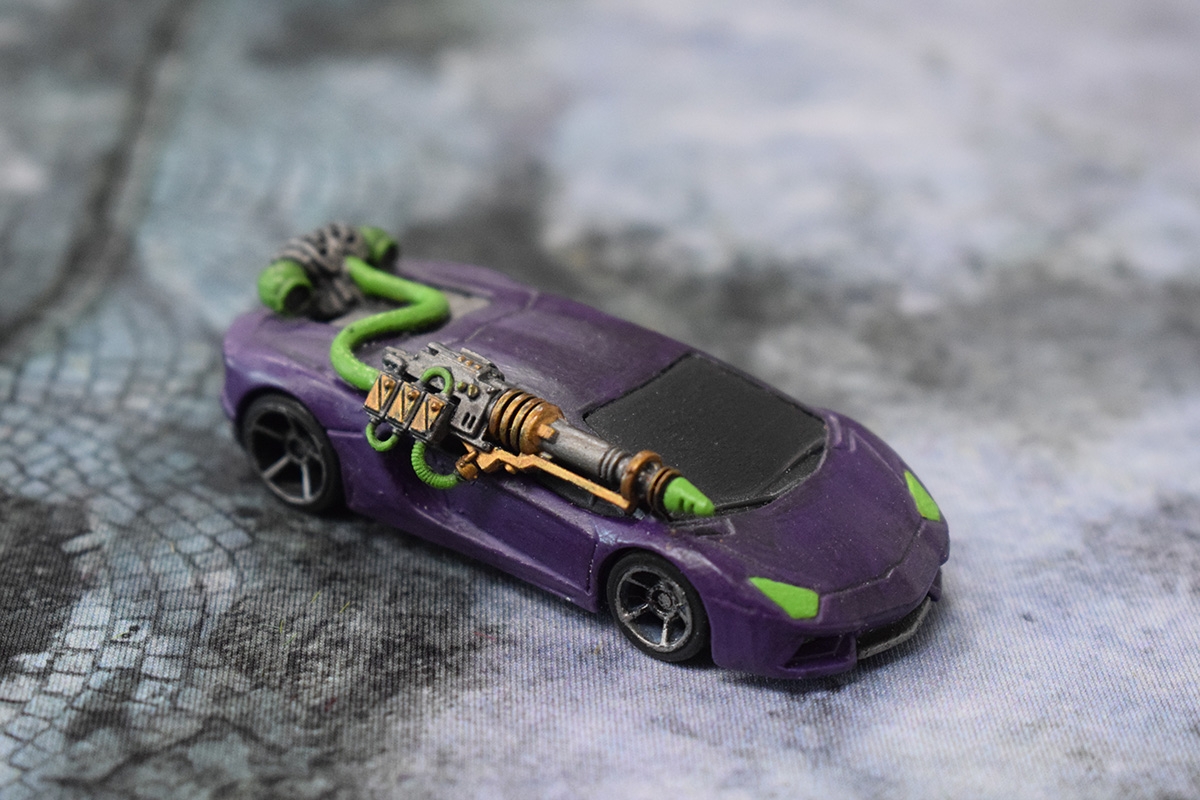 Purple Rain, perfectly showcased on the PWork Wargames Official Frostgrave Mat!
I went with a Performance Car, giving me some valuable added mobility with the Slip Away special rule. For weapons, I opted for a front facing Death Ray to deal with anyone who dares get ahead of me, a Caltrop Dropper for when I'm out in front, and a handgun because, well, why not? I had a couple of points left over at the end, so I also picked up the Satellite Navigation perk to help out the whole team, allowing me to store Shift Dice at certain points in the game.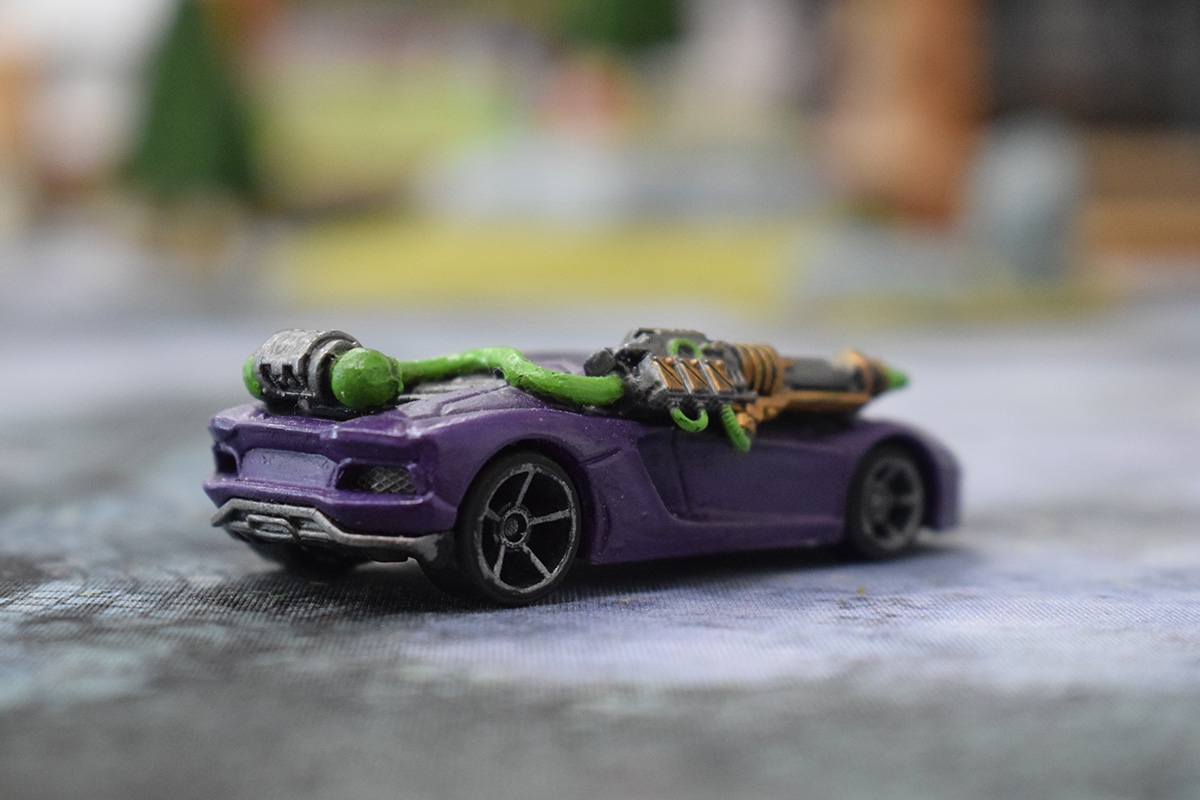 For the colour scheme, purple and bright green seemed to be a striking combination, and just like with the Misery Machine I wanted my car to stand out. Then I picked out any metallic parts with a classic gunmetal grey, picking out some highlights on the Death Ray with a warm bronze. I was tempted to add some lighter highlights to the body of the car, as it does have some nicely defined lines, but I didn't trust the steadiness of my hand. I might go back and give it a go though!
I've dubbed this car Purple Rain, although as before I'm open to suggestions. If I stick with Purple Rain, I can hopefully wear my opponents down by quietly singing it under my breath for the entire duration of the game…(edit - another name suggestion from William Wallace. The car is now called Purple Pain)
Purple Pain

Sponsor

Mishkin

Vehicle Type

Special Rules

Cost

Build Slots

Performance Car

Slip Away

15

2

Weapons

Cost

Build Slots

Death Ray (front facing)

3

1

Caltrop Dropper

1

-

Handgun (crew fired)

-

-

Upgrades

Cost

Build Slots

Perks

Military and Technology

Cost

Total Cost

Dynamo

-

21

All the Toys

-

Thumpermonkey

-

Satellite Navigation

2
Here at Osprey Games HQ we're really enjoying the creations you've all been sharing with us! Keep sending them our way!
Gaslands: Refuelled comes out on 19 September. Preorder your copy today!