On 17 May 1943, Operation Chastise, or the 'Dam Busters raid', was executed. Today marks the 75th anniversary of the famous raid, which saw Royal Air Force No. 617 Squadron using Barnes Wallis's 'bouncing bomb' on the Möhne Dam and Eder Dam, as well as the Sorpe and Ennepe Dams.
The operation was a successful mission for the Allies, the Ruhr valley was flooded and two power stations were destroyed, and production in the area did not return to normal until September. An estimated 1,600 civilians, 600 Germans and 1,000 labourers died.
Below is an extract from Raid 16 – Dambusters: Operation Chastise 1943 by Doug Dildy. This extract focuses on the men who carried out the famous raid.
'While [Air Chief Marshal Sir Arthur] Harris followed [Air Marshal Sir Charles] Portal's directive to proceed with preparing for an attack on the dams, he still refused to withdraw one of his Lancaster squadrons from the ongoing Battle of the Ruhr. Harris elected instead to create a whole new unit, to be formed largely with experienced volunteers.
On 15 March Harris directed the new AOC 5 Group, AVM Cochrane, to establish an as yet undesignated squadron (called 'Squadron X' until a number could be assigned by the Air Staff) and recommended 24-year-old Acting Wg Cdr Guy Gibson as its commander. Cochrane had been 5 Group commander for only two weeks and did not yet know Gibson. Nevertheless, on 18 March Cochrane interviewed Gibson, who had just completed his second Bomber Command tour only a week before. The interview went well and next day Cochrane met with Gibson and Gp Cpt J. N. H. 'Charles' Whitworth, commander of RAF Scampton, to give them the new unit's initial operational tasking – albeit in the sketchiest of terms.
By this time the command's wheels were in motion. What was to become the most famous squadron in the RAF was established on paper on 17 March and designated No 617 Squadron a week later. The unit was to be based at Scampton, a pre-war aerodrome four miles (6.4km) north of Lincoln. A Bomber Command base normally had two squadrons assigned, but in order to permit the construction of concrete runways the station had recently been vacated by 49 Sqn. This allowed, at least temporarily, ample space for aircraft parking, barracks, hangars, offices and shopfloors for the new unit. Gibson arrived on 21 March to examine his new unit's home and plan the physical establishment.
Three or four days later – while Gibson was inWeybridge receiving his first briefing fromWallis on the Upkeep weapon and how it worked and was to be delivered – the first 14 Lancaster crews were posted into the new unit. Five – two of them captained by NCO pilots – transferred 'across the aerodrome' from the co-located 57 Sqn. In those days a Bomber Command squadron was organized in two flights ('A' and 'B'), each with ten or so aircraft and crews. As a unit received additional aircrew, the men would be formed into a third ('C') flight which would later be used as the basis of a new squadron. Commanding 'C' Flight of 57 Sqn was Sqn Ldr Henry Young, DFC and Bar, the 27-year-old son of a London solicitor and an American socialite from southern California. Young had flown 51 operational missions in Western Europe, North Africa and the Mediterranean, with 102 Sqn on Armstrong-Whitworth Whitleys and with 104 Sqn on Wellingtons. On eight of these missions he commanded a ten-aircraft detachment on Malta. During his first tour Young had been forced to ditch twice, on both occasions saving his crew. The fact that he had spent more than 30 hours in the aeroplanes' tiny life-rafts, as well as his fame as an oarsman in Oxford University's 1938 championship rowing team, inevitably led to his acquiring the nickname 'Dinghy'. Posted at the same time was Gibson's 'B'-Flight commander, 21-year-old Sqn Ldr Henry Maudslay, DFC. A 1940 graduate of Eton College, he was also an oarsman, having been named Captain of Boats in his final year. An experienced instructor, Maudslay had flown 29 operations in Handley- Page Hampdens (44 Sqn) and 16 on Lancasters (1654 Heavy Conversion Unit and 50 Sqn) before arriving at Scampton. Also from 50 Sqn was the talented but relatively inexperienced (26 operations) 22-year-old Pilot Officer Leslie ('Les') Knight, RAAF, and his crew, all of whom volunteered for what sounded like an interesting assignment. Three crews came from 97 Sqn. Flt Lt David Maltby, DFC, a reserved but determined 23-year-old graduate of Marlborough College, had flown five operations with 106 Sqn (Hampdens) and 21 with 97 Sqn (Hampdens, Manchesters and Lancasters) before commanding a section in 1485 Target Towing and Gunnery Flight at Scampton. Returning to 97 Sqn on 17 March, Maltby was given a new and inexperienced crew, all fresh from training. The 6ft 3in. (1.9m), 24-year-old red-headed Flt Lt Joseph 'Big Joe' McCarthy, DFC, was an American from New York City. Having joined the RCAF in May 1941, he had just finished his first operational tour. He and his crew had flown their 27th successful sortie on Lancasters – a raid on St-Nazaire – on 22–23 March. Relative newcomer Flt Lt John Leslie ('Les') Munro, RNZAF, flew his first operational sortie on 2–3 January 1943. He was an aggressive pilot, and he and his crew completed another 19 missions in the next 11 weeks. Returning from the St-Nazaire raid, they responded to a 5 Group circular 'calling for volunteers from those crews nearing the end of their first operational tour…to form a new squadron to undertake a special mission'.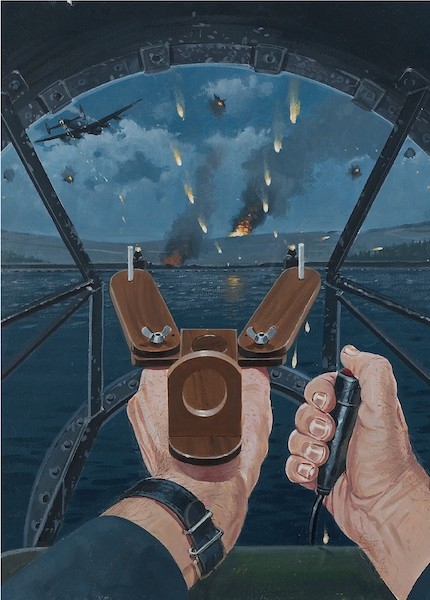 Towards the end of the month another seven full crews, plus a number of additional personnel to plug gaps in other crews, were posted to the squadron. These included three pilots Gibson knew and personally requested.
Gibson's favourite was 22-year-old Flt Lt John 'Hoppy' Hopgood, DFC and Bar. Hopgood was a Cranwell graduate, a veteran bomber pilot and an experienced Lancaster instructor. Hopgood had flown ten Hampden missions with 50 Sqn as a bomb-aimer/navigator and another 35 as a Manchester/Lancaster captain and instructor with 106 Sqn. While with 106 Sqn Hopgood had taught Gibson to fly the Lancaster four-engined heavy bomber. Hopgood made a strong impression on the commander with his 'press-on spirit'. Also from 106 Sqn was 21-year-old Flt Lt David Shannon, DFC, RAAF. He had flown five missions as Gibson's second pilot, developing a tight bond with his captain. After completing another 31 operations, Shannon had just obtained a posting to 83 Sqn to join the neophyte Pathfinder Force when Gibson recruited him for 617 Sqn. Only Shannon's navigator, Flying Officer (Fg Off) Danny Walker, DFC, RCAF, followed his captain to Scampton.
Finally, there was Flt Lt Harold 'Mick' Martin, DFC, a 23-year-old Australian in the RAF. He was a veteran of 36 combat operations in two bomber tours, with 455 Sqn RAAF (Hampdens) and 50 Sqn RAF (Manchesters/Lancasters). Gibson had met Martin at a Buckingham Palace medals ceremony where they had discussed the tactical advantages of ultra-low flying. From 1654 Heavy Conversion Unit Martin and his wellexperienced crew headed to Scampton, with his bomb-aimer, Flt Lt Bob Hay, becoming 617 Sqn's bombing leader.
In addition to these, Flight-Sergeant (F/Sgt) Kenneth Brown, RCAF, captained one of three additional all-NCO crews also transferred to bring the new unit to its full complement of flying personnel. Just after the briefing for Brown's seventh mission with 44 Sqn – to Berlin on 27–28 March – his commander, Wg Cdr John Nettleton, VC, notified him that upon return he and his crew were 'transferred to a new squadron … and I can do nothing about it'. Saying farewell the next day, Nettleton added encouragingly: 'Brown, you're going to be the backbone of this new squadron.' Brown's wireless operator, Sgt Harry Hewstone, commented upon arriving at Scampton and seeing who were already there: 'Skip, if we're the backbone of this squadron, we must be damn close to the ass end!''
To read more about Operation Chastise, see Raid 16: Dambusters by Doug Dildy.