It's an exciting time at Osprey Adventures. We have just finished up all of the layouts for Orc Warfare, the first of a three book miniseries on fantasy warfare. Orc Warfare is due out in June, followed by Dwarf Warfare in October and Elf Warfare in February of next year.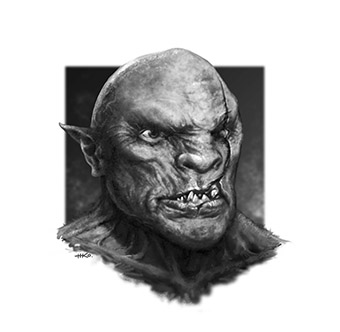 Each of these books is written by Chris Pramas, a guy with a serious pedigree in the world of fantasy and fantasy gaming. Chris is a former Creative Director at Wizards of the Coast, the founder of Green Ronin Publishing, and has a long list of writing credits including Warhammer Fantasy Roleplay, 2nd Edition.
Chris' writing will be backed up by a load of illustrations, both in colour and black and white from Hauke Kocke, a few of which can be seen here.
Finally, the covers for these books are being painted by Darren Tan, who has already done a lot of work with Osprey Adventures, providing artwork for Nazi Occult, Jack the Ripper, and others.
Anyway, we'll talk more about this book, and give a few more sneak previews as we get closer to the publication date.