Life Miniatures, the baby of famous sculptor Sang Eon Lee, has released a teaser of their latest bust – this one is likely to be well known to Osprey readers... Yes it is Winston Churchill! Loved by his allies and respected by his foes, we think he was probably the best man to have on your side during WWII – and a shame if you didn't! Life Miniatures are going to produce this bust in 1/9th scale with two head options – maybe a hat? More details on the cigar chewing Prime Minister's will come later on, and we will fill you in as soon as it arrives.

Since some recent work by HK Models and Revell Germany, we have had renaissance in large scaled aircraft models – namely twin (and soon to be 4 engined) bombers.




Enter HobbyBoss from China with their long awaited P-61 "Black Widow" in 1/32 scale – this has been on many people's wish lists for a long time now – and I for one am delighted to soon have even less space in my house once it arrives. Hopes are high for the kit, and we can reveal the vital statistics of the kit Item No: 83209 P-61B Black Widow Scale: 1:32 Model Dimensions: Length: 472.2mm Wingspan:628.8 mm Total Plastic Parts: 550+ Total Sprues: 26 sprues and tires Camouflage Schemes: 2 x US Air Force




Model Features -Fuselage moulded with authentic details; finely detailed engine, finely detailed engine accessory compartment, finely detailed cockpit, newly tooled wings accurately represent real ones and optional position flaps!




The kit also promises many transparent parts of plastic for the many gun and vision ports, as well as some much needed nose weight, and metal landing gear to keep the plain from tail sitting or breaking under its own weight. Can't wait for this one!

Just released on the Alpine Website are these two new SS Grenadiers in 35th scale. Sold singly or as a pair, we thought we'd take a closer look...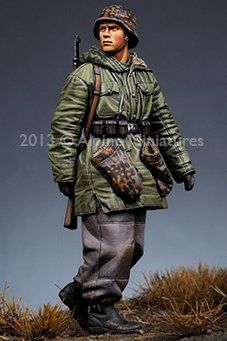 This soldier of the line has a choice, like all of Alpine's figures, of two headgear choices; although both are the M-40 steel helmet, one has a camo cover on his complete with loops to attach local foliage. Both of the faces are the same. As a personal weapon this soldier has the "soldier's bride" , his Kar.98, and he wears several ammo pouches off his webbing and standard buckle belt. Also on his rear hip is his trusty entrenching tool. This is all worn over his three quarter length Waffen SS Windblusen or winter jacket. These fur-lined, field-grey, anoraks with integral hoods were widely used by SS men and this example looks great pinched under the soldier's gear – especially the opened hood and the wrinkled padded sleeves. Also of special note are the soldier's winter oak-leaf pattern mittens, which he wore over his leather gloves here, reversible pants and marching boots.




This NCO is fairly unique in his dress sense – although he wears either the rumpled SS officer's Schirmmütze cap or the M-40 steel helmet (your choice) he wears a short animal skin fur coat over his field grey jacket. The choice of this figure will inject some colour into your field grey and SS camo'ed figures. The NCO (you cannot see his rank) carries an MP-40 sub-machine pistol and the requisite ammo pouches hanging off his webbing. He also carries some short field glasses hanging from around his neck with a cover attached to it.




What winter figure would be complete without his warm reversible pants and long boots? The NCO also sports a nice pair of leather gloves and a P-38(?) pistol holster on his rear left hip.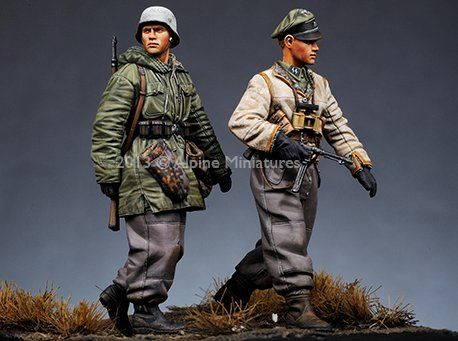 This combined set is also sold – the two figures are put together in the same box with a choice of two heads each as standard. I like the fact that there are subtle differences in each of these figures. The belts, the uniforms and weapons, headgear and equipment – even the addition of the binoculars and the mittens are different and add something original to both soldiers. They are different but complement each other very well. These soldiers are walking along with each other with the NCO obviously the leader of the pair. His companion is looking over his shoulder at something whilst going forward; they make a very natural and not posed set. This is often a complaint of figure collectors – that you cannot have a scene of twenty guys giving orders or pointing. These guys look like do-ers and not talkers! Both of these figures are available now from Alpine Miniature's distributors worldwide.

Verlinden have two particularly nice items to show you this month 2754 1:35 scale Panzerwerk Heavy Factory Lathe with Figure - 36 pieces also including some plastic tubing.




Perfect for your workshop or "Paper Panzer" project, this set combines with a crane, drill press and work bench to make an excellent "Panzerwerk" diorama set. There is no reason however that you could not use this for an allied workshop either…




There are thirty six parts in resin along with some plastic tubing we put in there – oww and the figure of the project leader as well to keep an eye on the lathe and make sure that everything is going "to plan".




The "Red Devil" of the Parachute arm of the British army is sculpted in resin in our latest "super scale", large 120mm scale. Replete with his blue jump wings on his shoulder of his smock, this "Para" is barking orders and pointing in the direction of "something or other" – and I would do as he says as he is armed to the teeth! With his short brimmed and netted helmet, this Para carries full webbing over his camouflaged parachute smock including as well a backpack and canteen. His Sten Gun is complimented by five grenades you can attach to his battledress in case that alone isn't enough to do the job! The figure is finished off with some nicely sculpted trousers with galoshes over them and short British army boots. This soldier is screaming- quite literally - to be painted and weathered! Better do as he says! Both of these products should be on their website to buy as we type. Verlinden is keeping their word and updating their blog in the New Year – check in there to see their massive product catch up from the things they didn't show us in detail last year – also check out their Facebook page – they would like to offer all of their Facebook fans a chance for a deal on the Verlinden On-line website. Now through the end of February you can receive an additional 20% off your order with the coupon code "Facebook"

And lastly this week - finishing products, my my my...




Most modellers have their kits pretty much together – there is however a bit of a gap between those in the know and those not when it comes to adding realistic scenery to your soon to be vignette. Sometimes it is as easy as getting an aftermarket solution to transform your scene. Enter MIG Productions with their new set - "MUD" it's called. I wonder why?




This new range has been developed in order to make more realistic and effective textures on models and dioramas. The name "MUD" leaves nothing to the imagination of what is being offered here - just mud. The new range starts with three colours and two different textures: Dry Mud Europe, Europe and Sub-Sahara Wet Mud with fine and rough texture. The people from MIG hope you like them but to further entice you they offer them with a special release price. We think with the new MIG Productions you will be able to make the MOST realistic mud, soils and landscapes in your dioramas. Now, modellers have the definitive solution for the soil representation.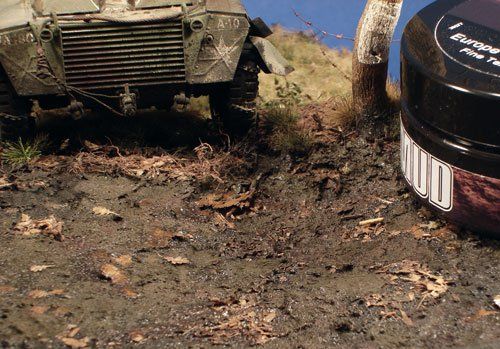 This product can be Applied Also into tank tracks or wheels in order to represent concentrations of mud or soil. For more effects and colour variations, MIG Productions MUDs can be mixed with Mig Productions Pigments, Filters, Washes and MIG Acrylic Resin. Imagination is the only limit.
See you next time!
Adam