This week's modelling news brings us new kits from a new manufacturer who is far from Boring, The model of a Constitution, some second generation Dragons and some downright "Cheeky" figures from Bravo 6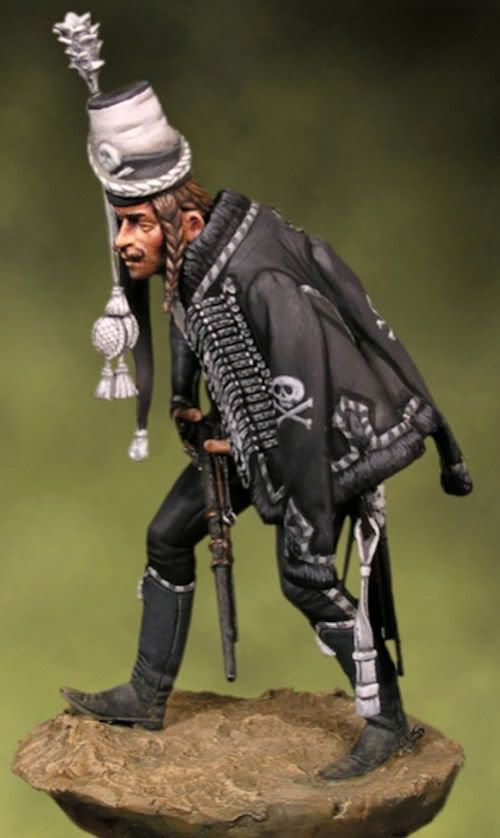 A new company Borin Models brings us a new 90mm figure in white metal. It is of a Hussar of the French Revolution, complete with nifty skull motifs on his clothing in this painted sculpture (He's depicted as a French Death Hussar). If he was around nowadays he would be an "emo" kid?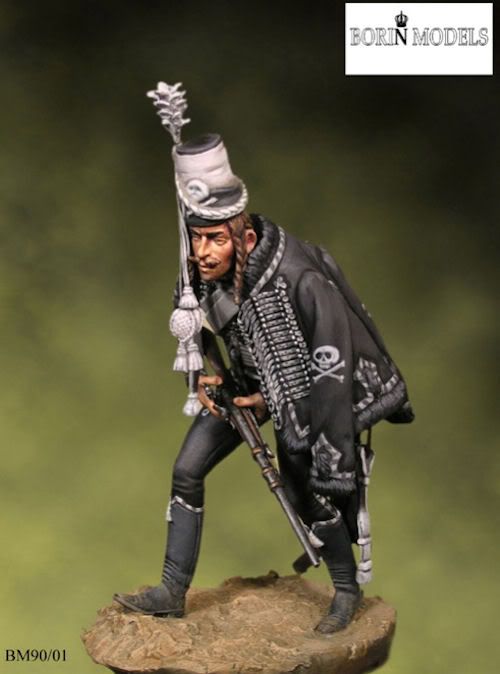 Anyway, here are the pictures of the first of many for Borin Models. i have supplied and email link but no official website as yet - so keep an eye out for more...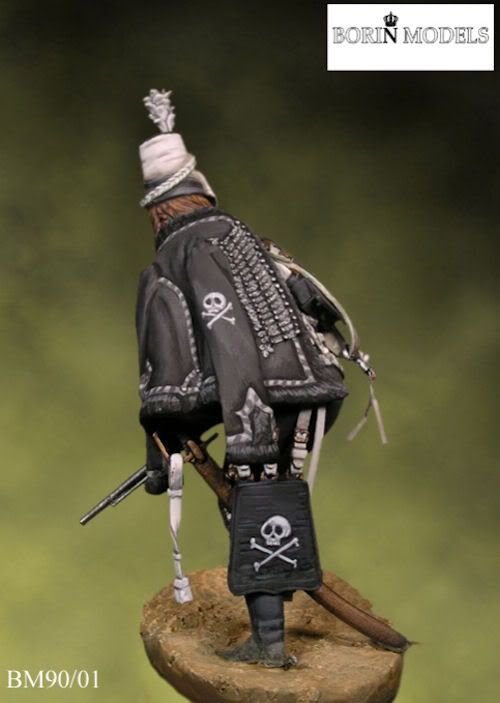 Billing Boats of Denmark and the USA brings us news of their latest laser cut wood construction kit, the USS Constitution in large (for ships) 1/100 scale. The "Old Ironsides" kit from Billings features brass cannon and fittings. This kit looks right to fill your weekend (and maybe a bit longer) with putting this kit together and detailing it. I did not know much about Billings Boats before I saw their website, but they have been a family orientated modelling company since the beginning. They have a really interesting genesis as a modelling company that I found fascinating and worth a read.
Basically Ejnar (Ed) Billing was a former RAF Pilot in the war who produces lovely boat models. He was showing off one of his great creations in the window of his wife's hobby shop and the kit got attention from a Dutch magazine who ordered 50 examples of the boat. Ejnar created a way of building boats in a "Plank on Frame" kit form that could be mass produced, and it is this method many model ship users copied and still use to this day.
The company went from strength to strength and now, after Ejnar's passing, it is still run by his family. They have brought the company up to date with modern standards and now Billings sells their kits not just in Europe but in the USA as well. It seems to me they have the best of the old and the new. Here is a press release of their new subject – the USS Constitution in 1/100 scale.
Dragon bring us a new set of plastic figures for this September release. The four on offer here are all 1/35 scale and are boxed together under the banner of "Conquerors of Sevastopol Crimea 1941-42"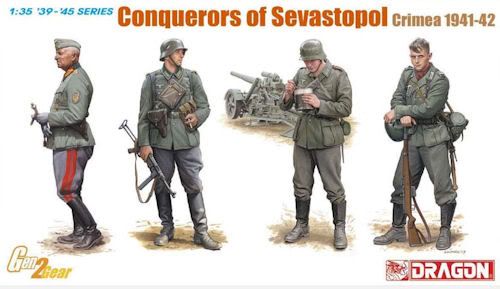 This is a "gen 2" set meaning that Dragon have tried to do better and improve their kits - and this is the result. Basically they have remade some of their toolings in weapons and personnel equipment and it gives them a chance to have a second crack at some of the sets they have already done. Don't get me wrong, I like the improvement of any kit, and it has worked many times in the past for dragon and seems to improve the kits coming out from the market leaders in this scale in injection military modelling. The weapons are definitely upgraded as you can see here...
In this series of new tooling soldiers you have a General who looks suspiciously like Eric Von Mannstien (complete with Gen 2 baton I hope) and three other soldiers, who look like they are pretty relaxed and not doing a lot in particular. I like this as it's pretty much what soldiers did when they weren't in combat, ate and slept. Here are some early pictures of the soldiers in a close-up.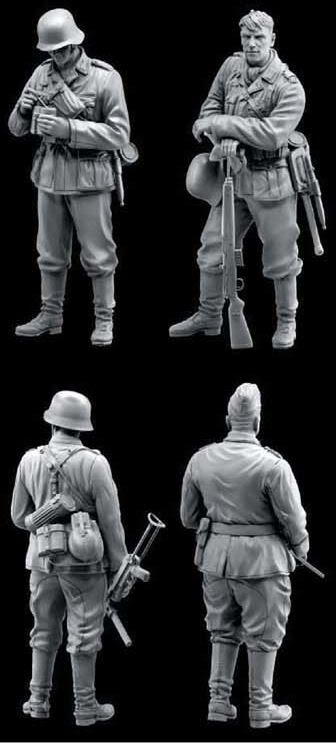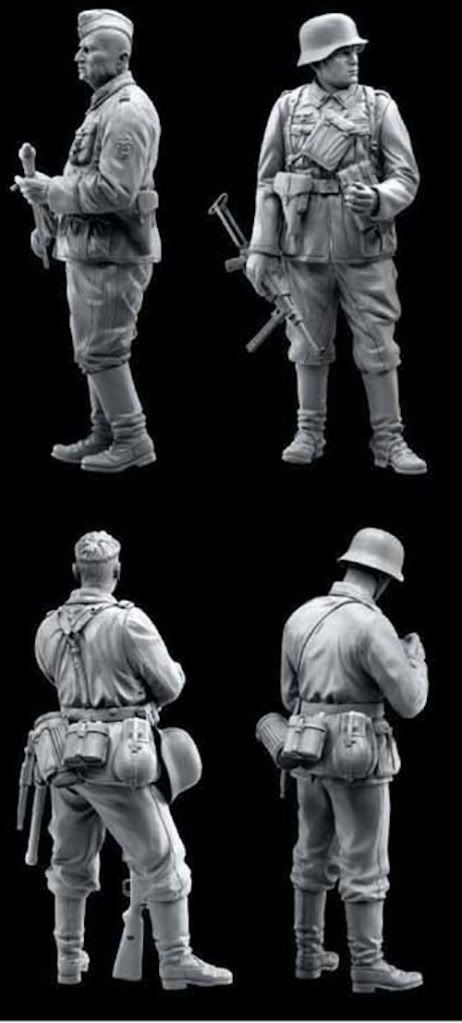 You can see dragon have been doing some work on the faces and the sit and sag of the clothing. They are getting better all of the time and deserve the accolades they get! Bravo 6 bring us two humorous sets of figures this month. They are drawn from two famous scenes on the big screen –"Full Metal Jacket" and "The Pacific". First of all is "BANZAI!!! - PELELIU 1944" which reminds me of the scene in the Spielberg/Hanks TV epic "The Pacific" in which the intrepid marine gets interrupted in his "pit stop" by a Japanese soldier coming out of a cave. Well hilarity results, but what matters here are the figures.
Sculpted in resin by the impressive Vladimir Demchenko, these show one soldier running holding up his strides while the Japanese soldier comes at him with a knife – It certainly is cheeky!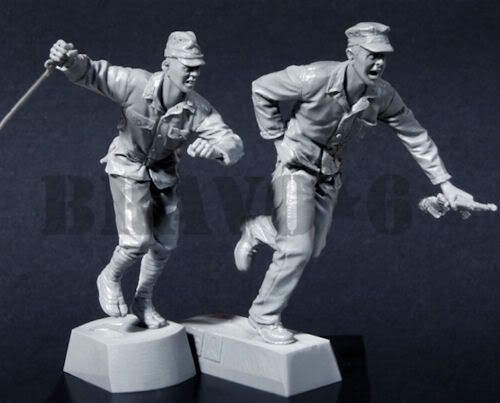 The second set of figures is again in resin and this time is set in the Vietnam conflict. The title for this 1/35 figure set is called "ME SO HORNY - GI & BOOM-BOOM GIRL" Now this has nothing to do with the 2 live crew. Sculpted by Vladimir Demchenko again, this is taken from a scene in "Full Metal Jacket", and really I think you get the picture from the pictures…If you know what I mean…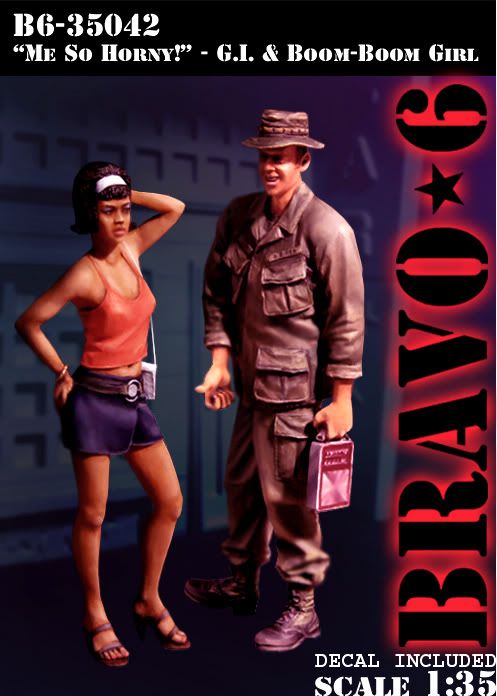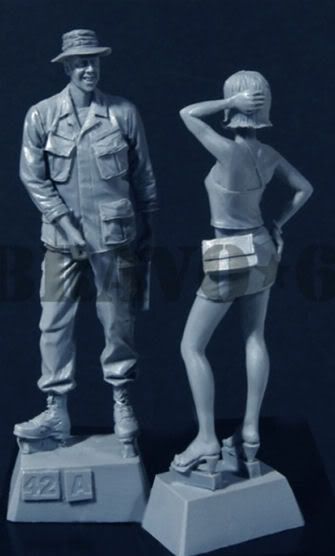 Err……that's it from the modelling news this week. Keep on checking back here and The Modelling News for more updates as they appear. We will keep you up to date on all types of modelling stuff announced and coming out.
Till next week – have fun with your modelling!
Adam