In the wake of the hotly anticipated Tamiya and Zoukei-Mura P-51D Mustang releases in 1/32 scale there has been a raft of products released and announced to compliment what is hoped to be "the ultimate Mustang". Good timing or good luck have landed on the decal makers' Zotz from Mexico's door here, as just about the same time as the announcement of these two kits, Zotz have released THREE new decal sets for the Mustang in 32nd scale. I will review them all for you here, going into any detail I can find about the aircraft and their pilots as well as an in depth study of the sheets themselves of course!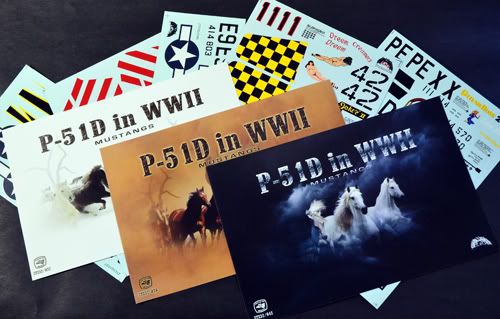 All three releases have three schemes apiece and are designed to fit ALL of the 1/32 mustangs out there, as there are no wrap around nose decals to guess on the new kit's dimensions (as long as that the new kits themselves are to scale). Zotz have a system of large areas needing to be painted, then their decals are applied over the paint (like a checked nose or a tail with stripes). This makes the decals applicable for all kits of that particular aircraft. I will talk about the specifics of the replication of artwork and decal quality as I review all three sheets. In this review I'll be referring to the historical context of these decals. It's easy to say "yes they are in register/colour etc." but harder to actually look into the history of the machines captured in these decals and the men who flew and decorated them. The decal sheets from Zotz always come in a Ziploc plastic bag with a creative cover illustration on card paper which doubles up on the back as an instruction sheet. In my time dealing with them, I have never received a bend or damaged sheet. The quality of their research is always spot on and I have seen the extent as to how far Zotz go to verify a subject's proper colours and markings (as you will see in this article later)
Above is a typical sheet from these sets held against the light so you can see for yourself the thinness of decal and the minimum of carrier film used in these releases. I can say that on all of the decal sheets the colours are strong and whites are thick and not opaque (a good thing on the national markings especially. The decals are in register and do not have excess of carrier film. I am very happy with the quality of printing here as well – tiny details are replicated and details are clearly readable on each sheet. -Anyway let's look at the first set! Zotz Decals "Mustangs" Pt. 1 1/32 P-51D in WWII.
ZTZ32/042 - This release features some interesting mounts of some famous pilots, not many more famous than Medal of Honor Recipient Major William "Bill" A, Shomo.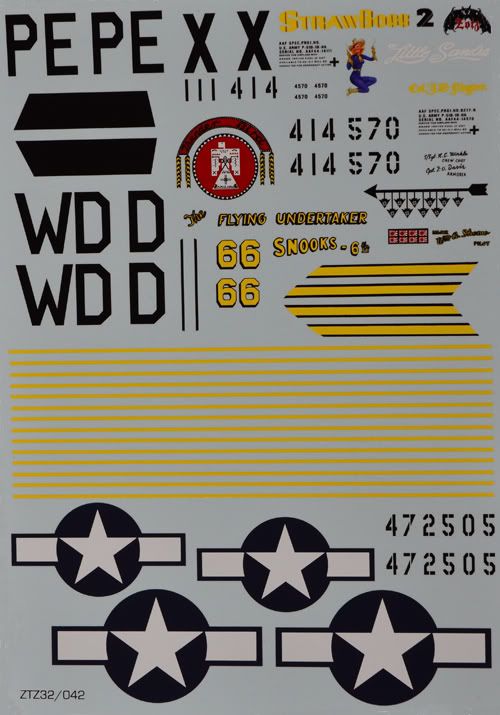 P-51D-20-NA, 44-72505 "The Flying Undertaker - Snooks 6th" was flown by Major William "Bill" A, Shomo, 82nd TRS, April 1945, Bimall, Philippines.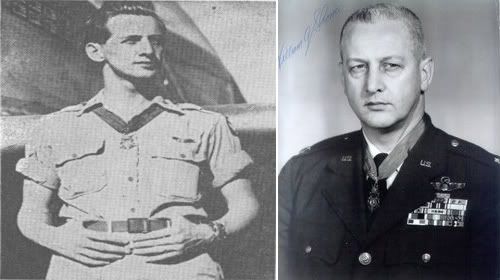 Shomo (1918 -1990), from Pennsylvania flew many aircraft during WWII, but was most famous for the flight he took in his P-51 Mustang on the 11th of January 1945, in which he incredibly downed seven Japanese planes of various types in a space of under six minutes over the Japanese held Airfields of Tuguegarao. The Medal of Honor Citation is here along with the aircraft he flew. I have even found a video of Shomo accepting his Medal of Honour and a video of him telling of his exploits- You can't say I don't do my homework! The odds on that day were 13 – 2 – the other enemy guarding the "Betty", the 12 Japanese fighters were escorting, turned and fled after Shomo's attack. The "Ace in a day" flight came in an F-6D recon Mustang called "Snooks 5th".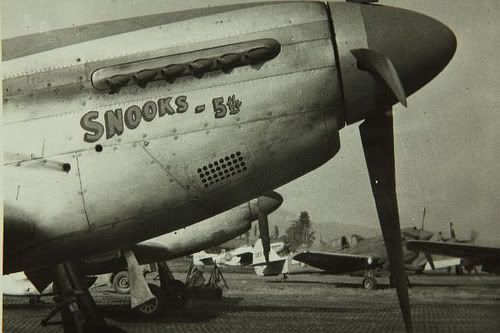 I don't have a picture of the starboard side of the cowling (above), so I can't judge the "Snooks 6th" artwork in comparison, but if it is anything like "Snooks 5th" in the picture below then its dead on.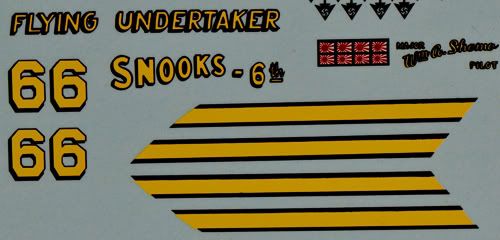 Shomo's next mount, "The flying Undertaker/Snooks 6th" is the plane pictured here in this sheet. This aircraft was flown from Binmaley Airfield in the Philippines. Called "The Flying Undertaker" because of Shomo's profession before the war and I think you can guess after having five other aircraft up to that point you can guess where "Snooks 6th" came from.
The decals for this aircraft are the nose art on the port side, "The Flying Undertaker" in yellow writing ringed in black and the black and yellow angled chevrons (port & starboard). Zotz also make your job a little easier by giving you long yellow stripes to ring around the black theatre I.D., stripes that are required on this kite. I have a picture of the port side of this plane so you can see the artwork and how it compares to the decal –pretty good.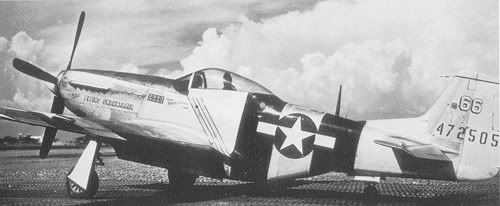 P-51D-10-NA, 44-14570 was flown by Capt. Ted E Lines, of the 335th FS 4th Fighter Group.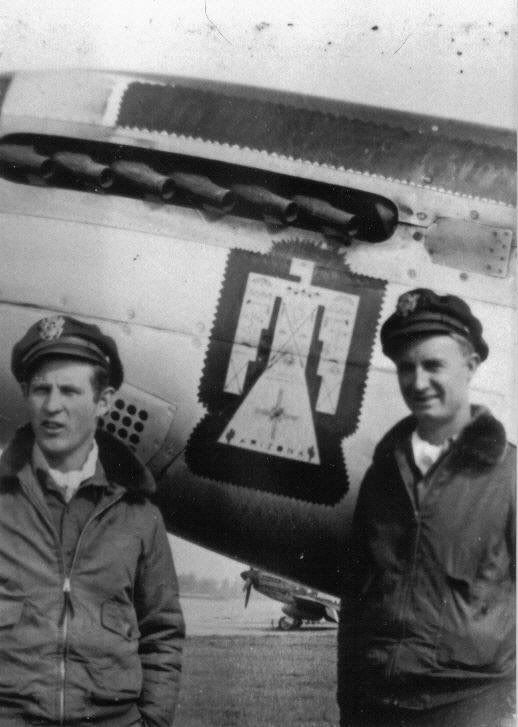 Ted Lines was from Mesa in Arizona, and he chose to mark his kills in an unusual style that echoed his origins. His kills were painted as arrowheads hanging off a straight arrow pointing forward on the port side of the aircraft. Called "Thunderbird" after the Navajo's legendary creature, the plane pictured here in these decals was the second of two P-51D aircraft assigned to the flight commander from "A" flight.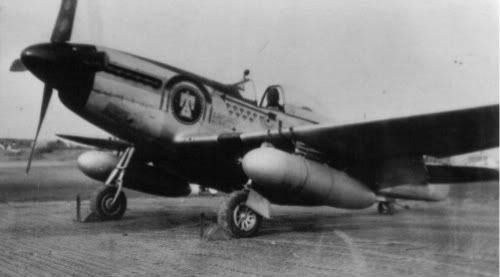 I was able to track down a picture of Captain Lines in my Osprey Aviation Elite Units 30 - and from this book I found that "Thunderbird" was Lines' assigned fighter for his last three kills (of which none were credited to him) and that this particular aircraft survived the war only to be scrapped in 1945. Lt. Charles E "Chuck" Konsler took over this bird after Captain Lines was rotated home and all but the Arrow on the fuselage was deleted from the Port side – I think the decals we have here are a much better looking scheme for this aircraft!!
The "Thunderbird" nose art looks very nicely replicated to me as you can see in the photo underneath. The colours all being in register in this complicated bit of artwork. As well as clearly being able to pick out the crew chief and armourer's names on the decal, the kill swastikas are right on the money as well – all facing the right way and at the right angle!! Eli gives colour instructions on all of his aircraft markings and helpful tips which help you make those critical choices which are very helpful.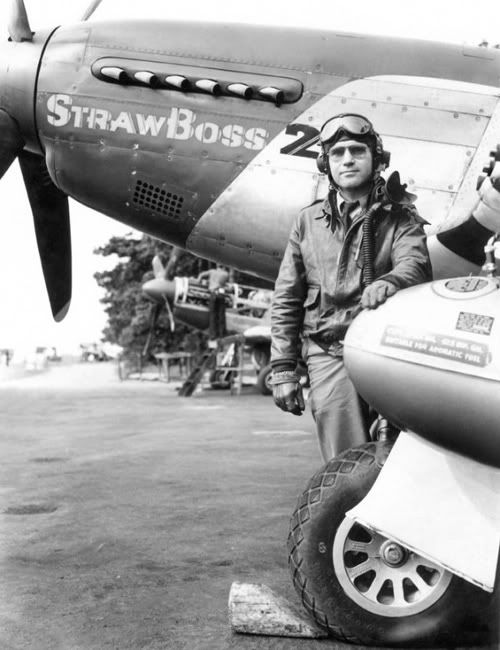 The next aircraft was flown by Lt. Col. James D Mayden and was based at A-84 Chievres, Belgium from mid-March to April 1945. P-51D-10-NA, 44-14111, "Straw Boss 2 - Little Sandra" features a sexy cowgirl "Pistol Packing Mama" from Antonio Vargas Pyn-up fame. From the picture below you can see the resemblance is almost photo –realistic. Zotz really are good at this type of thing. They released some P-47 sheets with sexy noseart last year with the same sort of research quality. Wow.
This natural metal with blue nose and red rudder aircraft had "Little Sandra" written on the starboard cowling. This was Mayden's crew chief S/Sgt. Hubert Robling's baby daughter's name. I found a picture of this aircraft's starboard side and you can see the decals are spot on for artwork again.
This aircraft underwent a re-paint and the Vargas Pyn-up was added on the Port fuselage as well as the decal sheet getting it right with the serial code not re-painted on to the rudder as the picture below shows, and the addition of the painted canopy frame – you can see the differences in the aircraft below.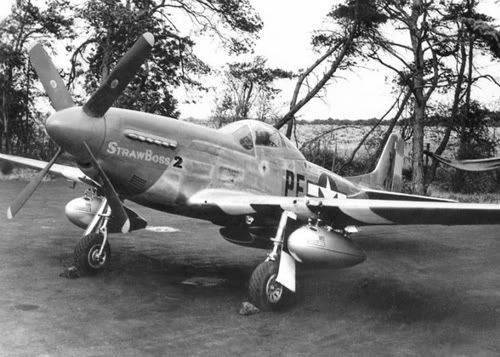 And after repaint…
1/32 P-51D in WWII decal sheet Product 2: ZTZ32/038 is the second sheet I will look at in this series
The squadron commander of the 317th FS 325th FG, Lesina, Italy Autumn 1944, Major Herschel H. Green's aircraft, is featured next up on the first of three schemes on this second in the series of these decals. P-51D-5-NA, 44-13498 – "11" was as the others a here on this sheet a natural metal aircraft, with a red spinner and a yellow and black checkerboard on the tail.
Though its pilot had a distinguished career, the aircraft was fairly plain compared to some of the others in this series, and I cannot recall it being kitted in this scale before – so it is a welcome addition to this collection of colour schemes.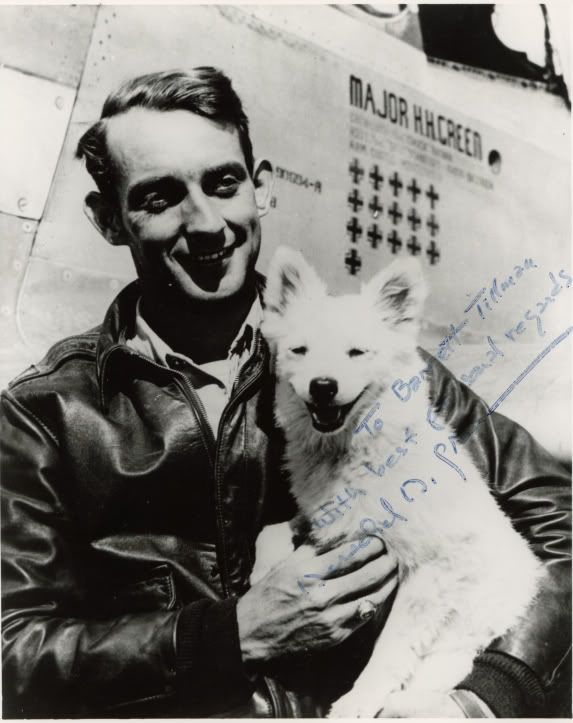 The only question of these decals will come of the checkered tail with one of the unreleased kits, just say from Tamiya. I have it on good authority from Eli though that the decals do fit the Hasegawa kit and should also fit the Tamiya kit if it is correct. Zotz have been very smart in giving you a little extra decal so you can trim to your own drawings desires!
Green though was a high scoring "triple" ace (an ace in both P-47s and P-51s) and his eighteen total kills are well painted here to be applied on the port fuselage below the cockpit. As well as the pilot the ground crew chief, assistant and the armourer are clearly visible on the writing which is correct in this scale.
These pictures above of the man and his machine show both clearly the kill marks and the red and yellow around the spinner. A brief history of the man is here on this website devoted to the 325th.
P-51D-10-NA, 44-14803 "Jasper Joker II" was flown by Lt. Donald F Vulgamore, of the 376th FS 361st FG, Luliang, China, in 1945. This aircraft was an overall natural metal with yellow nose, spinner and tail with "Jasper Joker II" script on nose. This is by far my favourite in this series and the reason for my liking them so much. I have this sheet already from Aeromaster and I am not happy with the artwork on the joker – I am happy to report that the joker here is excellent in his reproduction and matches the picture of the original exactly.
The name of this ship came from Lt. Vulgamore's hometown of Jasper in Ohio. Those sharp eyed amongst you will realise that there are a few different things about this aircraft. Firstly the three swastika kill marks on the canopy are reversed as they are in pictures, and that there are black bands on the wings, wingtips and tailplanes. There are also some additional yellow stripes on the propeller as well. Zotz have given you the exact dimensions to paint them on to your aircraft which will save some guesswork. A nice addition and better than using decals on these parts. These details have all been verified at the 8th air force "Little Friends" website.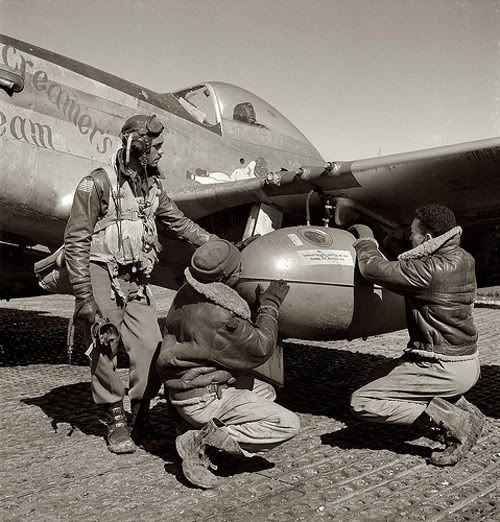 The racy P-51D, "Creamer's Dream" was flown by 1st LT. Charles White, 301st FS 332nd FG, in Ramitelli, Italy, January 1945. This aircraft was overall natural metal with red spinner and red tail. There is no known serial number for this aircraft and I think maybe it was painted over? That would explain it, but I am not sure as to why. There is the large red tail of the "Tuskegee Airmen" on the tail and the nose section making this aircraft readily recognisable in the air to friends and foes alike.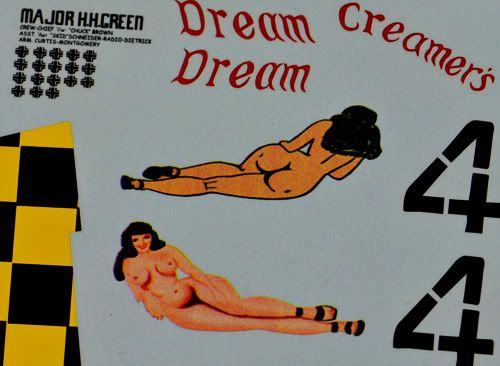 Interesting points of this aircraft in which Lt White shot down two aircraft was that there are no "kills" on the fuselage and that "Creamer's Dream" was on both sides of the fuselage. The lady in question was shown front and back views, and interestingly the starboard lady seems a little lighter than on the port side.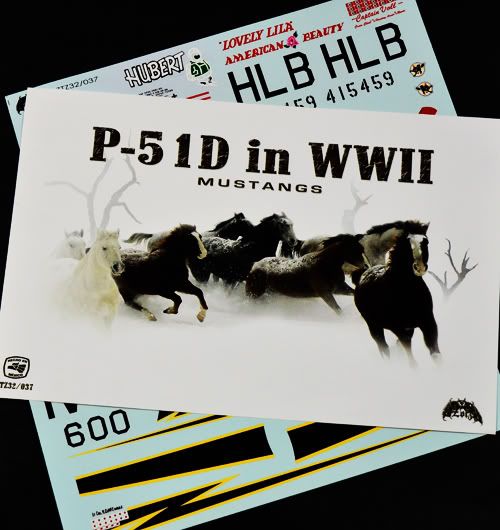 The third sheet on sale in this series is ZTZ32/037.
Carrying on is the first of the third series of these P-51 decals of WWII. First of all we have P-51D-15-NA, 44-15459 "American Beauty" / "Lovely Lila" flown by Capt. John Voll, 308th FS, 31st. Fighter Group in May of 1944, Luliang, China, 1945.
This kite was natural metal with red spinner and red diagonal stripes on the tail. Flown by the 3rd highest scoring Mustang Ace and top scoring USAAF ace of the MTO Capt. John Voll. Voll finished his total with twenty-one victories, these are on the fuselage in three rows of seven swastikas with the Captain's name and his crew chief's clearly visible underneath with the Captain's and his crew chief's names clearly visible underneath.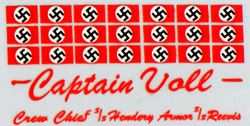 This is a really colourful aircraft with excellent artwork for the cowling that faithfully replicates the real nose art of "American Beauty" (pilot's side)/"Lovely Lila (crew chief's side)."
Provided are the red stripes for the tail which again can be snipped down if you desire or if they are a little too large for the newer unreleased kits. This decal choice was offered interestingly on Trumpeter's P-51 kit, but I am unsure of the quality of that particular decal. The stripes here are so subtly done that you can see the yellow I.D. stripes below the red stripes faded out! Also you will have to apply the serial number under the red stripes. (You can see Voll's aircraft again below on the far side of the picture below)
There is an excellent source of news about Voll on this site which shows a modern day replica P-51 so you can get your senses tingling. Also the history of the man is told quite well here. Artwork on the main gear doors is supplied as well as the instruction sheets for the Id stripes and yellow band which goes round the red nose.
P-51D-10-NA, 44-14626 is next, flown by Lt. Col. Edward O McComas who was the Commanding Officer of the 118th TRS/23rd FG, Luliang,
China, in 1945.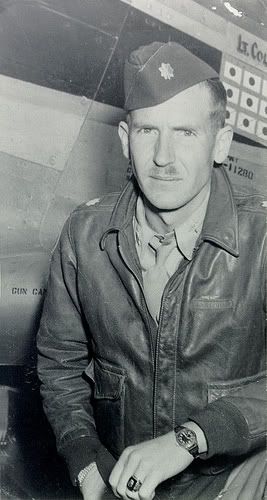 This natural metal aircraft had a black spinner with yellow stripe and black lightning is definitely worth reading.bolt on both sides of the fuselage.
Lt.Col McComas, CO of the 118th TRS, 23rd FG, 14th AF, in his P-51D, January 1945. This P-51 was presented to him on December 25, 1944, by Gen. Chennault. It was in recognition of his accomplishment in shooting down 5 Japanese airplanes on Dec. 23, 1944 to become the only "Ace in a day" in the 14th Air Force. Lt.Col McComas had 14 aerial victories and 5 ground victories. One of the ground victories was a Japanese destroyer that he sank in Victoria Harbour in Hong Kong.
Flight Leader Capt. Rene L Burtner Jr. Washington, D.C., flew this aircraft P-51D-20-NA, 44-72366 "Hubert" for the 369th FS 359th FG which was based at the time at East Wretham (USAAF Station No. 133), 19 October 1943 to 2 November 1945.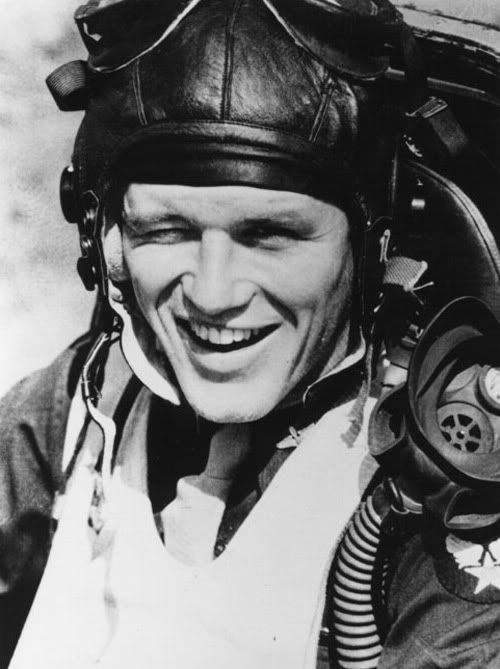 "Hubert" was a natural metal "ship" with a really nice shade of with green covering the nose and spinner, while the rudder was painted in red. Text of "Hubert" with noseart of the cartoon character made popular in the U.S. forces "Yank" magazine is on the front starboard cowling. I found an interesting story of Capt. Rene L Burtner Jr. on a website which lists how his aircraft was shot down and his subsequent escape from captivity.
Other interesting features of this aircraft are the three red stripes provided in decal for the fillet on the rudder (denoting flight leader status) and the red cockpit canopy. Shown below are the people who kept "Hubert" flying during the war - crew chief S/Sgt. Emile V. Segond on the left and his assistant Cpl. Glenn Bailey. It is nice to have photos like these to be able to show the validity and excellent research that Zotz did in making these decals. Thanks on this and the other two decal sheets were given to researchers/Advisers Norris Graser, Carl Molesworth and Mark Proulx. They deserve the credit as they have done their homework!
I will be applying these to my P- 51 when it arrives from HLJ and ill include the application of these in a build review of that kit so you will be able to see them in action there. I recommend these sheets – the decal quality, artwork and colours and the research are second to none.
You can order these decal sheets from the Zotz Decals website now