We are delighted to announce that in May 2021 we will be bringing out Imperium: Classics and Imperium: Legends, a pair of standalone asymmetric deck-building games designed by Nigel Buckle and Dávid Turczi, with art by Mihajlo 'The Mico' Dimitrievski.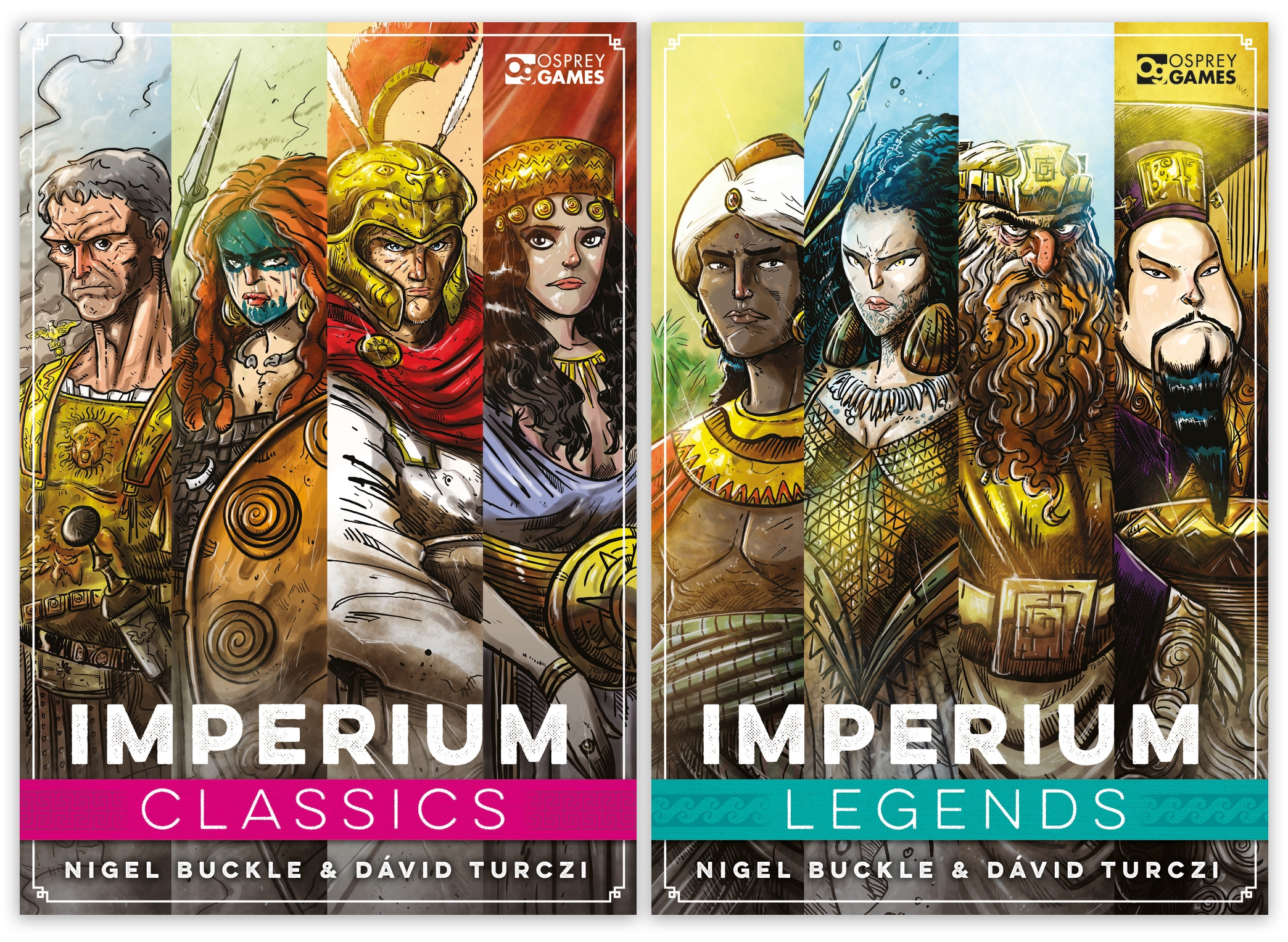 Up to four players will manage their civilisation through the centuries, balancing the desire to conquer with the need to maintain a relentless pace of scientific advancement, all the while preserving societal stability and minimizing internal unrest. Each game contains 8 unique playable civilizations, and the two can be combined to give players 16 nations to lead to greatness, from the Romans and Egyptians, to Arthurian Britain and the mythical Atlantian Empire.
Speaking about the game, designer Nigel Buckle said, "I have combined my interest in history with my passion for board gaming into Imperium. 10 years in the making, I have thoroughly enjoyed working with Dávid, the team at Osprey, and The Mico to finally bring you these two deck-building games."
"When I joined Nigel a few years ago to improve his civilisation deck-building game, little did I know we'd come out with 16 unique civilizations, each with their own solo bot, and more than 400 unique cards," commented Dávid Turczi, "Nigel is a game design machine, and it's my privilege to introduce a wider audience to his work through this shining example of his design talents."
"Imperium is a lovingly crafted game," added senior games developer Filip Hartelius, "From the hundreds of stunning illustrations by The Mico, to the enormous range of historical and legendary nations in these boxes, Imperium embodies a design ethos of generosity and attention to detail. Pick up Classics for a seamless civilisation-building experience featuring staples of the genre like the Romans and Greeks, or choose the more challenging Legends to take deck-building to its limits with more unusual entries, such as the Olmecs and Utopians."
***
Formidable adversaries are arrayed against you. Your people stand ready. History beckons.

In your hands lies the destiny of one of history's great civilizations. Under constant threat of attack, you must conquer new lands, oversee dramatic scientific and cultural advances, and lead your people into the era of empire. Expand too rapidly and unrest will bring your civilisation to its knees; build up too slowly, however, and you might find yourself a mere footnote of history. As one of eight radically asymmetric civilisations you will compete to become the most dominant empire the world has ever seen.

Imperium: Classics contains the Carthaginian, Celt, Greek, Macedonian, Persian, Roman, Scythian, and Viking civilisations.
Imperium: Legends contains the Arthurian, Atlantian, Egyptian, Mauryan, Minoan, Olmec, Qin, and Utopian civilisations.
***
Nigel Buckle is a game designer, playtester and developer based in London, UK. He is best known for designing Omega Centauri, published by Spiral Galaxy Games in 2014. He has 2 other games coming up in 2021 (with Mindclash Games and PSC Games) besides Imperium.

Dávid Turczi is a prolific Netherlands-based, Hungarian-born game designer, most well-known for the BGG top 50 hit Anachrony. Additional designs include Tekhenu, Tawantinsuyu, Dice Settlers, Rome and Roll, and solo modes for various other designers'; games, including Teotihuacan and Cerebria.

Mihajlo 'The Mico' Dimitrievksi is one of the most celebrated artists in the board game industry, providing stunning work for a range of games including Architects of the West Kingdom, Raiders of the North Sea, Dice Settlers, and Valeria: Card Kingdoms. He currently resides in Bitola, Macedonia.