Today, 11th March 2017, marks the 75th anniversary of US General Douglas MacArthur fleeing the Philippines to Australia. MacArthur, commander of Allied forces in the south-west Pacific had been instructed by President Roosevelt to leave Bataan, though he vowed to return. In 1945 he would return to help liberate Luzon from the brutal Japanese occupation.
Below is an extract from Clayton Chun's The Fall of the Philippines 1941–42 depicting MacArthur's last stand on Corregidor. Chun's newest book, which focuses on MacArthur's return to the Philippines, Luzon 1945, is now available to pre-order.
MacArthur planned and directed operations from Corregidor. The island served as the main defensive position to protect Manila Bay, and Army engineers had built Fort Mills on Corregidor with 14 batteries to protect Manila Bay and Cavite. Fort Mills and other protected coastal defense positions could withstand naval and land-based artillery, but had little protection from the air strikes. With an assigned strength of 6,000 soldiers, the island was self-contained. It had a power plant, water desalination facility, a railroad, airfield, and housing. A key structure was the Malinta Tunnel, completed in 1932, which served as MacArthur's main headquarters during the campaign.
With an ever-tighter IJN blockade, the likelihood of reinforcement by surface shipping shrank with each passing day. Transports from Australia tried to reach Cebu where inter-island steamers could resupply Bataan and Corregidor, but only three out of six ships from Australia arrived in Cebu. The Japanese sank or captured most of the inter-island transportation, or the crews scuttled their ships. Roosevelt and Marshall continued their efforts to send men and material to MacArthur, the problem was a lack of naval resources to break the Japanese blockade. Submarines and aircraft did manage to resupply Bataan, but they could not provide all of the requirements. MacArthur blamed Roosevelt, Marshall, and the Navy for abandoning him.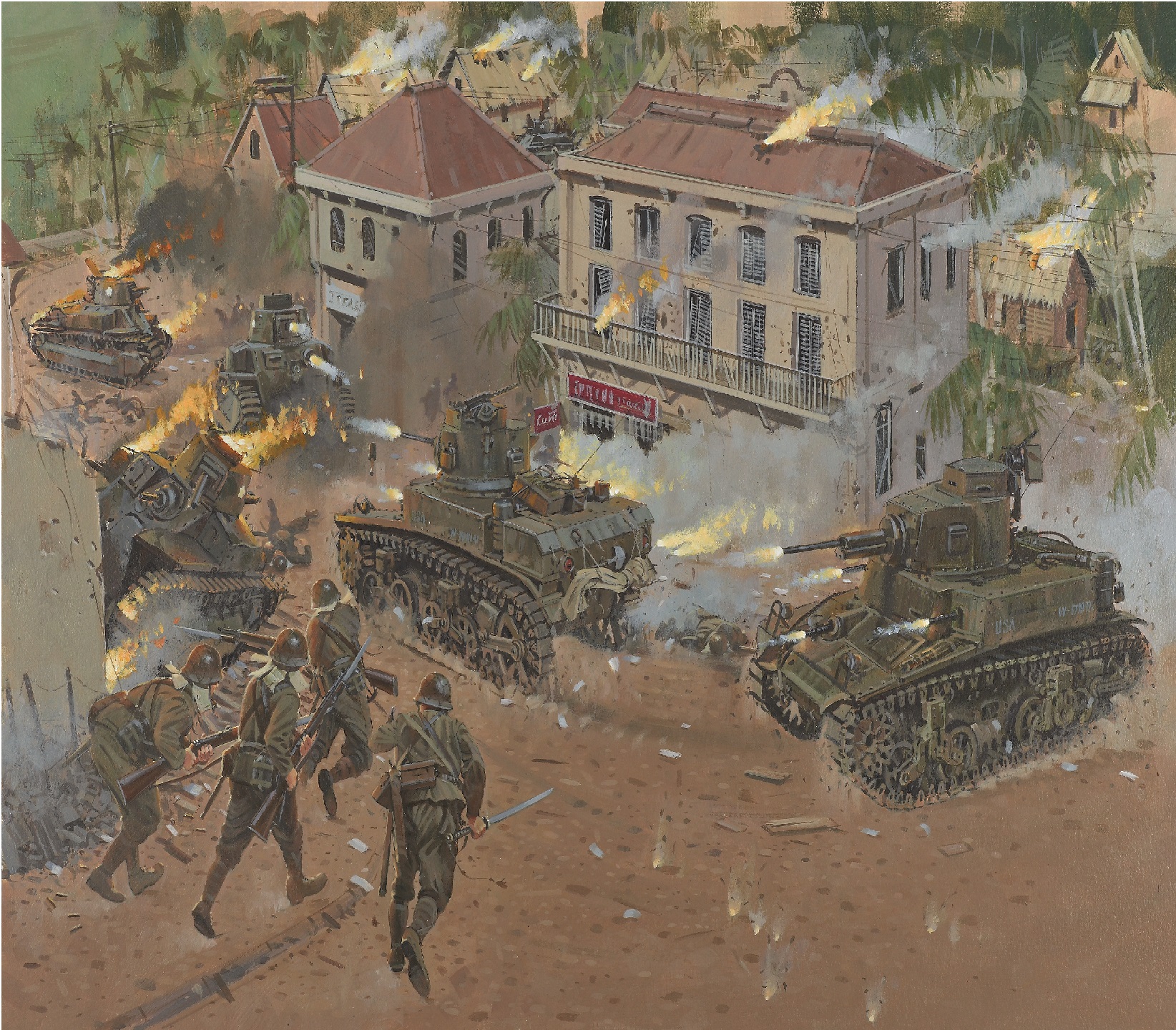 The situation in the Philippines: The Fight at Baliuag, December 31 1941
In Washington, Roosevelt and others started to realize that the Philippines fight was lost and that the USAFFE were on the cusp of defeat. MacArthur had held out against the Japanese and had attained a hero status in the eyes of the American public. Losing a major American possession, unlike Guam or Wake Island, was humiliating, but what might happen if Homma captured or killed MacArthur? Roosevelt ordered MacArthur to leave the Philippines and take command of forces in Australia and the Southwest Pacific Area on February 22, though he did not leave at once.
MacArthur left Corregidor on March 12, with his family and selected staff members departing in four PT boats for Mindanao. There, they flew by B-17 to Australia. Before he left, MacArthur made Wainwright the commander of all of the Luzon forces, although he planned to retain command of the USAFFE from Australia. MacArthur left Wainwright with the order to fight for as long as his troops had the ability to resist; no surrender was planned. However, this command relationship soon became confused.
MacArthur reached Australia on 17 March. During a speech in Adelaide, he made a personal commitment to the Filipinos that he would return to the islands, declaring "I Shall Return." American officials tried to persuade him to change his statement to "We Shall Return," but he refused. His proclamation would serve as an American rallying cry and affect the entire future Pacific strategy. Japanese radio announcers labeled MacArthur as a deserter and coward for abandoning his men. To counter these claims, and because America needed a hero in the face of early defeats, Marshall convinced Roosevelt to nominate MacArthur for the Congressional Medal of Honor. Both Roosevelt and Marshall had believed Wainwright had succeeded MacArthur as USAFFE commander and they arranged for Wainwright's promotion to lieutenant general. MacArthur tried to retain command of the USAFFE but Roosevelt and Marshall disagreed, and Marshall notified MacArthur that they considered Wainwright as the new commander of the US Forces in the Philippines (USFIP) on March 22. USFIP effectively replaced USAFFE and Wainwright named Major General Edward King as the commander of forces on Luzon.
---
Clayton Chun is on the US Army War College faculty at Carlisle Barracks, Pennsylvania, where he teaches courses on national security, strategy, and economics. He completed a military career in the US Air Force and has published work in the fields of national security, military history, and economics. His newest book Campaign 306: Luzon 1945, focusing on General MacArthur's return to the Philippines will be released on 20th April, you can pre-order it here. Also, keep your eyes peeled for a new blog post on Luzon 1945, coming soon.