On the blog today, author Steven J. Zaloga introduces us to his recent New Vanguard title 'Tanks in the Battle of Germany 1945: Western Front.'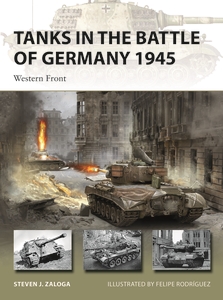 This is the start of a new two-part New Vanguard title dealing with the tanks involved in the final fighting in Germany in 1945. The first volume covers the tanks in the West, while the second part covers the Russian Front. From an author's perspective, the hard part of doing a book like this is to avoid doing a "lawnmower catalog" of a lot of stale technical information about familiar tanks. I don't really think we need more thumbnail sketches about the Tiger and Sherman tank. So, my approach in this book is to stand back and look at the bigger picture. One of the surprises was to recognize how small the Wehrmacht Panzer force had become by 1945. Hitler had gambled the last Panzer reserves on his Ardennes offensive, which only managed to further weaken the Wehrmacht in the face of onslaughts from both East and West. After the failure of the Ardennes offensive in January 1945, the Red Army launched a massive offensive towards Berlin. Hitler stripped the Panzers out of the West and sent them East to fight the Red Army so the Panzer forces on the Rhine river facing the western allies was small and continued to shrink. I managed to dig up quite a bit of new information about the decline of the Panzer forces from captured German records at the US National Archives.
Many tank buffs are probably impressed by late-war German tanks types such as the King Tiger and Panther, but from a historical perspective, these impressive designs didn't mean much on the battlefield when they were faced by overwhelming odds. In mid- March, 1945, the Wehrmacht had only 193 functional tanks, tank destroyers and assault guns in the West, facing more than 20,000 Allied tanks and tank destroyers. That's a hundred-to-one Allied advantage. This book provides details about the relative strengths of both sides from mid-January to May 1945 in these final battles.
This new book is heavily illustrated and has some exceptionally fine artwork by Felipe (Rodna) Rodríguez.
Order your copy here