In today's blog post, we're looking at three fantastic pieces of artwork from three of our May 2022 titles. Let us know what you think in the comments section and, if you would like to see any artwork from any of our June titles, be sure to mention that too!
Illustrated by Adam Tooby 
This image, requested by GI Gene shows the breach onto the main Amiens–Albert road caused by Irving 'Black' Smith's second bomb, allowing many of the prisoners to escape, some of them aided by a small group of resistance workers led by Dominique Ponchardier. He used a lorry and several cars to spirit escapees away, and had left the prison by 12:30pm. The Germans didn't arrive at the site from Amiens until around 2pm, by which time those prisoners who had decided to flee had done so. When news of the attack came through, other local resistance sympathizers went to the prison and helped men to hide. One resistance leader, Michel Dubois (a local building contractor) managed to hide about 40 prisoners in a series of old caves, once used for mushroom growing, in the Saint-Pierre area of the town, just over a mile away, but with a single entrance known only to the local inhabitants.
By 3pm the Germans, Milice and Gendarmerie had set up roadblocks round Amiens and checks were mounted on all roads. Sweeps and checks were made of roads and houses, picking up escapees who had not succeeded in merging unseen into the town to find sanctuary from their pursuers. It was this length of time more than anything else that allowed many escapees to remain permanently at large. Armed patrols searched the streets, houses, vehicles, trains and premises over the coming hours and days, but the hugeness of the task meant that there were too few troops available to secure every exit from the town. However, the cold weather was a significant problem for ill-equipped escapees attempting to survive outdoors for any length of time without shelter, warm clothes and food.
German aircraft scoured the snow-covered terrain in concentric rings running out from Amiens Prison in an attempt to identify the tracks of prisoners escaping unsupported through the snowy countryside, and collaborators kept a watch out. As a result, many prisoners were quickly recaptured. The exact number of those who had avoided recapture is impossible to determine, but an analysis of the numbers suggest that in addition to 'normal' prisoners around 84 résistants secured their liberty on that momentous day, most of whom permanently escaped Nazi clutches, to play important subsequent roles for the British and Free French secret services in the ongoing intelligence and guerrilla war across northern France, and in support of the Second Front that would open up with D-Day on 6 June, four months later.
Artwork by Johnny Shumate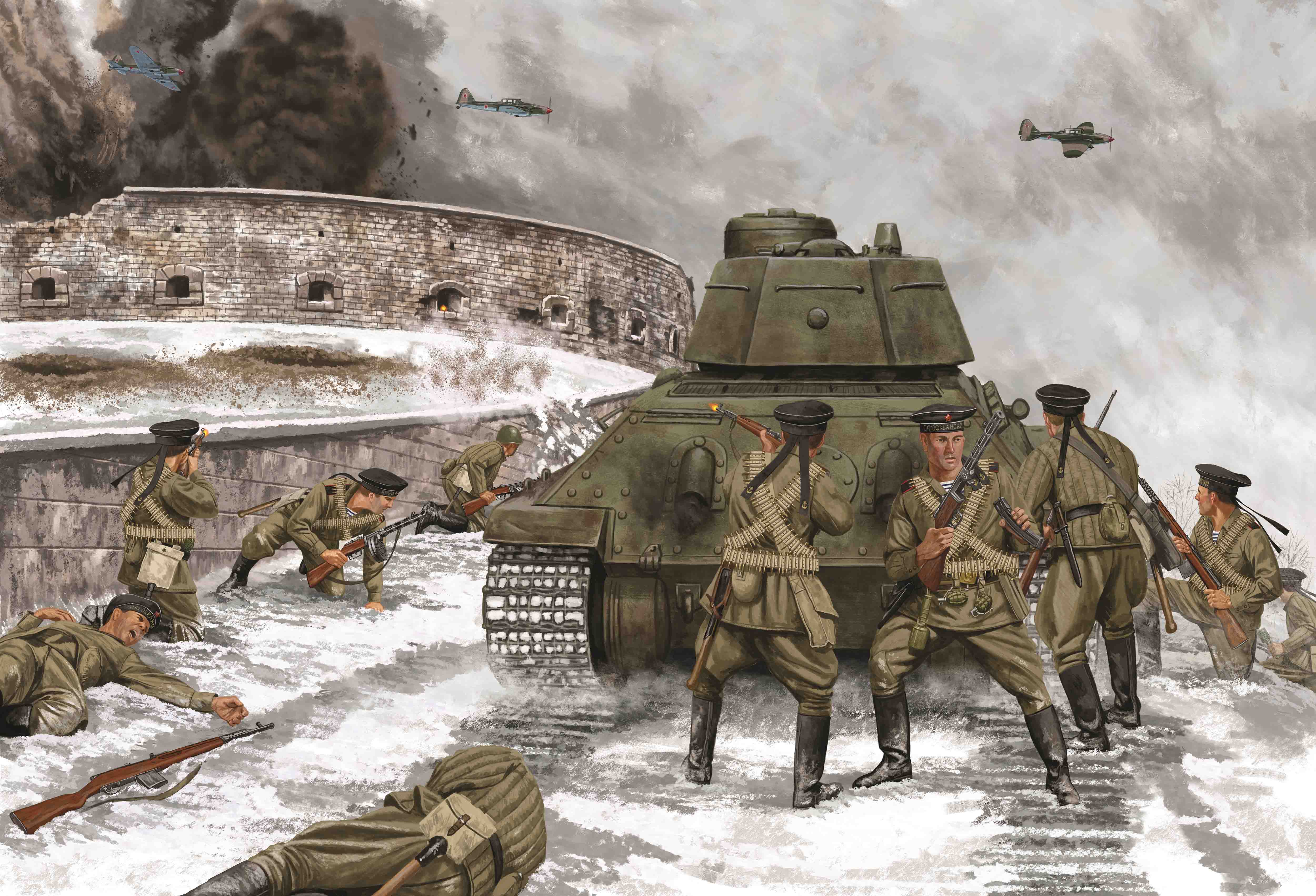 ASSAULT ON THE CITADELLA FORT, BUDA, 0800HRS, 12 FEBRUARY 1945
The Citadella fort, built in the 19th century, regained military importance during World War II. The Hungarian air defence command for southern Buda was headquartered here, and the fort was also equipped with air-defence searchlights. With the capital surrounded, German forces also concentrated here. During the siege, the fort was regularly attacked by the Soviet Air Forces, but they could not break down its thick walls.
By the evening of 11 February 1945, the Soviets had captured most of Gellért Hill, but not the Citadella. By this time, only a German–Hungarian rearguard still held the fort. The next morning, troops of the Soviet 83rd Naval Infantry Brigade and the 316th Rifle Division, supported by T-34 tanks, approached the fort from the south, and managed to break in and capture it in close combat. Afterwards, the Soviets used the fort to hold Axis prisoners of war.
Artwork by Paul Wright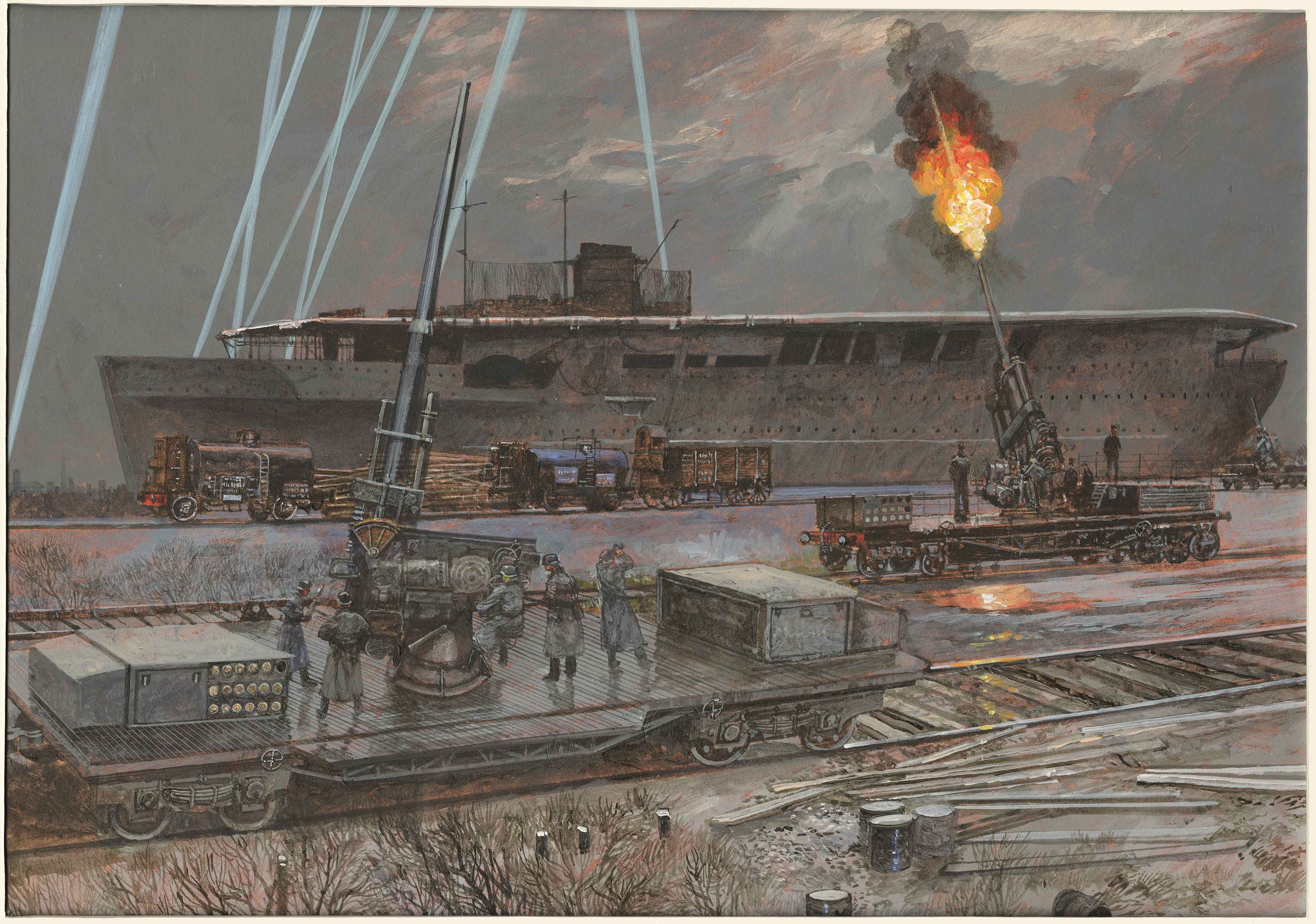 RAF aerial bombardment of Graf Zeppelin on the night of August 27–28, 1942
The final piece of artwork in our reveal was requested by Adam C. Despite its potential at sea had it been completed, the British Royal Air Force made only one attempt to sink the German aircraft carrier Graf Zeppelin during World War II. In late August 1942, Graf Zeppelin was moored along a wharf in Becken VIII (Basin 8) of the Deutsche Werke shipyards at Gdynia, Poland, known as Gotenhafen to the Germans. Around 2000hrs on the evening of August 27, 1942, nine Lancaster bombers (three from No. 106 Squadron and six from No. 97 Squadron), led by Wing Commander Guy Gibson (later to command the Dam Busters Raid), took off from their bases in Britain and headed for Gotenhafen; their target was Graf Zeppelin. Each bomber carried a single 5,500lb (2,268kg) Capital Ship Bomb as well as a new Stabilized Automatic Bomb Sight. Wing Commander Gibson had intended to attack Graf Zeppelin from an altitude of 6,000ft (1828.8m) but when his aircraft arrived in the vicinity of Gotenhafen, they found the target area covered by dense haze. In spite of heavy antiaircraft fire, Gibson's aircraft circled the target area for an hour until each bomber had made an attack run. Gibson and his crews never saw Graf Zeppelin during the attack due to the cloud cover but some of his aircraft attempted attacks from altitudes between 8,000ft (2438.4m) and 10,0000ft (3,048m) nevertheless. Others made bombing runs against a secondary target, the hulk of the battleship Gneisenau moored along a wharf in Becken V of the yard, after spotting it through gaps in the clouds. No hits were scored on either warship and all of Gibson's aircraft returned safely to base. This scene shows Graf Zeppelin moored in Becken VIII on the evening of August 27–28, 1942, during Gibson's raid. German flak crews are firing from 10.5cm Flak 38/39 mobile batteries in the railway yard adjacent to Becken VIII.