Today on the blog, Senior Desk Editor, Gemma Gardner continues our Osprey Team's Top Picks for Christmas with three of her favourite titles on Medieval Warfare.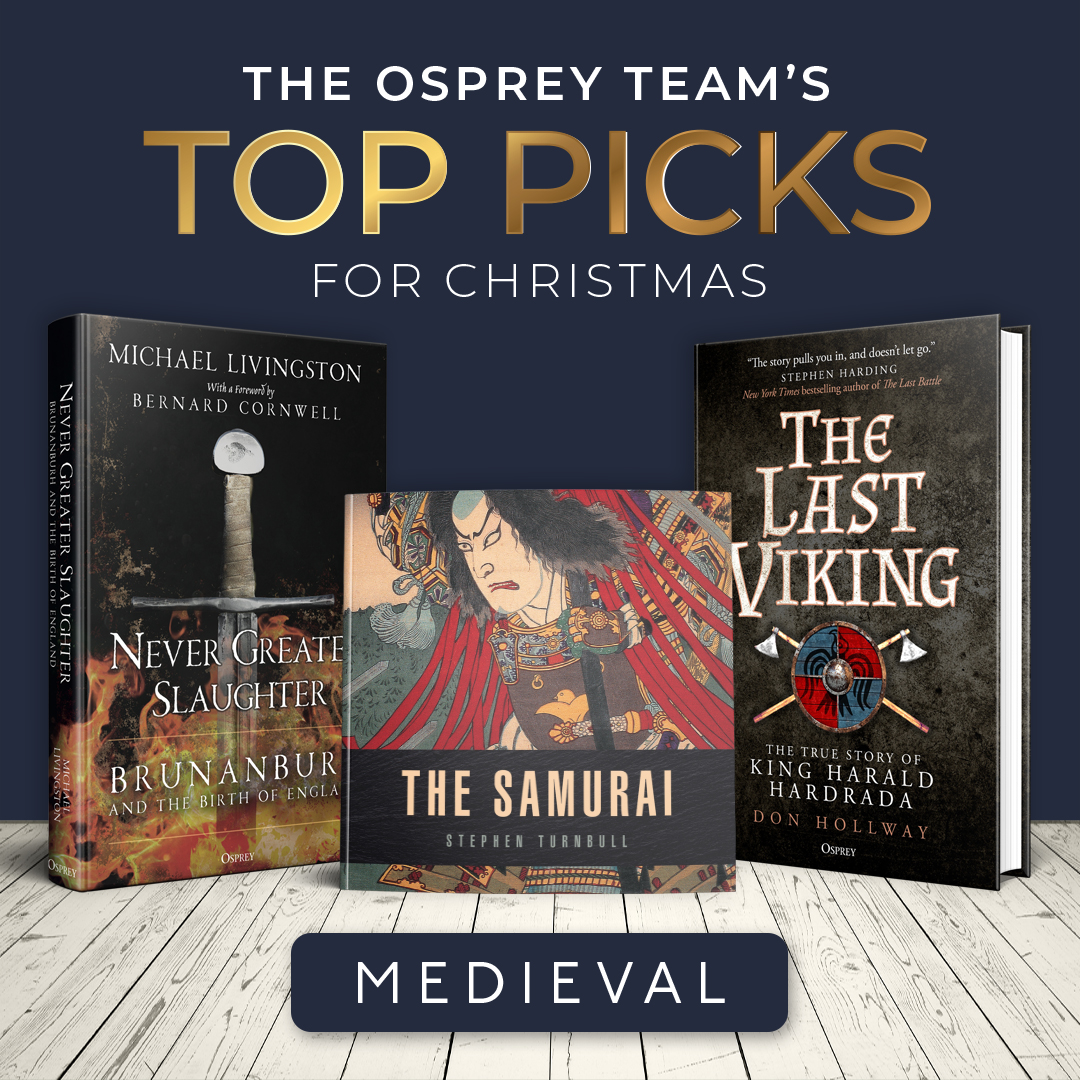 A great thing about being a desk editor at Osprey is the opportunity to work on a broad range of historical topics. A period that I particularly enjoy working on is the Medieval period, not only because of my personal interest in Anglo-Saxon and Viking history specifically, but also because the primary sources are really interesting. I also enjoy grappling with the picture research, which can be a bit of a challenge!
Studying Old English texts like the Battle of Brunanburh poem was the start of a great interest in Anglo-Saxon and Viking history for me, so it was a great privilege to work on this book. Michael Livingston tells the story of a conflict that, although not famous today, is one of the most significant in the history of the British Isles – a conflict that secured England's future as an independent, unified kingdom. He delves into the long-lost location of the battle, drawing on historical maps, geography, linguistics and archaeology in his conclusions – and you can see some of the finds in the plate section. Ultimately, Never Greater Slaughter is about the men who fought and died at Brunanburh, and how much this forgotten struggle can tell us about who we are and how we relate to our past.
This is such an exciting book for a fan of Viking history and the sagas. Don Hollway weaves together several different sources – Byzantine accounts, Anglo-Saxon chronicles and Norse poetry as well as the sagas – to tell the compelling story of the life of King Harald Hardrada, one of Norway's most legendary kings. He gives a wonderfully vivid picture of Harald's life – covering famous battles such as Stiklestad and Stamford Bridge, but also Harald's travel to as far-flung places as Sicily, Constantinople and the Holy Land. From the frozen wastelands of the North to the glittering towers of Byzantium and beyond, The Last Viking takes us on Harald's journey and depicts the violence and spectacle of the late Viking era.
A step far away from Vikings, and forward a few hundred years… I can't take the credit for project managing this book, but I just had to include it in my favourites! The world of the samurai, the legendary elite warrior cult of old Japan, has for too long been associated solely with military history and has largely remained a mystery. Stephen Turnbull, the world's leading authority on the samurai, goes beyond the battlefield to paint a picture of the samurai as they really were. Packed with beautiful colour illustrations, The Samurai examines all aspects of samurai life, clearing away the myths to tell the complete story of history's most iconic warrior culture, a culture expressed through art and poetry as much as through violence.
Intrigued by any of the titles discussed today? All three are included in our Black Friday Sale here