In summer 2022 Osprey Games will publish an ambitious new asymmetric area control game - Crescent Moon. With five wildly unique factions to experience, players will be locked in a game of tense negotiations and political intrigue across the fantasy backdrop of 10th century Middle East.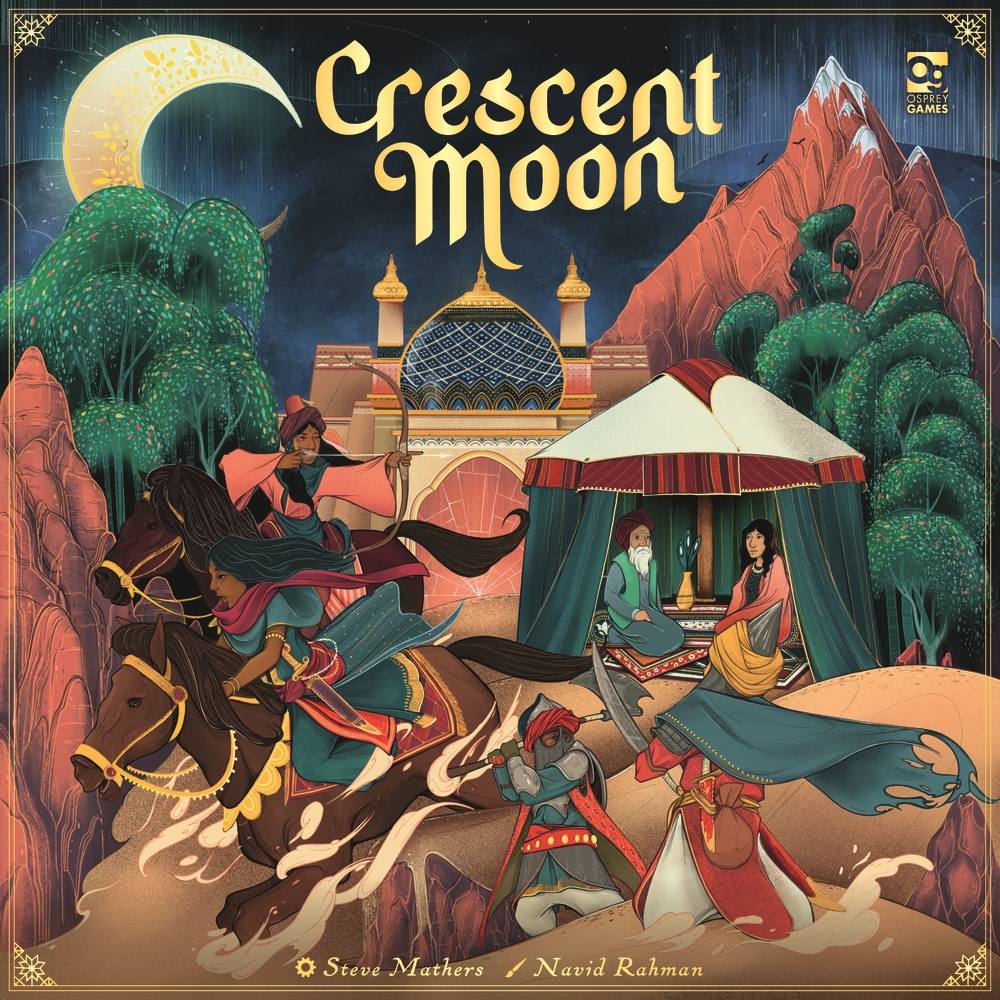 *****
As the sun rises over the deserts, rivers, and oases of the 10th century Middle East, an uneasy balance has been upset. Ambitious sultans sit in their golden palaces, presiding over great architectural works. Secretive cults work to undermine the central authorities and advance their agenda through an expansive network of agents. Nomadic tribes aim to sow discord in order to secure employment for their experienced mercenary citizenry. Hordes of foreign invaders sweep through the land, chasing after promises of plunder. And in the face of chaos and uncertainty, the caliphate aim to preserve order through military might.

As one of many competing factions in the region, you must grab history by the reins and seize power for yourself. Will you successfully navigate this web of rivalries and rise to prominence, or squabble with your lesser adversaries and fade into obscurity?


Ages: 14+
Number of players: 4-5
Play time: 150 - 180 minutes
Components: 59 Custom Wooden Pieces, 5 Player Booklets, 82 Cards, 62 Wooden Discs, 16 Hexes, 5 Cloth Bags, 196 Tokens
***
Steve Mathers lives in Melbourne, Australia, working as a programmer, and has been a part of the computer, tabletop, and roleplaying communities there for three decades. He is particularly interested in ancient history, and has spent significant amounts of time touring historical sites across the Middle East, North Africa, and the Mediterranean.

Navid Rahman is an illustrator with a keen interest in world building, creating environments with a blurred line of whimsical fantasy and reality. He creates striking scenes of sari-clad women, enchanted forests, whimsical organic shapes of colourful patterns filled with meticulous detail. Using a mixed medium of tools and supplies, he is obsessive in his attention to line weight details and the natural flow of work and the relationship it has with the public space.

About Osprey Games
Osprey Games is the dedicated games division of Osprey Publishing (part of Bloomsbury Publishing plc) and publishes a wide range of wargames, card games, and board games and roleplaying games.