NVG 295: SAS Combat Vehicles 1942–91 is set to publish this Thursday. Unfortunately, there is an error in plate E where the caption is incorrect. Please note that this error has already been corrected in the PDF and ePub files that are available on the website. For those of you who have already received your copy of the book, you can find the errata posted below.
We're really sorry for any inconvenience this has caused.
Plate E: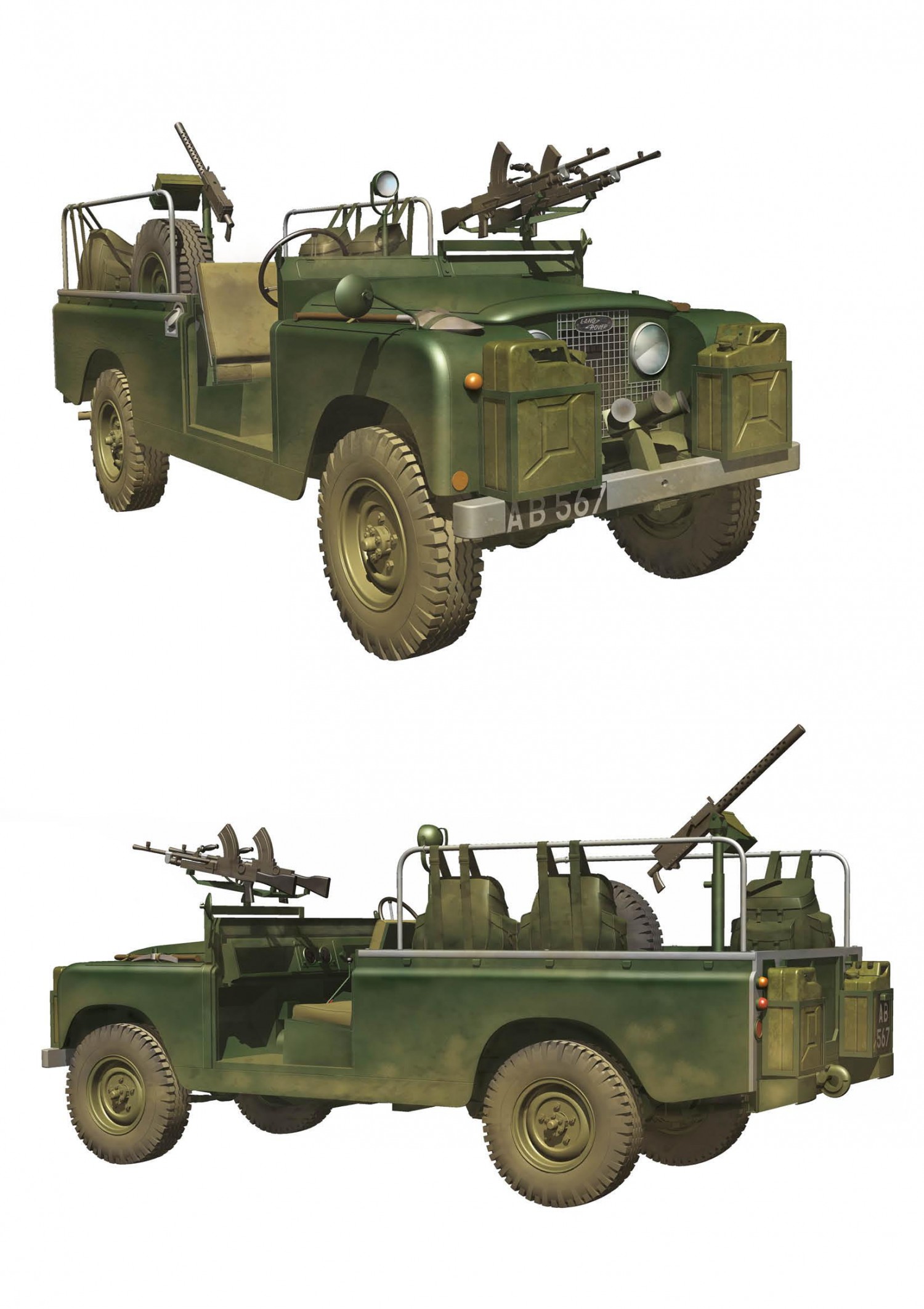 The correct caption for this illustration is:
109in LWB SERIES II LAND ROVER, 1960s
The Series I Land Rover was introduced into the SAS in 1955 and was a faithful servant of the Regiment for more than a decade before it was phased out in 1967 and replaced with the Series II version. The Series II Land Rover seen here, boasted a 2.25-litre petrol engine and had an 88in wheelbase (later increased to 109in). It retained most of the same features, such as the .30 Browning in the rear, although the twin Vickers in the front passenger seat were replaced with twin Bren guns. Note the mortar tubes beneath the radiator grill and the spotlight to the left of the driver. This was an innovation of the Rhodesian SAS when fighting insurgents in the Bush War. Jerricans of petrol were stored at the front and rear of the Land Rover and, conforming to the trend of the wartime SAS, the doors and windscreen have been removed.
Instead of the following:
SERIES I LAND ROVER, 1950s
The Series I Land Rover, introduced into the SAS in 1955, was a faithful servant of the Regiment for more than a decade before it was phased out in 1967. Officially known as a 'truck, ¼ ton, 4×4, SAS, Rover Mk3', the Series I Land Rover boasted a 2-litre petrol engine, and had an 86in wheelbase (increased to 88in in 1956). The SAS removed the Land Rover's doors and windscreen, as well as the middle portion of the front seat. A radio was fitted in the rear where there was also a rear-facing seat for the gunner/wireless operator. This rear gunner operated a .30 Browning while the front gunner had a twin Vickers and later a pair of 7.62mm general-purpose machine guns. Personal kit was stored in cages attached to the vehicle, usually at the rear. Jerrycans of petrol were stored on a reinforced front bumper and inside.