Publisher Kate Moore remembers Colonel Ed Shames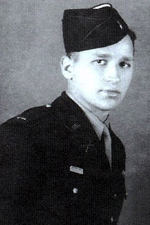 Colonel Ed Shames died peacefully at his home last week at the age of 99. I had the great pleasure and privilege of meeting Ed when he visited the UK some years ago while he and Ian Gardner were working on his wartime memoir. We went for lunch in a pub he had frequented as a young Airborne officer prior to D-Day. He made us howl with laughter with his wonderful stories but he also never forgot those who did not return home – the forever young and brave.
Ed Shames parachuted with the 506th Parachute Infantry Regiment on D-Day before advancing through the bocage of France and subsequently fighting in Holland and at the Battle of the Bulge. He was with Easy Company when they eventually captured Hitler's Eagle's Nest. Years later he would use a bottle of Hitler's cognac to toast his son's bar mitzvah. His sometimes harsh battlefield manner was simply his sheer determination to bring as many of his Airborne comrades home with him. To a man he earned their respect.
After the war he enjoyed a long and happy marriage with his wife of 73 years, Ida, who predeceased him. He is survived by his two sons, four grandchildren and 12 great-grandchildren.
May he rest in peace.