Usually at this time of year, the Osprey Games team would be in Essen, Germany for SPIEL, the biggest gaming show in the world. Unfortunately due to the effects of COVID-19, the physical show isn't going ahead – and as one of the highlights of the tabletop gaming calendar we're all missing it!
Today we're taking a look at another game that we would have been demoing at the show – Village Green by Peer Sylvester.
It's the first day of spring, and there's only one thing on everyone's mind - the Village Green of the Year competition! The judges of this presigious contest will be visiting in just a few months, and the village council have finally put you in charge of the preparations. With your newfound authority, you can show those snobs from Lower Aynesmore just what a properly orchestrated floral display looks like!
Village Green: A Game of Pretty Gardens and Petty Grudges is a light card game for 1-5 players designed by Peer Sylvester, with stunning illustrations by Joanna Rosa
You'll be put in charge of one of five villages - Market Foxby, Newton Poemoor, Hither Saxcote, Middle Didsbrook, or Lower Aynesmore - and compete with rival gardeners to claim the prestigious Village Green of the Year award.
For a look at how to play the game, here's Rodney from Watch It Played with a full How-to-Play video.
Want to know more about the game? Check out the reviews and playthrough videos below!
We're also delighted to share the Last Minute variant, offering a few tweaks for those who would like a faster game.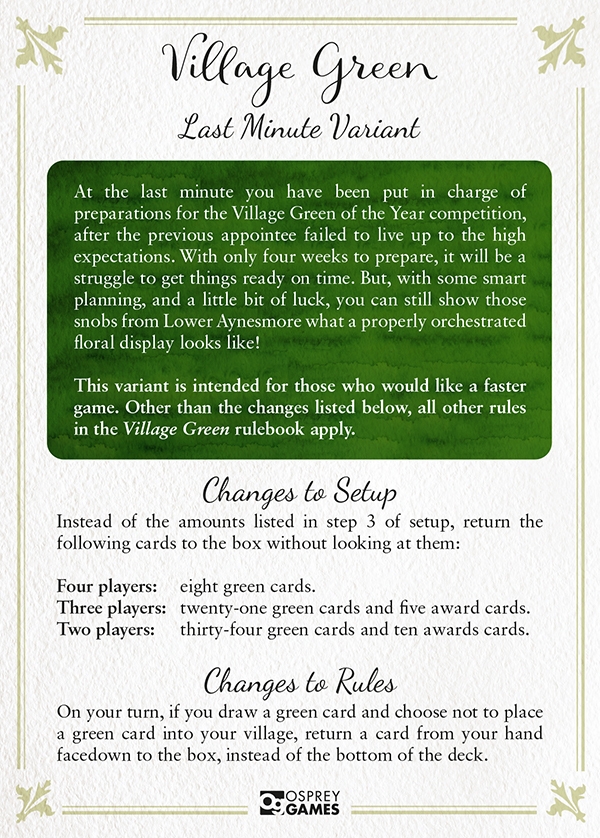 Want to win a copy of Village Green? We're giving away 3 copies – one on Twitter, one on Facebook, and one on Instagram, so head on over to our profiles to see how you can win!