Coming in July, Frostgrave: Second Edition offers players a revised and expanded edition of the multi-award-winning fantasy wargame, featuring new spells and scenarios to challenge adventurers in the Frozen City. The rulebook also contains rules clarifications that ensure that all previously published supplements remain compatible with the updated system.
Today on the blog, we're thrilled to reveal the cover for Frostgrave: Second Edition, the new edition of the multi-award-winning fantasy skirmish wargame created by Joseph A. McCullough.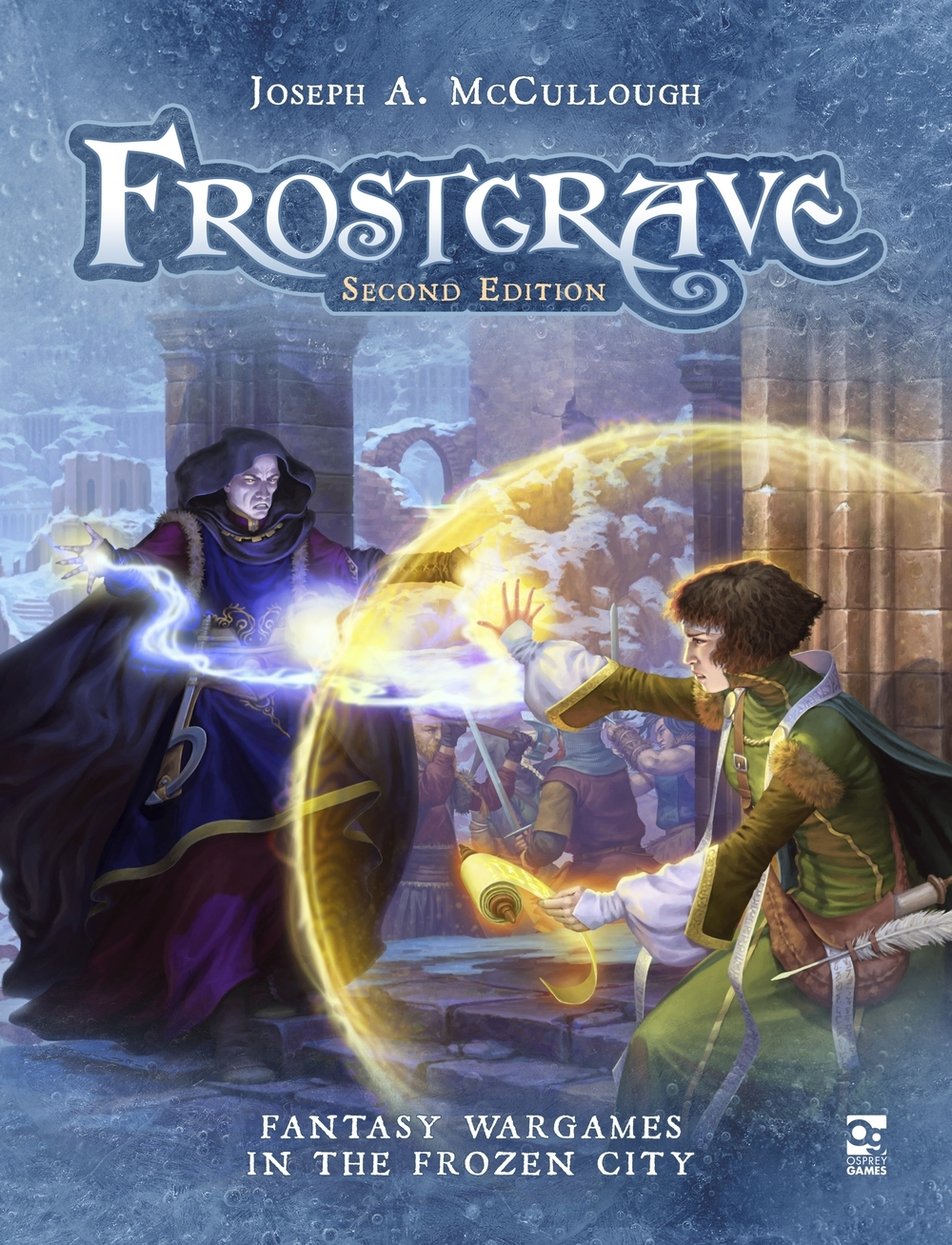 We would also like to take this opportunity to thank Dmitry and Kate Burmak, who, after working on the Frostgrave series for the past 6 years, have decided that the time is right for them to move onto other projects. They have been a joy to work with, and we will be celebrating their contribution to the world of Frostgrave later this year with the publication of Frostgrave: Wizard Eye (more about that another time!)
Taking on the Frostgrave mantle is the incredibly talented artist ªRU-MOR. We have worked with ªRU-MOR on a number of projects and would happily spend the rest of the blog singing her praises, but we figured we'd let Frostgrave creator Joseph A. McCullough do that instead!
"When Osprey asked me who I might like to create the artwork for Second Edition, I already had an answer ready: ªRU-MOR. If you've never encountered the works of this mysteriously named Spanish artist, you are in for a treat. I urge you to take a look at the artwork in Dracula's America or Ragnarok if you have a copy to hand!
My connection with ªRU-MOR goes back a long way. When I was the commissioning editor for Osprey Adventures, I recruited ªRU-MOR and contracted her to work on her first Osprey book – Sinbad the Sailor. Since then, I've watched her artistic skills grow and grow, and have longed for the opportunity to work with her again.
I've now seen most of the artwork that ªRU-MOR has produced for the new book, and it includes many, many stunning pieces. Although she has continued the colourful, adventurous style laid down by the Burmaks, she has also brought her own touch to the Frozen City. Her work is perhaps a bit more 'earthy', and just a touch darker perhaps."
We'll be showing off some more of ªRU-MOR's artwork from Frostgrave: Second Edition in the future, so be sure to keep an eye out for our next reveal!