At the end of June we'll be publishing a new Bolt Action Campaign book focusing on Operation Overlord, allowing players to recreate crucial battles, from the scaling of Pointe-du-Hoc and the assault on Pegasus Bridge, to the landings on the Utah, Omaha, Gold, Juno, and Sword beaches.
Over the next few weeks we will be delving into Osprey Publishing's extensive catalogue of history books to give you some great references to help you get your forces ready, starting with a look at British and Canadian forces.
Extract from Men-at-Arms 354: The British Army 1939–45 (1) by Martin Brayley
Artwork by Mike Chappell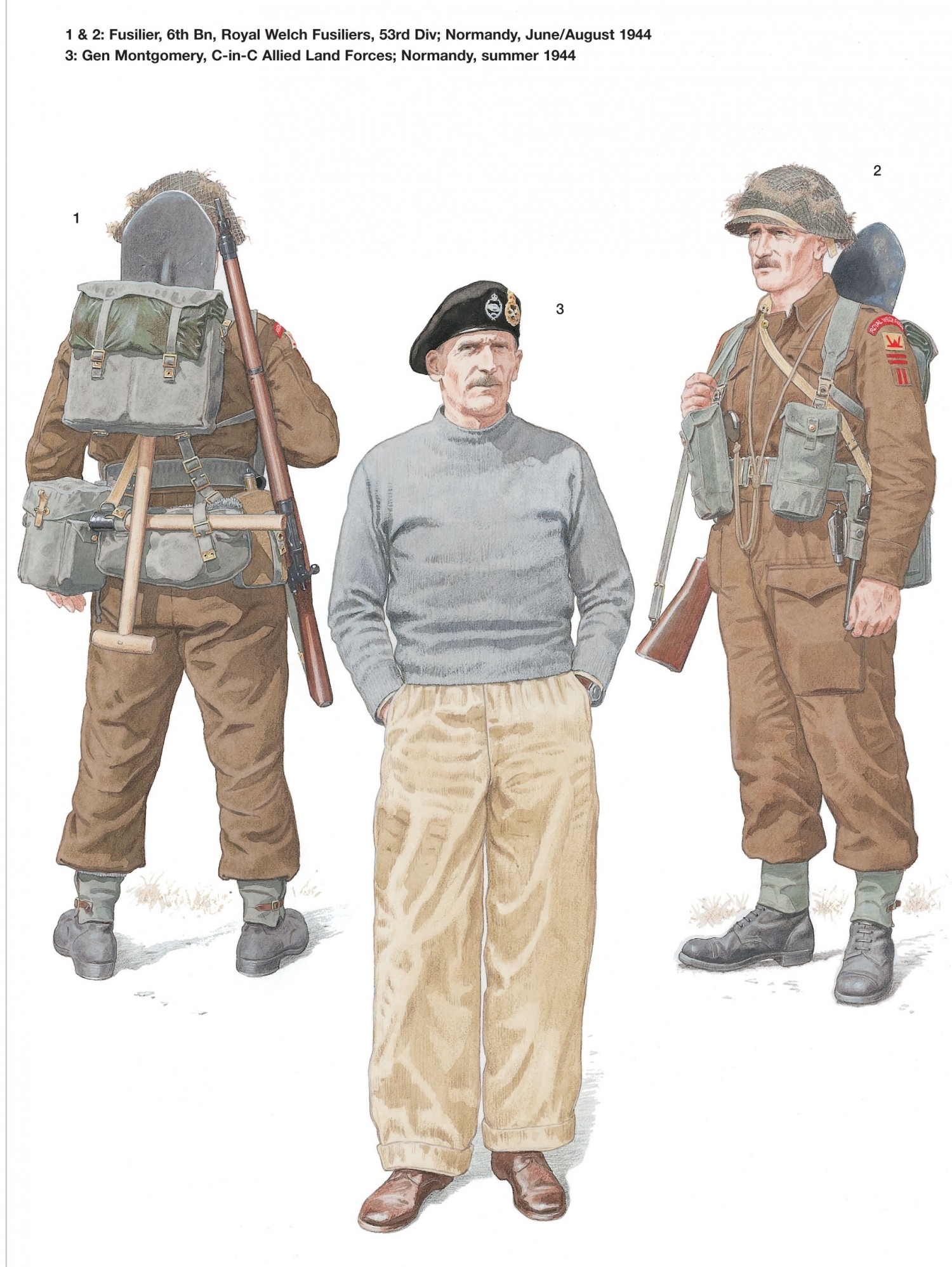 1 & 2: Fusilier, 6th Bn, Royal Welch Fusiliers, 53rd (Welsh) Infantry Division; Normandy, June–August 1944.
No.4911986 Fusilier Tom Payne of 11 Platoon, B Company, 6th Bn, Royal Welch Fusiliers was famously photographed by Sgt Bert Hardy of the AFPU in Normandy during summer 1944 while the 6th RWF were serving with 53rd (Welsh) Division. Payne, a 33-year-old Regular from Nottingham, had joined the Army in 1929. The series of photographs (Imperial War Museum B9005 to B90012) show front and rear views of his equipment and detail shots of his personal and small kit. He wore Battledress, Serge; 1937 web equipment in 'battle order'; Mk III helmet with net and scrim; and carried the No.4 rifle. His clasp knife was worn attached to the utility (trouser) belt with the issue loop and carbine hook fitting, next to the No.4 spike bayonet. A Very's No.1 Mk III* signal pistol, on its lanyard, was carried tucked behind his right-hand basic pouch. High on Payne's back was worn the Pattern 37 small pack which contained spare socks, mess tins, knife, fork, spoon, face veil, cigarettes and chocolate, emergency rations, washing and shaving kit (with a self-sharpening 'Valet' razor), water-sterilising tablets, wool balaclava, spare laces, hairbrush and towel. Tucked under the flap was the anti-gas cape which, despite regulations to the contrary, was frequently used as a rain cape. Behind the pack, and providing additional neck protection, was thrust a GS shovel, vastly superior to the entrenching tool. The tool carrier also served as stowage for '4x2' rifle cleaning flannelette, gauze for cleaning bore fouling, pullthrough, oil bottle, rifle and boot brushes and dubbin. The Lightweight Respirator, introduced in 1943, was slung in its case on the left hip, with the waterbottle on the right hip. Carried on his person were, amongst other items, a small medical kit, first field dressings, AB64 paybook, invasion currency, family photographs, pen, pencils, pipe, 'Tommy' lighter, and a soldier's guidebook to France. From autumn 1943 until VE-Day the brigades of 53rd Inf Div were the 71st, 158th and 160th. Until August 1944 the 4th, 6th and 7th RWF formed 158th Bde; thereafter the 6th Bn transferred to 160th Brigade. In June–August the battalions of 158th Bde displayed on both upper sleeves one, two and three vertical red bars respectively, beneath the two red infantry arm-of-service strips which doubled as identification of the second senior of the division's three brigades; after transfer to 160th Bde the 6th RWF presumably wore only the three red strips of the junior brigade. At the top of the sleeves were worn the regimental title (the 'c' spelling of 'Welch' was adopted in 1920) in the line infantry's almost universal white-on-red, above the 53rd Div sign of a 'W' rising from a bar, in red on khaki (many examples were seen of this division's sign and brigade and unit strips and bars being printed together on a single khaki patch).
3: Commander-in-Chief, Allied Land Forces; Normandy, summer 1944.
The Commander-in-Chief of the Allied Land Forces for the assault phase of the invasion, and of the British-Canadian 21st Army Group until the end of the war, was Gen (later Field Marshal) Sir Bernard Law Montgomery, who had gained fame through his leadership of 3rd Div of the BEF, and 8th Army in North Africa and Sicily. Montgomery's immodesty and dogmatic manner tended to irritate his colleagues, particularly the Americans; although he was a brilliant staff officer, a sound tactician and an inspirational commander, his diplomatic skills were undoubtedly somewhat lacking. 'Monty' was well known for his casual approach to dress standards, preferring outfits suited to field conditions rather than that traditionally befitting his rank. His normal field attire in Europe tended to consist of grey pullover, fawn corduroy slacks, brown Oxford shoes, and his notorious black RAC beret with both RTR and general officer's badges. In colder weather he wore an Irvin flying jacket or, later, a tailored Denison smock – the Denison with a full-length zip which he habitually left unfastened, and held closed with a leather belt. For more formal wear a well-presented privately tailored BD uniform was kept in his caravan, while if rain clouds were to be seen Monty would always be in possession of his trusty umbrella.
Extract from Warrior 174: British Paratrooper 1940–45 by Rebecca Skinner
Artwork by Graham Turner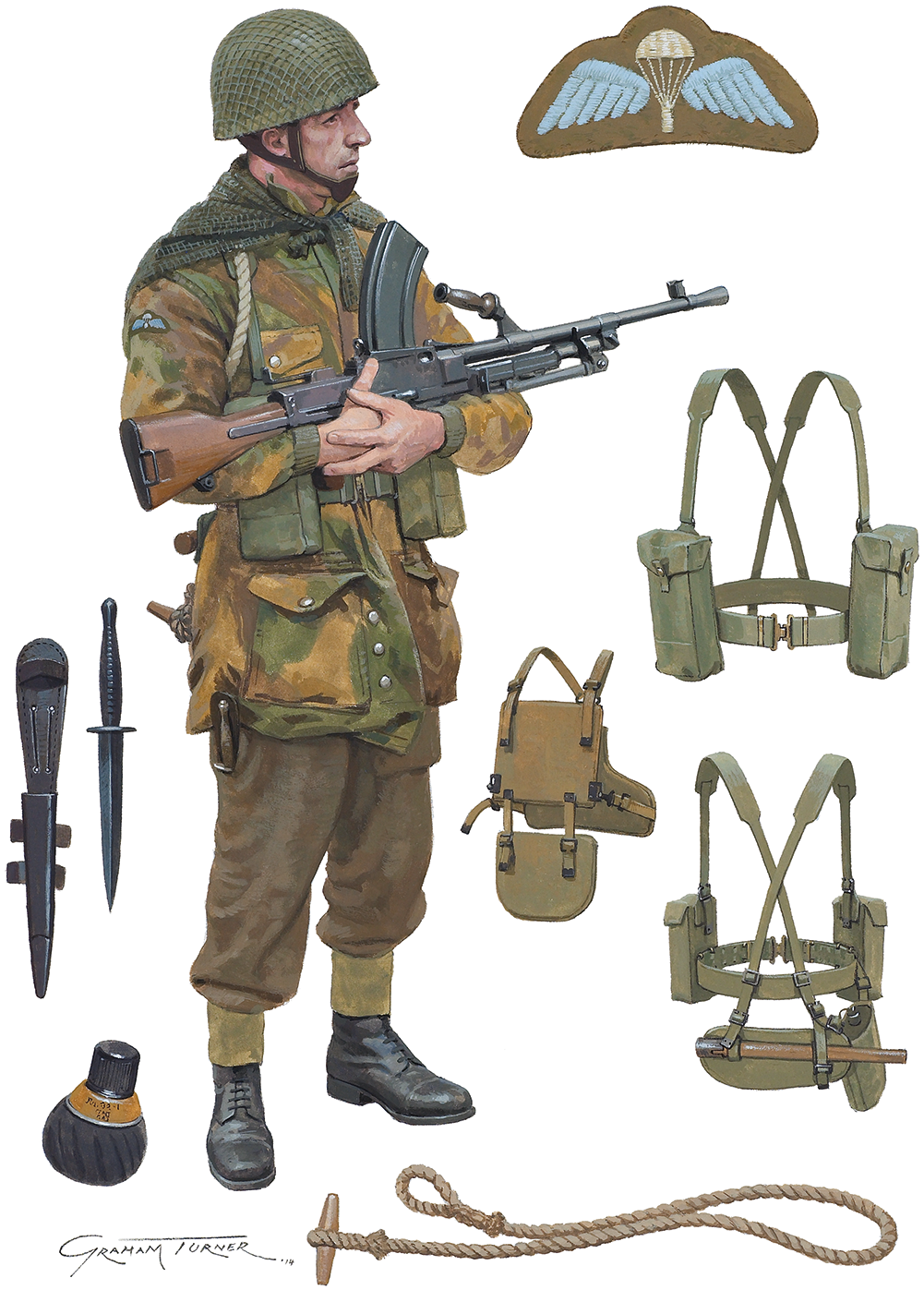 The Normandy Para, June 1944
By 6 June 1944, The Parachute Regiment had become established, its ranks had swelled and its battalions were split across the two airborne divisions. On D-Day, members of the 6th Airborne Division would lead the invasion of Northwest Europe, sending the first troops to liberate the French.
When the Para jumped he carried as much equipment with him as possible, as resupply or coming across equipment containers could not be guaranteed. On his person he carried some equipment and weapons that were the same as those for the rest of the British Army, such as the '37 pattern webbing. Other items, such as the Fairbairn-Sykes dagger, were carried by more specialized units such as the Commandos and SAS. The Para carried the dagger in a special pocket in the parachutist's battledress trousers, designed to allow him access to cut himself free if he became caught on items such as trees when landing. The toggle rope was also issued to these specialized units; these could be used to pull items and be linked together to help climb over obstacles. The No. 82 Grenade, more commonly known as the Gammon Bomb, was not only used by members of The Parachute Regiment, but was invented by one of its officers, Capt. Jock Gammon of the 1st Parachute Battalion.
Some Paras were issued Medical Research Council (MRC) body armour during Operation Overlord, which was worn under the Denison smock. Made from manganese steel, MRC body armour consisted of three plates: chest, lower belly or 'goolie', and a rear plate that partially covered the lower back and kidneys. The body armour proved unpopular at the time as it caused chaffing and the wearer to sweat, and it was quickly discarded or swapped by the men.
Extract from Men-at-Arms 359: Canadian Forces in World War II by René Chartrand
Artwork by Ronald Volstad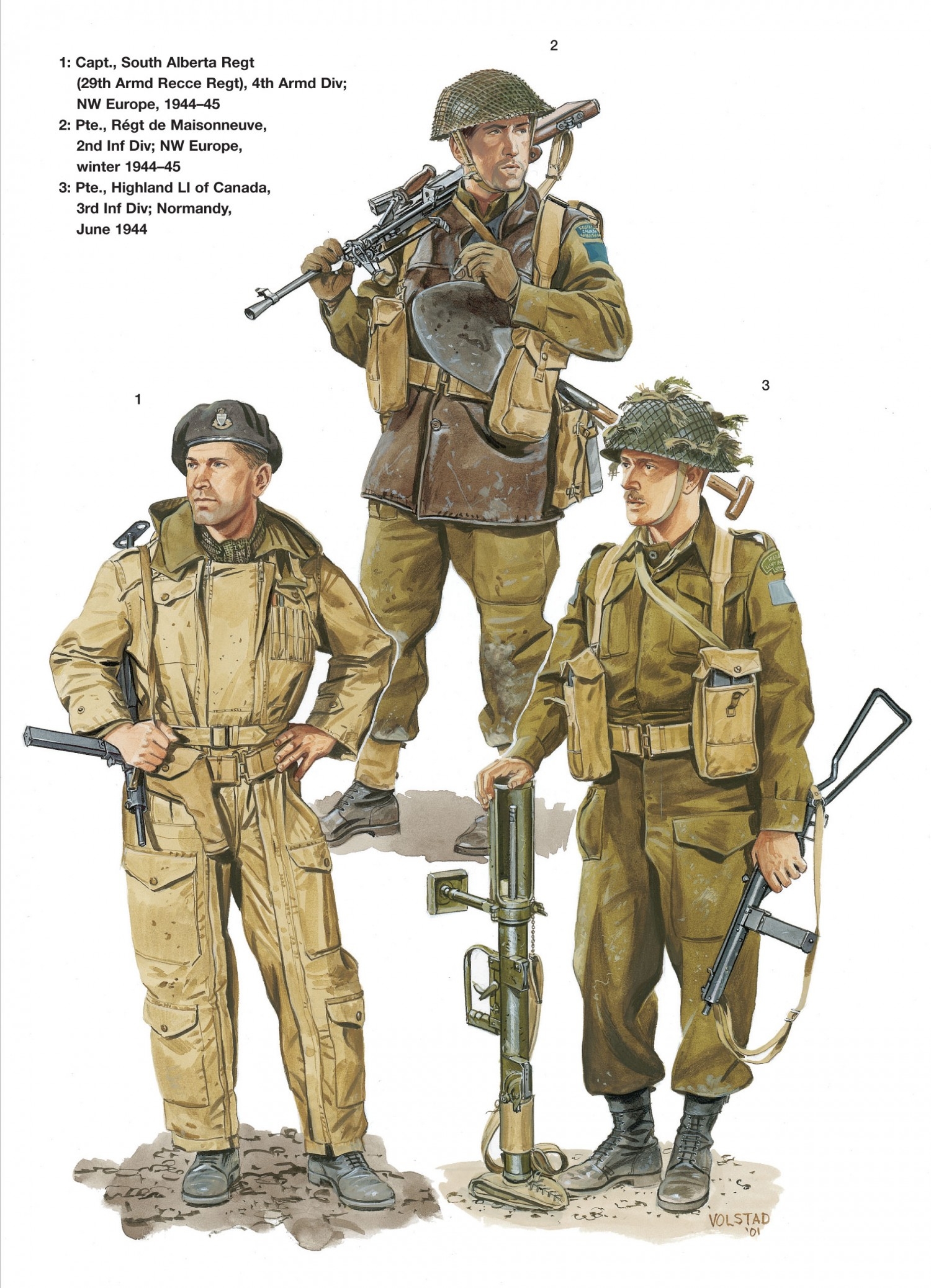 1: Captain, South Alberta Regiment (29th Armoured Reconnaissance Regiment), 4th Armoured Division; NW Europe, 1944–45.
Canadian armoured units were issued with the British 1943 tank oversuit or 'pixie suit'. Made of heavy cotton fabric of a light khaki colour lined with khaki wool shirting material, with two neck-to-ankle zippers, it had no less than 13 pockets. 'They had a heck of a lot of pockets...but they were too heavy', and thus too warm for tank crews in the summer of 1944, so that 'not everybody had them [on]', recalled Capt. Barford of the South Alberta Regiment. However, 'the tank commander generally had one [on] because he sat in the turret with the draft down the back of his neck'. Captain Jack Summers, of the same regiment, liked the suit in cool weather, as, it seems, did most Canadian tank crews. (Graves, Donald E., South Albertas: A Canadian Regiment at War, Toronto: Robin Brass Studio, 1998; and interview data kindly provided by Mr Graves).
2: Private, Régiment de Maisonneuve, 2nd Infantry Division; NW Europe, winter 1944–45.
This regiment arrived in Normandy on 6 July 1944 wearing standard BD and equipment; as the wet autumn wore on some cold weather items were added. The sleeveless leather jerkin was popular with everyone and, in winter, some soldiers modified them by adding sleeves cut from greatcoats. This Bren gun No.1 – an infantry section light machine gunner – wears the Mk II helmet, BD, jerkin, knit gloves, WE 37 accoutrements, and the parts wallet for his Bren; a GS shovel is thrust under his webbing. Above the dark blue divisional patch is the regimental title, in this case of truncated oval shape. As in all units, a lot of changes were soon made once in the field, especially to officers' gear and armament. The Sten guns were immediately found 'more dangerous to ourselves than to the Germans', and most officers laid them aside along with the bulky ammunition pouches. Instead they picked up .303in. rifles and disposable 50-round cotton bandoliers; Maj. (later Col.) Jacques Ostiguy recalled that 50 rounds was 'usually enough'. He wore his web waistbelt and hung grenades on it; his revolver was worn at the back, but he never used it – only the .303 'firing from the hip', which he had practised in England. On several occasions Germans armed with pistols shot at him, but always missed, while his rifle brought 'much better' results. He did not use the helmet much, finding it too heavy and awkward to wear. Instead he wore the beret, without the badge, or a woollen 'cap comforter'. On his shoulder straps Maj. Ostiguy wore his father's pips rather than 'the ones lined with red'. Later, when it got colder in Holland, Maj. Ostiguy preferred puttees to web anklets, for their warmth. (Recollections of Col. Ostiguy; Marchand, Gérard, Le Régiment de Maisonneuve vers la victoire 1944–45, Montréal: Presses Libres, 1980)
3: Private, Highland Light Infantry of Canada, 3rd Infantry Division; Normandy, June 1944.
The Canadian infantry who secured Juno Beach on 6 June were basically dressed and equipped as this figure from the 9th Infantry Brigade. All had the new British Mk III helmet with net, BD, the buckle-flap boots soon nicknamed 'invasion' or '3rd Div' boots, and WE 37 accoutrements. The unit/national shoulder title is in yellow on a yellow-rimmed green backing; below it is the divisional patch, officially described as 'French grey' but found in several shades of light blue and blue-grey. Our man is well armed with a Sten gun Mk III and a PIAT (Projector, Infantry, Anti-Tank). Note that the 'universal pouches' of the 37 set could not be fastened when carrying Sten magazines. (Schipper, Paul, 'The 3rd Canadian Division on D-Day', Militaria Magazine, July 1995)
Bolt Action: Campaign: D-Day: Overlord will be available from 27 June. Preorder your copy today!