René Chartrand author of Santa Anna's Army 1821-1848 reveals new information that has recently come to light regarding the subject of his book.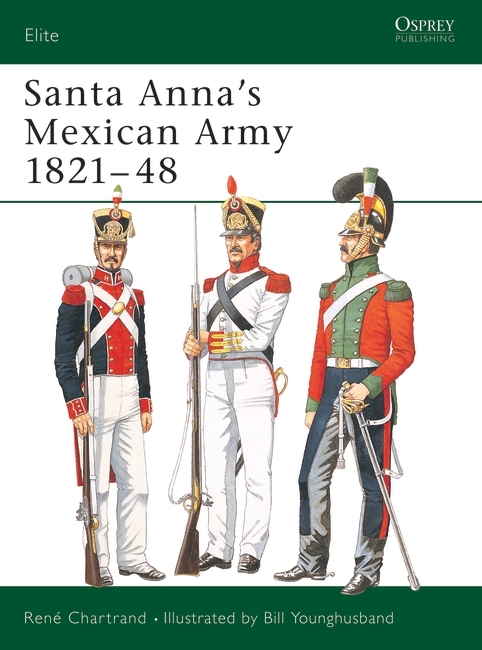 As the author of Santa Anna's Army 1821-1848 (ELI 102), I am extremely pleased to share new information that supersedes the relatively small amount of data for the 1821–24 period. In the lavishly produced 1979 official history of the Mexican army, one can read that on 20 September 1821, a circular prescribed the uniform of the imperial Mexican army – this author, like other historians, followed this source. However, time passed and, from 2010, the Mexican army made accessible online many documents from its Archivo Historico Militar (historic military archives). Perusing this data, this author ascertained that this 20 September 1821 circular was in fact a much cut-down version of the Spanish army's dress regulations issued in Madrid at that date. A copy of this Spanish regulation was eventually deposited in Mexico's military archives and, many years later, misinterpreted by a compiler of the 1979 official history. Furthermore the actual 1821 Mexican dress regulations for the imperial army were also found in these archives, but seem to have been missed by earlier Mexican researchers.
This has recently been published by the Company of Military Historians, along with an illustrated article by this author presenting supporting material, as well as a very handsome colour plate by renowned military artist David Rickman, whose fine work has been seen in many Osprey books. In spite of its name, the Company is a non-profit "band of brothers" interested in military material culture. The article appeared in the Military Collector & Historian, Journal of the Company of Military Historians, Vol. 70, No. 2 (Summer 2018), and the plate also appears in a small greyscale version. The larger colour version was published in the Company's Military Uniform in America (MUIA) series as its Plate No. 968. For further information, please contact the administrator, Mr. David Sullivan, at: [email protected]
To read more, order your copy of Santa Anna's Army 1821-1848.