Today we're looking ahead at three of our August titles and taking a sneak peek at some of the artwork featured in them. Which of these previews do you like the look of the most? Which will be added to your wishlist? Let us know in the comments below!
French Naval & Colonial Troops 1872–1914 by René Chartrand
Illustrated by Mark Stacey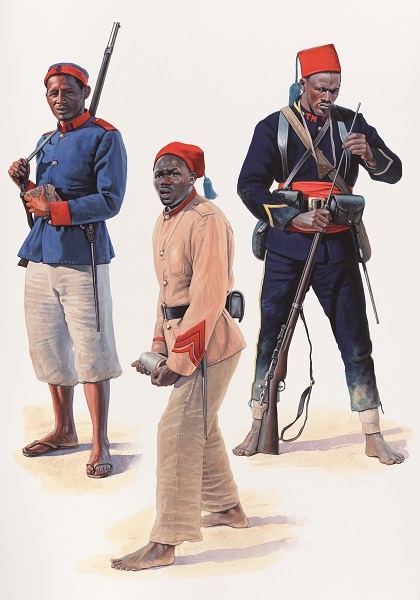 This first plate from Men-at-Arms 517: French Naval and Colonial Troops 1872–1914 depicts three uniforms of the colonial troops. Depicted here are troops from Madagascar and West Africa. The man on the left is a Private, Tirailleurs Sakalaves, c.1887–95, who wears a European-style tunic, with a red collar, straight cuffs and shoulder straps, white trousers, and a dark blue pillbox-like round cap with a red band. The figure in the middle, a Brigadier of Auxilaires Indigènes d'Artillerie, c.1892–95, is practicising a gun drill with an unfuzed 80mm shell. He is depicted as wearing an M1889 'cashew'-khaki collarless jacket, trimmed at the neck, pointed cuffs with red, brass buttons, tan linen trousers and a blue-tasselled red fez.The final figure is of a Private of the Tirailleurs Malgaches in their winter field dress, c. 1898–1914. This includes the dark blue jacket and trousers with yellow lace and piping respectively, worn for everyday service and formal dress. Here we show the trousers worn untied, over what seem from photographs to be long woollen drawers. This soldier, cleaning the bore of his M1907 'Colonial' rifle, wears Lebel belt equipment over a red flannel sash; note too the gris-gris amulet hanging round his neck for supernatural protection – this was tucked out of sight inside the jacket on formal occasions.
The Solomons 1943–44 by Mark Stille
Illustrated by Peter Dennis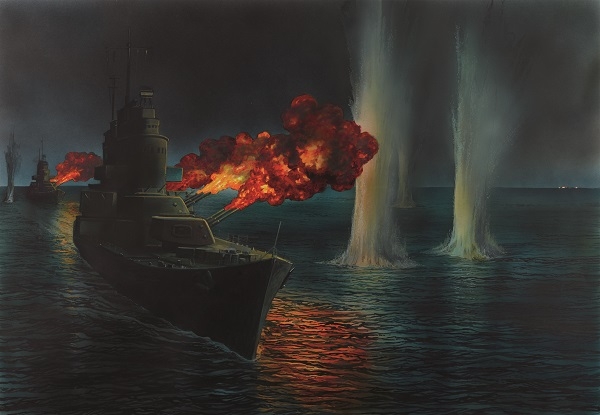 This second plate, from Campaign 326: The Solomons 1943-44, depicts the largets naval battle of the entire Solomons campaign, the Battle of Empress Augusta Bay on 2 November 1943. Here, the leading Cleveland-class light cruisers of Rear Admiral Merrill's Cruiser Division 12 reach the peak of the gunnery duel with Japanese heavy cruisers Haguro and Myoko. The ship in the foreground is Montpelier, followed by Cleveland. Both ships have their 6in. battery trained to port and are firing furiously at the Japanese.
Roman Legionary vs Carthaginian Warrior by David Campbell
Illustrated by Adam Hook

Our final plate is from Roman Legionary versus Carthaginian Warrior and depicts a skirmish between the lines. On the morning of battle Hasdrubal Gisco's army has rushed to form up opposite Scipio's threatening battle line, while Roman velites advance on the Carthaginian force's screen of light infantry; missiles are exchanged as the two bodies of light troops dart back and forth, and as the morning drags on a series of intense localized skirmishes ensue. At one point the Iberians and Romans have come into contact, sparking a number of fast, vicious hand-to-hand combats. Several pairs of combatants are slashing and feinting at one another, while a veles with a wolfskin-decorated helmet catches an Iberian spear-thrust with his shield, batting it away and slashing his gladius at the throat of his foe.
Let us know which of these plates has caught your eye, and discuss below which of our August books you're looking forward to the most!
---
Take a peek at other artwork reveals!
Want to take a look at artwork featured in this month's releases?
Sneak Peek at May's Artwork
Take a look at next month's artwork!
Sneak Peek at June's Artwork
What did the Battle of Campaldino look like?
Sneak Peek at July's Artwork