It's a sad day for Osprey, and for me personally, but we have to announce that after 43 years as a greatly valued contributor to our Men-at-Arms and other series, Gerry Embleton has decided that he can no longer take on regular book illustration contracts. As a commissioning editor, this is grim news for me; on the other hand – as when Mike Chappell retired in 2012 – it is a great pleasure for me that another of my oldest friends has 'got out alive'.
At the age of 77, and having illustrated nearly 60 Men-at-Arms, Elite and Warrior titles (see list below) and contributed to about a dozen more in other series, nobody can say that he owes us anything. On the contrary: we owe him an enormous debt, not only for his own books, but for playing a central part in the improvement of illustration standards back in the 1970s. It was Gerry, alongside the late Richard Hook and Angus McBride. who raised the bar for everybody when the series was still feeling its way.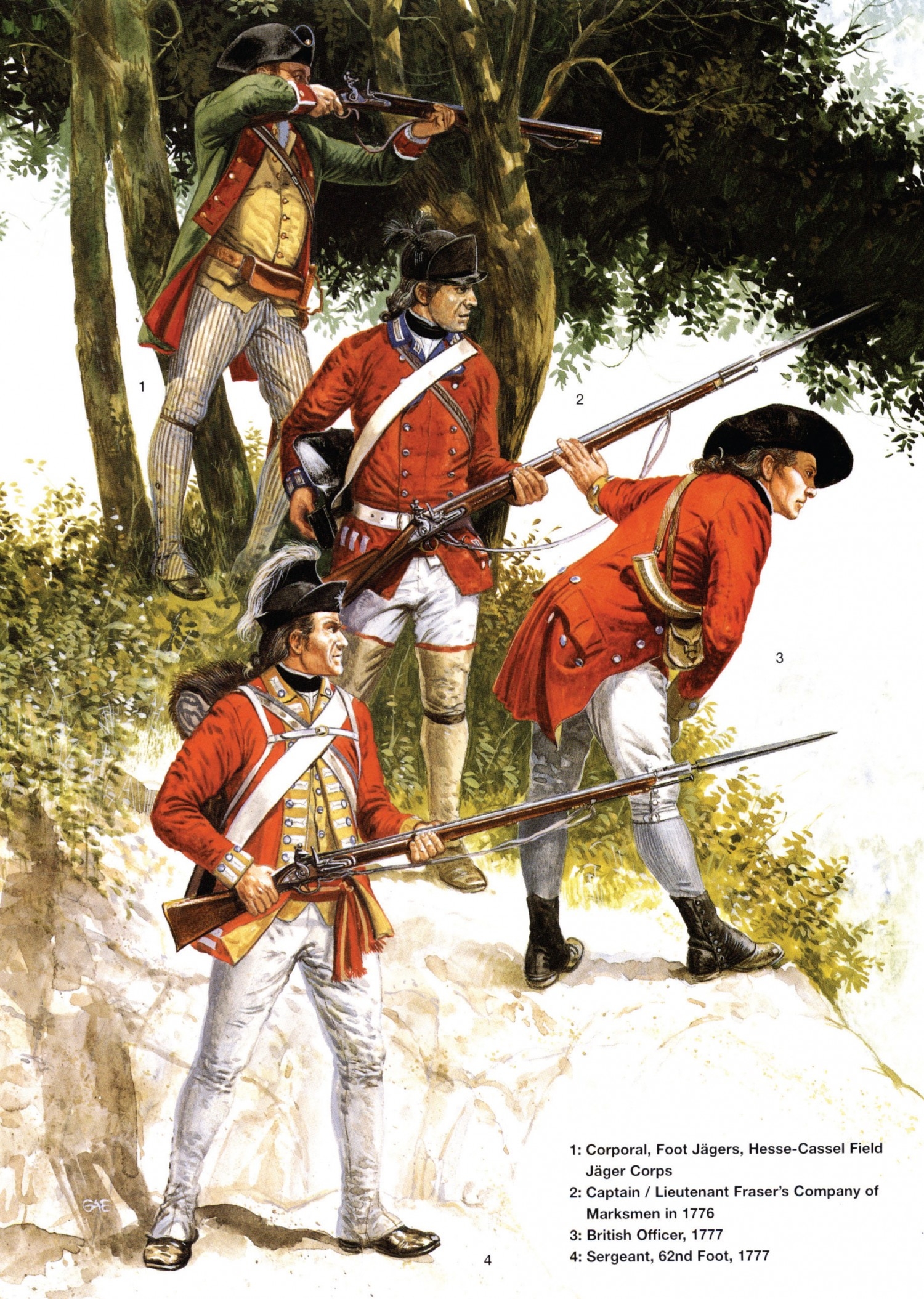 MAA 39 The British Army in North America 1775-83
His first title, MAA 39 'The British Army in North America 1775-83', written by Robin May and published in 1974, was the first book in the series to benefit from colour plates based on really detailed, specific research into uniform history. The 18th century is one of Gerry's areas of particular expertise, and the same author/artist team soon followed it with MAA 48 'Wolfe's Army', covering the redcoats in America during the Seven Years' War. Both stayed in print for more than 20 years, until Gerry's continuing research allowed the publication in 1997 of revised editions of each of them, with entirely new plates. (NB – serious students of these subjects need both editions on their shelves.)
Gerry's working output
There is only room here for a very brief summary of a long and productive career that has included some 200 books entirely illustrated or contributed to, about 60 of them on historical military costume, and many magazine articles. He has also planned, supervised and written two colour-photographic books recreating medieval costume and armour.
In all his work Gerry has been driven by a hunger to discover, and illustrate, how period costume and equipment actually looked when being worn by contemporary human beings, and this has extended to an insatiable curiosity about the whole field of what is today called 'historical material culture'. In simple terms, confronted with historical figures to recreate in two (or three) dimensions, Gerry ideally wants to know everything about them – from their age, health and hairstyle, to what they might be sitting on, what they had for breakfast, and what they've got in their pockets.
Apart from historical and military illustration work, Gerry has produced children's educational and fairytale illustrations, including an 18-book series that sold world-wide; general adult illustration; comic strips; advertising; poster artwork; designs for ceramic and pewter figures, and chess sets; designs for museum exhibitions; and, throughout it all, a background output of landscapes in oils and other paintings in various mediums, which have been exhibited in London, Edinburgh, Brighton, Washington DC, Toronto, and Berne, Grandson and Gruyere in Switzerland. (These have included a vivid strand of fantasy paintings, which might be described as a sort of merging of fairytale, 'magical' and 'steam-punk' traditions.) From the mid-1980s until a few years ago he also earned international renown for 'three-dimensional' illustrations – lifesize costumed figures, produced by his Swiss-based company Time Machine AG for museums in several countries.
How it all began
Gerry's parents lived in Bow, East London, but he was born in Edgware, Middlesex in 1941. (He was thus robbed of the classic definition of Cockney identity by his mother's wish to concentrate upon the project undisturbed by the Luftwaffe's then-nightly visits to the East End. Gerry recalls later nights of red skies, searchlights and 'ack-ack' fire, and some spent in the understair cupboard when the alarm sounded too late to reach the air-raid shelter). Throughout the war years his father was absent, serving with the Royal Army Medical Corps in North Africa and Italy. Gerry had two older brothers, and he followed the eldest, Ron – who also became a renowned illustrator and cartoonist – in an early passion for all things military, which was fuelled by films and books.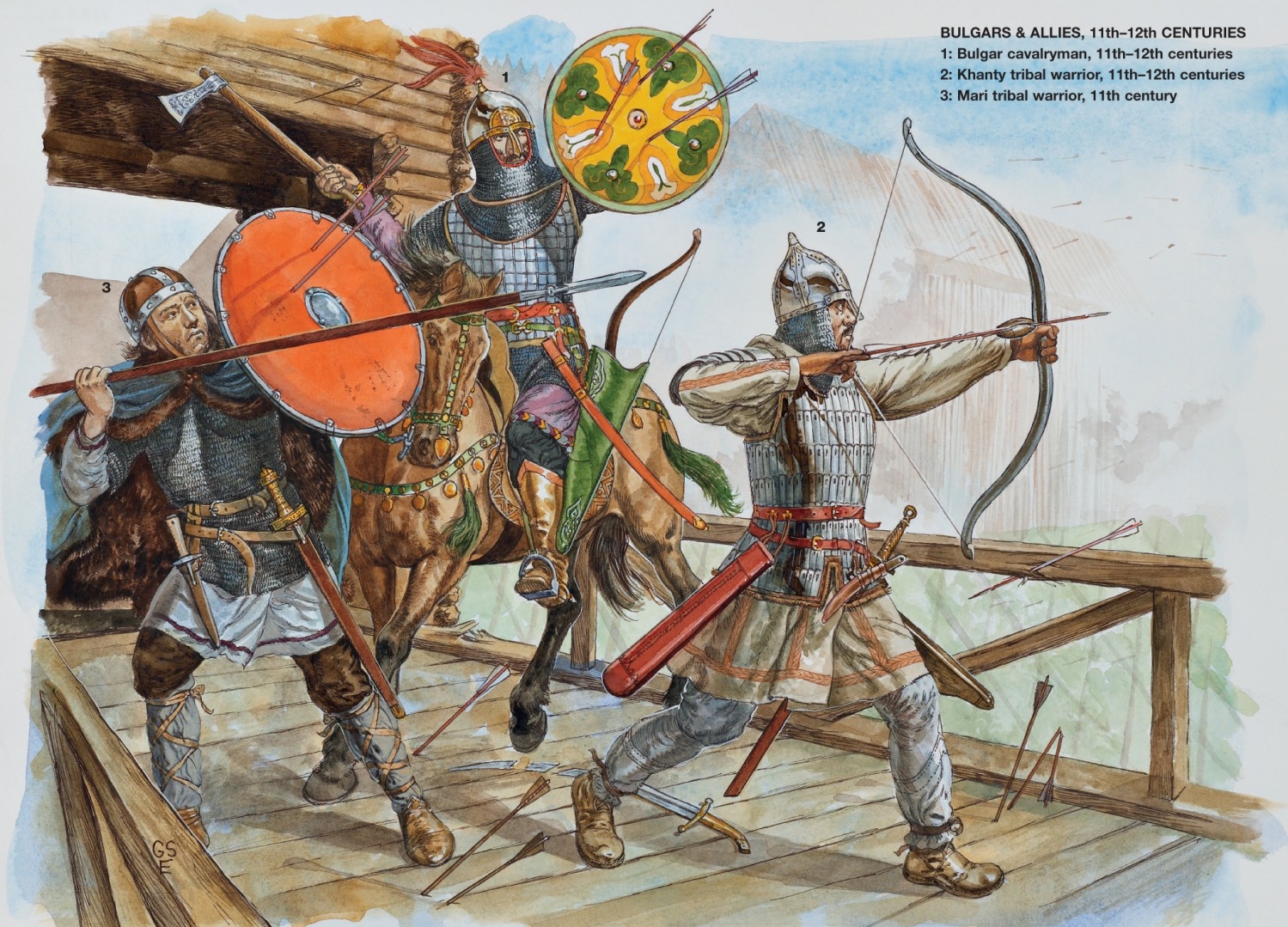 Bulgars & Allies, 11th-12th Centuries
MAA 491 Armies of the Volga Bulgars & Khanate of Kazan
When Ron returned from his own military service in the Malayan Emergency and took up illustration professionally, the ten-year-old Gerry soon became his all-purpose assistant and, inevitably, pupil. Illustrated magazines for young people enjoyed a heyday in Britain in the 1950s-60s; Gerry was just 14 when he sold his first full page of strip art, and 15 when his first historical illustration was published.
Gerry turned down the chance to go to art school full-time (though for many years he always continued to attend life-drawing classes regularly). Leaving school at 16, between 1957 and 1965 he submerged himself in comic-strips, historical illustrations for educational magazines, and fairytale illustrations – a valuable combination of tightly disciplined composition with opportunities to pursue both research and imaginative freedom. From monochrome work in pen and wash he now began to experiment with coloured inks, conté crayon and wash, and gouache. He has continued to use this mixture of mediums ever since.
Gerry's first serious military illustrations appeared in the later 1960s in a magazine called Tradition, based in the West End of London and co-located with a shop of the same name which sold military figurines – this was at the very beginning of the hobby of painting finely detailed miniatures. A meeting with Col J.B.R Nicholson (alongside the legendary Brig Peter Young, a leading light in the 'Sealed Knot' Civil War society) led to a commission to paint the charge of the Black Watch at Fort Ticonderoga in 1758 for the cover of Tradition No.19. ('Fort Ti' later bought the original artwork to hang in the museum; when it was subsequently stolen by a fan, they commissioned Gerry to paint a replacement. Through his contact with the Quebec historian Réné Chartrand, Gerry has also painted several other works for exhibition at various of Parks Canada's historic sites.)
Regular commissions for Tradition brought Gerry into contact with fellow military history enthusiasts on both sides of the Atlantic, and began his assembly of a serious research library, based not least on study of the great masters of previous centuries. Gerry acknowledges a great debt during this period to the patience and kindness of such experts as Eugène Lelièpvre, Russell Robinson, Boris Mollo and Bill Thorburn, whom he badgered for sources and information.
It was Gerry's work in Tradition that led to our meeting, when I was editing, with the weapons historian Fred Wilkinson, a book called The Universal Soldier (Guinness Superlatives, 1971). This needed a series of 14 careful colour plates of soldiers down the ages. Together Gerry and I had the memorable opportunity to actually handle, try on, and photograph such things as reproduction Roman 'Corbridge' armour under the guidance of Russell Robinson at the Tower Armouries, a ringmail shirt, an original buff coat and half-armour, and 19th-century uniforms, and to be 'taught muskets' by the American authority De Witt Bailey. This was a formative experience for both of us, and it strongly coloured Gerry's subsequent approach. His lasting interest in the history of the British redcoat in North America led, in 1976, to a commission to research and paint uniforms and to act as a consultant for the bicentennial American Revolution exhibition sponsored by the London Sunday Times and mounted at the Royal Maritime Museum, Greenwich.
Meanwhile, in 1972 I had started doing freelance editorial work for Osprey on the Men-at-Arms series, and in 1974 I took over as the series commissioning and art editor (the latter a position which Osprey had not previously filled.) The series needed improvement, particularly in the planning and execution of the colour plates, and I managed to persuade Gerry to accept some commissions. He also generously introduced me to his contemporary illustrators Richard Hook and Angus McBride. For all this, I (we) remain in his debt.
To Switzerland
In 1978, after a visit to a German military miniature convention at Kulmbach had opened his eyes to possibilities in continental Europe, Gerry decided to move to Switzerland (initially to the picturesque town of Thun in the Bernese Oberland, and subsequently to Grandson and later Yverdon, both on Lake Neuchâtel). His astonished delight at the wealth of surviving original items and illustrated records from Switzerland's medieval wars then led him into a serious study of that period's clothing, armour and artefacts, and the first published fruit of this was MAA 94, The Swiss at War 1300-1500, in 1979.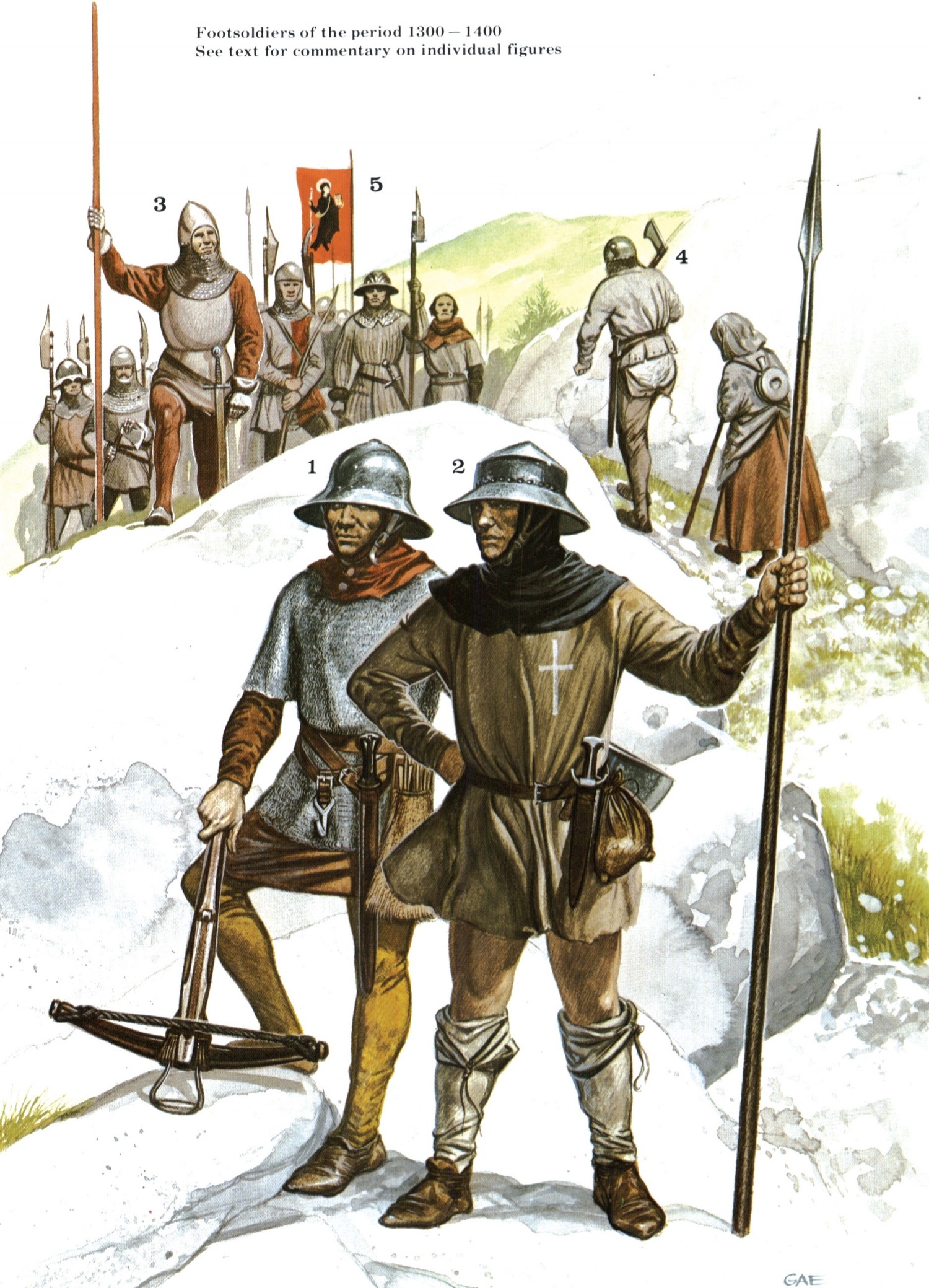 Footsoldiers of the period 1300-1400
MAA 94 The Swiss at War 1300-1500
Gerry had met the medievalist Eugen Heer, the director of the Swiss Institute of Arms and Armour at Grandson Castle, through the latter's contribution to The Universal Soldier, and in 1984 Gerry moved there to work, subsequently as head of the art department. This involved not only illustrating many of the artefacts that passed through the Institute (which was a commercial enterprise), and curating and expanding the Institute's reference library, but wide-ranging design work and setting up displays for private collector clients in Europe. Working alongside the widely respected armourer Ian Ashdown gave him opportunities to learn what it was actually like to wear items of 14th-15th century armour – for instance, the truth about weight and mobility, and the severely limited visibility from inside visored helmets, which gave the lie to some conventional assumptions about medieval battles.
From the 'outer shell' he moved 'inward', studying what was worn under armour – first the challenge of finding authentic references for 'arming' caps and doublets, then to studying the patterns of medieval costume as revealed by contemporary artists and rare surviving examples, and learning about materials, construction and dyes. Increasingly he applied this approach to his historical illustrations of every period for which he could find reference. However, while meticulous, he is never pompous: 'My ideal set of references for a uniform reconstruction would be (a) the relevant Dress Regulations; (B) an account of what was actually being worn, by somebody who wore it; (C) a sketch or photograph from life of it being worn; and (D) some surviving examples to study. And even then you would still only have my interpretation… Any policeman will tell you that even eyewitnesses rarely agree – people see things differently.'
Three-dimensional illustrations
In 1985-86 Gerry's work for the Institute took a new path, with the design, construction and installation of three-dimensional figures incorporating original arms and armour in a dramatic presentation for a permanent exhibition at Lenzburg Castle in Switzerland (which won a European prize). This coincided with Gerry's co-founding of a medieval re-enactment and 'living history' group based in Switzerland but with an international membership: the Company of Saynte George, which achieved what was generally acknowledged to be the highest standard of visual accuracy of any such group. (He remained as captain of the company for many years, organizing regular 'field' activities in Switzerland and France – most memorably for me, the week-long summer camps at Le Puy-en-Verlay in the Haute Loire in 1986-90. I shall always be grateful to him for introducing me to the heady delights of working with black-powder cannon.)
Gerry has long had dual British-Swiss nationality, thanks to his long residence (now on a plateau above the town of Biel/ Bienne) and his marriage to Anne, with whom he has a son, Sam, and a daughter, Camille. The reputation earned by the Company of Saynte George was such that in 2003 the foreign-born Gerry was commissioned as art director of the city of Berne's ten-day celebration of its historic foundation (given local sensibilities, this was a big deal). For this major event in the Swiss capital he organized a large medieval festival, with jousting displays and 'living history' presentations. This occasion also included an exhibition of the work of Time Machine AG, the company Gerry had founded in 1988 as a consequence of his experience working at Lenzburg.
Briefly, the 'USP' of the company was that it did not make 'shop-window dummies' for displaying existing historic costume, but designed and crafted complete costumed, equipped and armed life-size figures, with faces and hands cast from living models to produce an uncannily realistic appearance – the medium and methods used were so fine that the hands actually showed fingerprints. In time Gerry's figures would have prominent places in London's National Army Museum ('The Road to Waterloo' exhibition – perhaps most memorably, the Peninsular War figures inspired by Bridget Skiddy carrying her wounded husband Dan while their little boy struggled after them under the weight of his musket and pouch); and the Royal Armouries at Leeds (ranging from mounted and foot figures from the Battle of Pavia, 1525, to a British sahib shooting a tiger from the back of an elephant).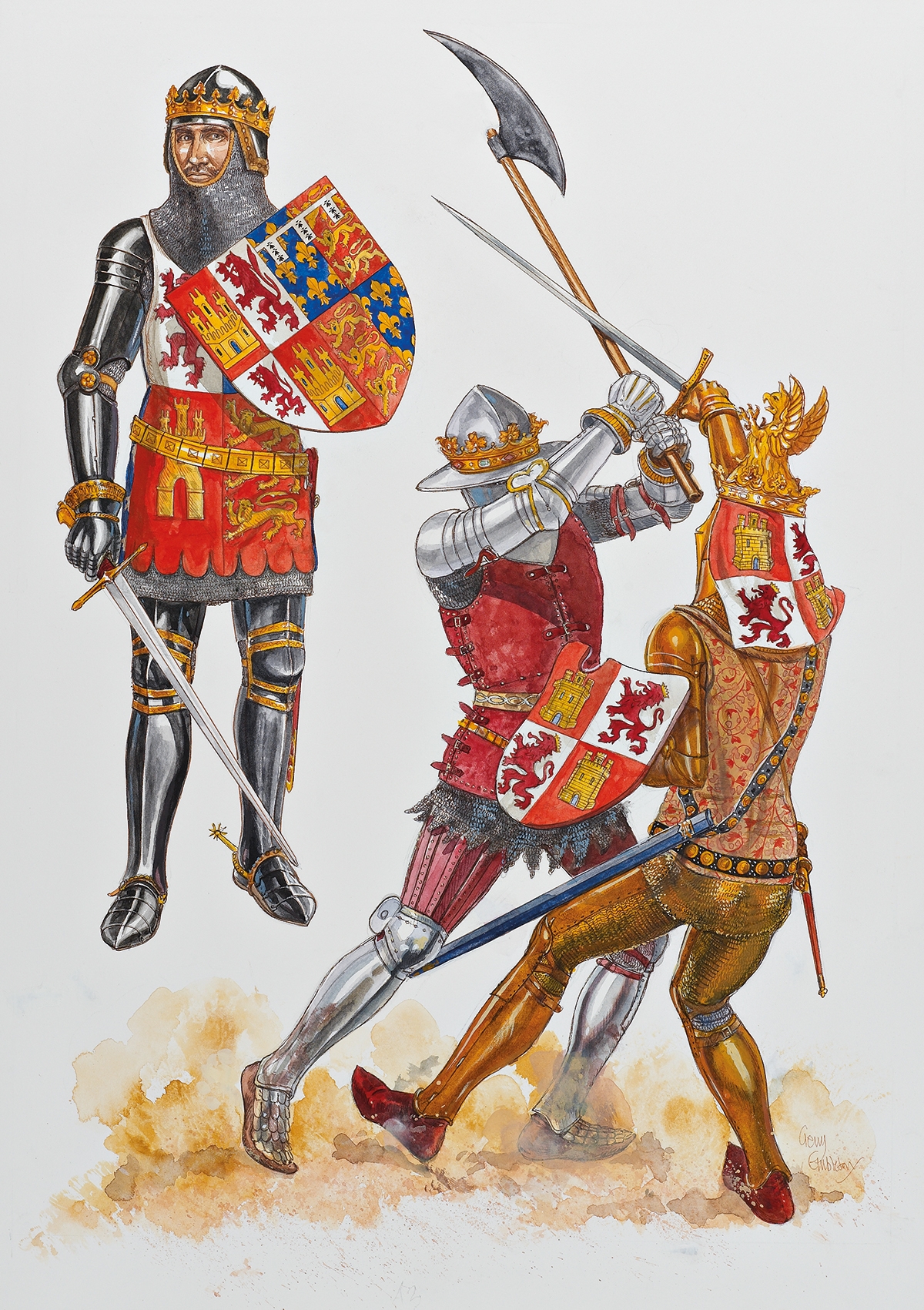 14th-Century Rulers
MAA 500 Armies of Castile and Aragon 1370-1516
Working with the sculptor David Hayes, Gerry designed nine life-sized dioramas for the Royal Armouries Galleries at the Frazier Arms Museum in Louisville, KY. TMAG also made stunning figures of British, French, Colonial and Native American characters for 'Clash of Empires', an award-winning French-Indian War touring exhibition displayed at the Heinz Historical Center in Pittsburgh, PA, the Canadian War Museum in Ottawa, and the Smithsonian Institute in Washington, DC. (An unnecessary but typically TMAG touch was that for a figure of the young George Washington they actually sourced mud from the site of Fort Necessity, to make sure his boots were correctly stained!) In Europe, Time Machine also executed four major prehistorical exhibitions, and has provided figures for others as varied as pirates (in the Bahamas), and the history of the Isle of Man. As well as life-size subjects, including room interiors, TMAG also fulfilled museum and private commissions to make and install scale models of buildings, dioramas and figures.
And all this, while continuing to work as a jobbing illustrator for clients spread anywhere between Oxford and Taiwan.
Gerry is still painting, but tells me that he is now 'sliding gracefully into a welcome semi-retirement, to pursue those really important things I've never had time for.'
He is perfectly willing to pass a large part of his accumulated reference library to anyone who wants it enough to drive a suitable vehicle to Switzerland to collect it – but he cannot face sorting out and sending individual items on request. So, anyone with broad historical interests and a genuinely wholesale attitude should contact him via www.gerryembleton.com.
There follows a list of Gerry's books for Osprey:
Men-at- Arms titles illustrated by Gerry Embleton:
( Notes: dates & earliest series numbers are not in matching sequence, since numbers were added retrospectively in alphabetical order in about 1975.
* = Titles in which Gerry's son Sam Embleton also contributed to the artwork.)
MAA 39 The British Army in North America 1775-83 (1974)
MAA 43 Napoleon's German Allies (2): Nassau & Oldenburg (1976)
MAA 48 Wolfe's Army (1974)
MAA 50 Medieval European Armies (1975)
MAA 56 The Mexican-American War 1846-48 (1976)
MAA 58 The Landsknechts (1976)
MAA 63 The American Indian Wars 1860-90 (1977)
MAA 65 The Royal Navy 1790-1970 (1977)
MAA 66 Montgomery's Desert Army (1977)
MAA 67 The Indian Mutiny (1977)
MAA 75 Armies of the Crusades (1978)
MAA 79 Napoleon's Egyptian Campaign 1798-1801 (1978)
MAA 80 The German Army 1914-18 (1978)
MAA 81 The British Army 1914-18 (1978)
MAA 85 Saxon, Viking & Norman (1979)
MAA 94 The Swiss at War 1300-1500 (1979)
MAA 118 The Jacobite Rebellions 1689-1745 (1982)
MAA 129 Rome's Enemies (1): Germanics & Dacians (1982)
MAA 144 Armies of Medieval Burgundy 1364-1477 (1983)
MAA 145 The Wars of the Roses (1983)
MAA 267 The British Army 1660-1704 (1994)
MAA 286 The French Army 1914-18 (1995)
MAA 301 The Boer Wars (1) (1996)
MAA 303 The Boer Wars (2) (1996)
MAA 319 British Forces in North America 1793-1815 (1998)
MAA 373 The Sarmatians 600 BC-AD 450 (2002)
MAA 394 The German Army in World War I (1): 1914-15 (2003)
MAA 434 World War II German Police Units (2006)
MAA 439 The Canadian Corps in World War I (2007)
MAA 442 Queen Victoria's Highlanders (2007)
MAA 445 Medieval Polish Armies 966-1500 (2008)
MAA 450 American Loyalist Troops 1775-84 (2008) *
MAA 453 Armies of the East India Company 1750-1850 (2009)
MAA 460 Frederick the Great's Allies 1756-63 (2010) *
MAA 472 Armies of the Irish Rebellion 1798 (2011) *
MAA 476 Napoleon's Swiss Troops (2012) *
MAA 481 The Spanish Tercios 1536-1704 (2012)
MAA 483 Cumberland's Culloden Army 1745-46 (2012)
MAA 484 Portuguese in the Age of Discovery c.1340-1665 (2012)
MAA 491 Armies of the Volga Bulgars & Khanate of Khazan 9th-16th Centuries (2013)
MAA 494 Armies of the Hanseatic League 13th-15th Centuries (2014) *
MAA 496 Prussian Army of the Lower Rhine 1815 (2014)
MAA 500 Armies of Castile & Aragon 1370-1516 (2015)
MAA 505 Imperial Chinese Armies 1840-1911 (2016)
MAA 509 French Foreign Legion 1831-71 (2016) *
MAA 510 Dutch Armies of the 80 Years' War 1568-1648 (1) (2017) *
MAA 513 Dutch Armies of the 80 Years' War 1568-1648 (2) (2017) *
Elite titles:
ELI 147 Irish Regiments in the World Wars (2007)
ELI 174 American Civil War Guerrilla Tactics (2009) *
ELI 213 The Barbary Pirates 15th-17th Centuries (2016)
Warrior titles:
WAR 3 Viking Hersir 793-1066 (1993)
WAR 5 Anglo-Saxon Thegn 449-1066 (1993)
WAR 6 Confederate Infantryman 1861-65 (1993)
WAR 9 Late Roman Infantryman AD 236–565 (1994)
WAR 11 English Longbowman 1330-1515 (1995)
WAR 12 German Stormtrooper 1914-18 (1995)
WAR 42 Redcoat Officer 1740-1815 (2002)
WAR 49 Landsknecht Soldier 1486-1560 (2002)
WAR 54 Confederate Cavalryman 1861–65 (2002)
WAR 154 Border Reiver 1513-1603 (2011)