Today marks Queen Elizabeth II's 90th birthday. Born 21 April 1926, she is the longest-reigning British monarch and the longest-reigning queen regnant in world history. To celebrate the occasion we are taking a look at some of the key conflicts Britain has been involved in during her lifetime.
The Second World War: 1939-45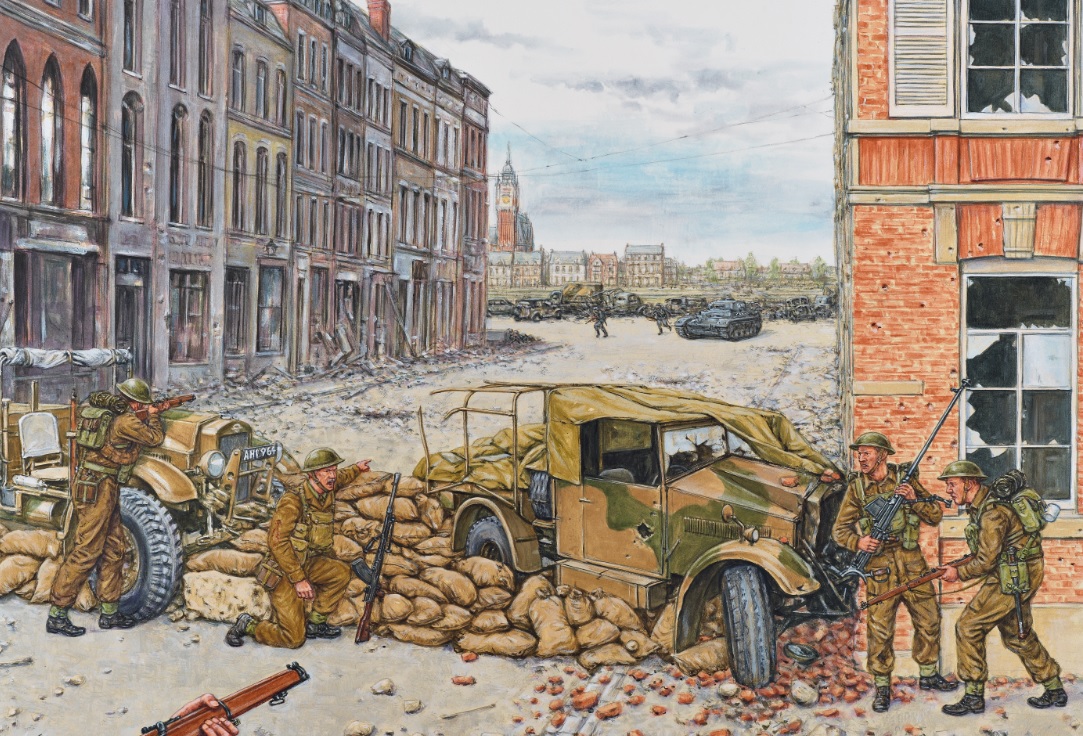 Artwork by Adam Hook
Extract from Combat 14: German Infantryman vs British Infantryman by David Greentree
On the morning of Sunday 26 May, barricades of burnt-out trucks and sandbags continued to block roads into Calais-Nord. By 1130hrs the Germans had established themselves behind those on the three bridges and were targeting roads that led off them. Here, the barricade set up to stop access onto Place de Richelieu is receiving German fire straight down the road from Pont Georges Cinq. The Germans are attempting to cross over to the left side of the road because on their side a hotel occupied by 2/Lt Williams is proving difficult to overwhelm. The roadblock across the bridge, which has been breached, is visible in the background. German figures, with a tank, are moving through the gap. A couple of German soldiers are dashing across the street covered by an MG 34. Maj Cromwell, who has been hit by sniper fire, is manning a Bren gun and giving instructions to an anti-tank rifle team looking for a good firing position. Soon, with only three riflemen left standing beside him, Cromwell will be compelled to withdraw to Rue des Maréchaux.
If you are interested in reading more about British and Commonwealth troops during the Second World War then take a look at these books:
Combat 14: Germany Infantryman vs British Infantryman
Men-at-Arms 359: Canadian Forces in World War II
New Vanguard 226: Commonwealth Cruisers 1939-45
Men-at-Arms 354: The British Army 1939-45 (1)
Elite 75: The Indian Army 1914-1947
Elite 153: The Australian Army in World War II