Do you like big seaplanes and King Cobras? Well if you do this is your lucky day – just released are details of the two latest kits to be produced from the Czech Republic through model makers HPH. The latest of these wonderful kits are both in 1/32 scale. They are the P-63 King Cobra and the massive PBY-5A Catalina flying boat.
The P-63 King Cobra is an all resin kit with many lovely features and nice clean lines. This kit has lovely treaded tyres and an incredibly detailed cockpit as well as a wafer thin canopy and movable control surfaces. This kit will be available from the HPH website soon. For now, here are a few WIP pics on their site, and we have some prototype pics below. When the final kit is ready, we will tell you when. Just keep on checking back for more details.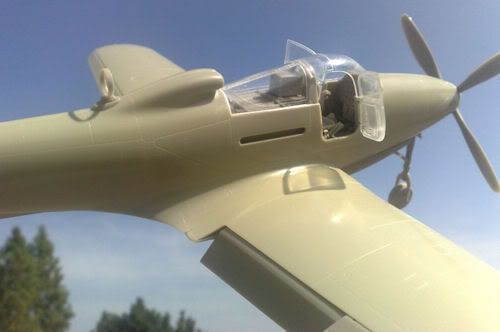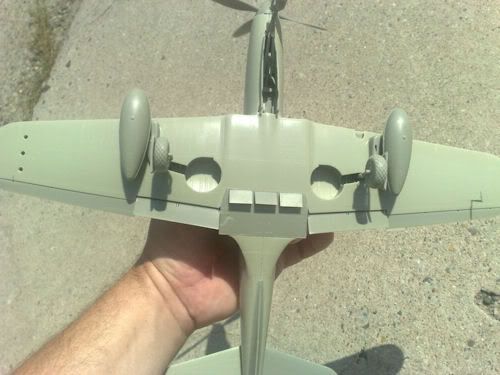 Second, but by far not the least of these two (I don't know which I like the best), is the new kit of the PBY-5A CATALINA and my goodness it's going to be huuuuge!!! At over a meter of wingspan this kit looks to be quite a proposition to model makers with a time to spare or a job that has no supervision! The kit will be made from fibreglass body to keep the weight down. Again there is a build thread going on at our new favourite site, The Aircraft Model Gallery, where not just this but other AMAZING kits are there ready to be drooled over. On both of these kits we will keep you posted... For now enjoy the pics of the still in progress prototype.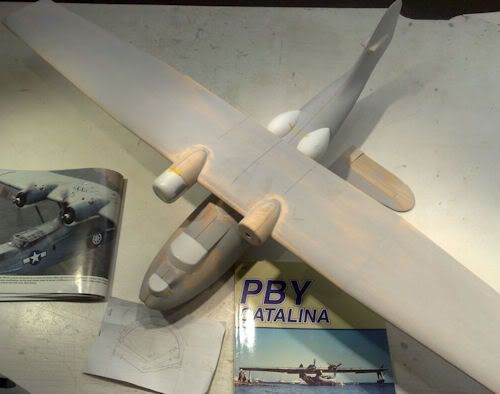 HGW has come up with a new set of seat harnesses in microfiber for the new Tamiya Mustang kit in 1/32.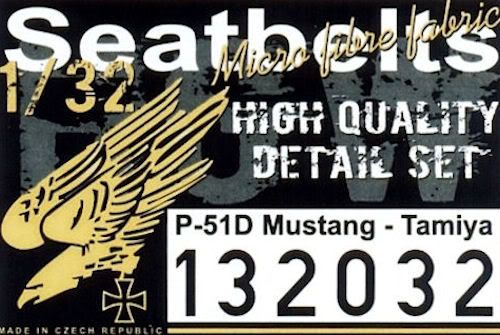 Not enough to provide the excellent seatbelts in Microfiber HGW provide some wooden decals for the floor of the Mustang cockpit. These cockpits were sometimes painted over but often left in their bare wood finish (a REAL expert would know what type of wood). Anyway, it will save a tedious wood paint job and the seatbelts are a marked improvement on the kit, even though no one will say that in public (oops).
A new company from Japan called Amusing Hobby have announced their existence with an exciting kit in 1/35 of the only-just kitted NeuBaufahrzeug Panzerkampwagen tank from the Second World War.
Kit number 35A003 – NeuBaufahrzeug: The German Multi-Turreted comes to us in 1/35 styrene. This kit was just released by Dragon and Amusing Hobby's version looks as good as or better than the Dragon version – that's truly a mean feat!
Amusing Hobby has sent some pictures of the sprues, instructions, and the finished model to which the modeller of the kit must be commended. The finish brings out the detail and makes the kit look absolutely amazing. This is the best advertisement for any new kit maker, a marquee first kit release.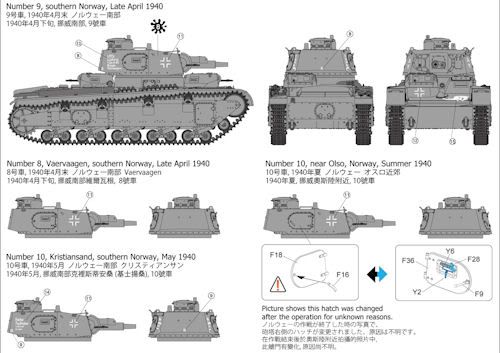 Looking at the instructions shows details of the construction and the markings. The tracks being separate links in styrene and there are two Photo etched sheets, along with amazing little touches like separately moulded bolts, movable machine guns and main armament in the multiple turrets, open or closed turrets, movable suspension that moves with the surface you position it upon, the features of this kit are too many to mention here! Amusing Hobby have given us a sheet noting all the key features of this kit. More pictures of this kit are here Vehicle colours are shown here. in the instructions and are varied considering the limited use of this vehicle, from Germany in 1937 to 1940, to Norway and then to the western Ukraine in 1941. It looks pretty special made up as well!
I could not see many places to get this except for LuckyModel in Hong Kong for US$49.95 – here is the link!
Speaking of Dragon, from their 1/200 Modern Air Power Series Cyber-Hobby brings us their new kit of the Northrop YB-49 flying wing kit. Famous as the virtual blueprint of the Stealth bomber, the Yb-49 was at the time a failed development of the flying wing concept that took a few decades and computer technology (and lots of money) to make into the Stealth bomber. Way ahead of its time the features are plenty in this kit release. I'll take you thru them verbatim from the Cyber-Hobby release.
- Newly tooled full span wing - Engine exhaust nozzles have intricate details - Authentic radical YB-49 flying wing - Y-shaped antenna subtly reproduced - Delicate cockpit interior details including pilot's seat - Landing gear can be assembled in either flying or taxiing modes - Realistic rudders molded w/detailed pattern - Landing gear rendered with intricate detail - Detailed wheels w/pattern especially for YB-49 - Custom printed Cartograf decals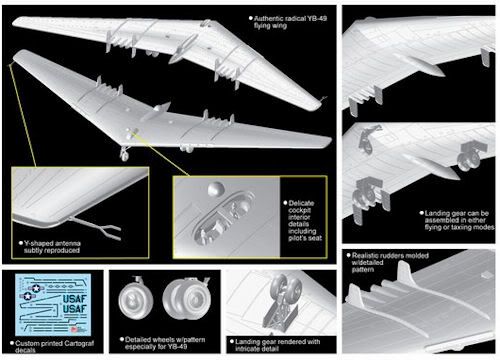 This kit is slated for an October release - let's hope it's as nice as it looks in the promo! I hope your week ahead is full of nice things and maybe, just maybe some time for making models (or even just taking them out of the box to look at them!)
Have fun with your modelling,
Adam